Photo Flash: First Look at Lauren Molina and Bri Sudia in WONDERFUL TOWN at the Goodman Theatre
Tony Award winner Mary Zimmerman's revival of WONDERFUL TOWN - Leonard Bernstein's classic musical that with lyrics by Betty Comdenand Adolph Green and book by Joseph Fields and Jerome Chodorov, runs now through October 16 at Goodman Theatre's Albert Theatre (Opening Night is September 20). BroadwayWorld has a first look at the cast in action below!
A whimsical love letter to Manhattan, WONDERFUL TOWN follows the adventure of sisters Eileen and Ruth, who leave Columbus, Ohio in search of success in the Big Apple. Lauren Molina, who appeared as Cunegonde in Zimmerman's acclaimed production of Candide (2010/2011 Season), portrays the beautiful actress and hopeful romantic, Eileen; and breakout Chicago star Bri Sudia (Far From Heaven, Porchlight Music Theater) makes her Goodman debut as Ruth, an aspiring, romantically challenged journalist.
Joining Molina and Sudia in the 26-member cast are Chicago favorites Karl Hamilton as RoBert Baker, the isolated editor of the Manhatternewspaper; Wade Elkins as Frank Lippencott andSteven Strafford as Chick Clark-two of Eileen's love prospects and residents of the bohemian 1950s town; and Jordan Brown (Wreck), Amy J. Carle (Mrs. Wade),Matt DeCaro(Appopolous),Christina Hall (Violet), James Earl Jones II (Speedy Valenti), Sadieh Rifai(Helen) and George Andrew Wolff (Lonigan).
Ensemble members include Nathaniel Braga, Ariana Cappuccitti, Sherriese Hamilton, Aaron Holland, Mark David Kaplan, Tiffany Krause, Kent M. Lewis, Russell Mernagh,Jeff Parker, Jody Reynard, Todd Rhoades, Lainie Sakakura, Ian Saunders and Erica Stephan. Artist headshots and bio information can be found on the Artist Page.
Under music director Doug Peck and associate music director/conductor Ben Johnson, the 18-member orchestra brings to life 20 of Bernstein's songs-including "Ohio" and "One Hundred Easy Ways to Lose a Man." Chicago native and choreographer Alex Sanchez, whose work has been described as "spectacular-wildly ingenious and playful from start to finish" (Chicago Sun-Times), makes his Goodman debut. The creative team also includes Todd Rosenthal (sets), Ana Kuzmanic (costumes), T.J. Gerckens (lights) and Ray Nardelli (sound).
For tickets and more information, visit GoodmanTheatre.org, by phone at 312.443.3800 or at the box office (170 North Dearborn).
Photo Credit: Liz Lauren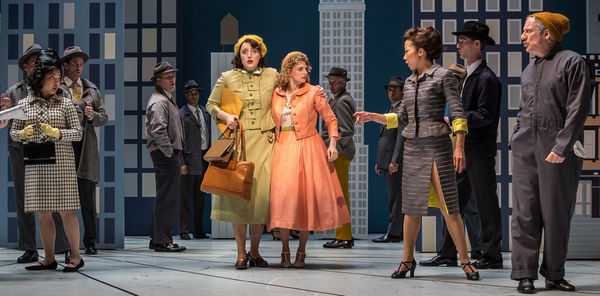 Bri Sudia (Ruth) and Lauren Molina (Eileen) (center) with ensemble members Kristin Villanueva, Jordan Brown, George Andrew Wolff, Jody Reynard, Jeff Parker, Ian Saunders, Lainie Sakakura, Wade Elkins and Mark David Kaplan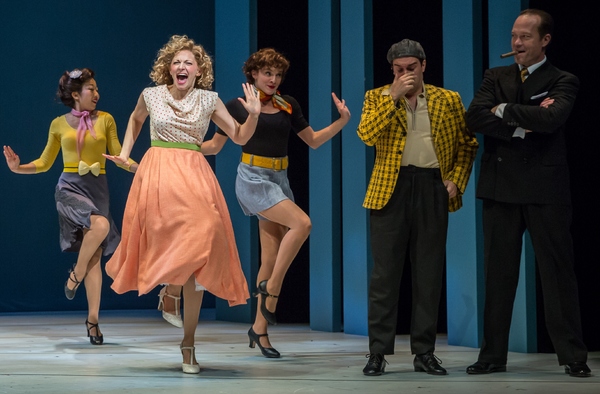 Lainie Sakakura (Ensemble), Lauren Molina (Eileen) and ensemble members Erica Stephan, Ian Saunders and Kent M. Lewis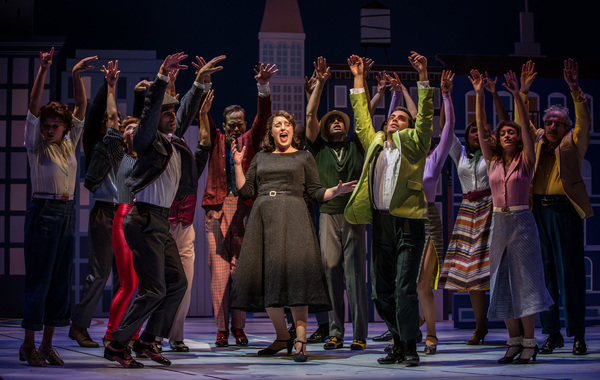 Bri Sudia (Ruth) sings 'Swing' along with ensemble members

Karl Sean Hamilton (RoBert Baker) sings 'What A Waste' along with ensemble members James Earl Jones II, Jeff Parker, George Andrew Wolff, Karl Sean Hamilton, Kent M. Lewis and Russell Mernagh

Jordan Brown (Wreck), Kristin Villanueva (Helen), Bri Sudia (Ruth) and Lauren Molina (Eileen)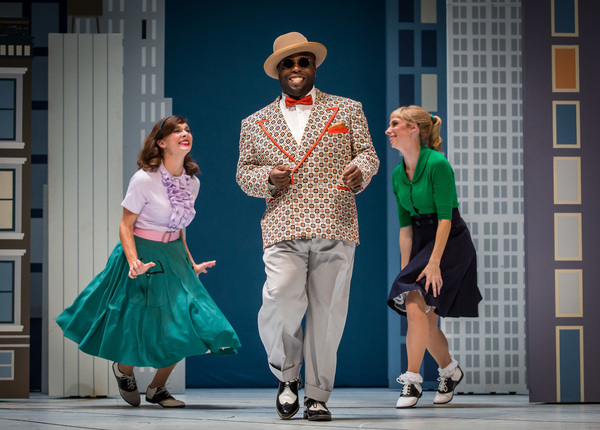 Erica Stephan (Ensemble), James Earl Jones II (Speedy Valenti) and Tiffany Krause (Ensemble)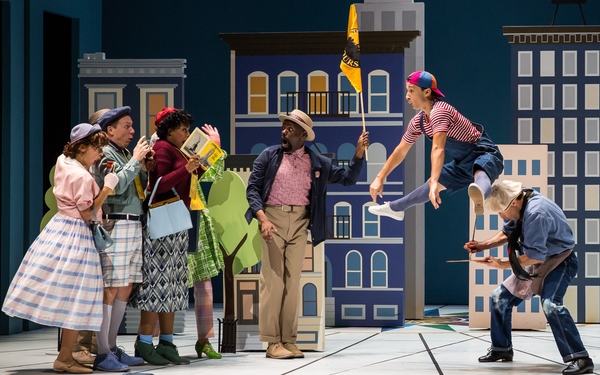 Ensemble members Erica Stephan, Steven Strafford, Sharriese Hamilton, Aaron Holland, Nathaniel Braga and Todd Rhoades perform 'Christopher Street'