Photo Flash: Broadway's HAMLET, Starring Jude Law
HAMLET comes to Broadway following sold out engagements in London's West End and at Elsinore in Denmark. The production will begin performances at the Broadhurst Theatre (235 West 44th Street) on Saturday, September 12 for a strictly limited run of twelve weeks only. Opening night is Tuesday, October 6.
William Shakespeare's Hamlet, featuring Jude Law in the title role, is directed by Michael Grandage. Law will be joined by the Donmar Theatre company of actors from London and Elsinore: Ross Armstrong (Cornelius), Harry Attwell (Guildenstern), Ron Cook (Polonius, 1st Gravedigger), Ian Drysdale (Osric), Peter Eyre (Ghost of Hamlet's Father, Player King), Jenny Funnell (Player Queen), Michael Hadley (Barnardo, Priest, Captain), Colin Haigh (Member of the Court), Sean Jackson (Reynaldo), Geraldine James (Gertrude), Gwilym Lee (Laertes), James Le Feuvre (Member of the Court), Gugu Mbatha-Raw (Ophelia), John MacMillan (Rosencrantz), Kevin R. McNally (Claudius), Henry Pettigrew (Marcellus, 3rd Player, 2nd Gravedigger,), Matt Ryan (Horatio), Alan Turkington (Francisco, Fortinbras, 4th Player) and Faye Winter (Member of the Court).
Award-winning actor Jude Law returns to Broadway for the first time since 1995 when he made his Tony Award-nominated debut in Jean Cocteau's Indiscretions (Les Parents Terribles). Other theatre credits include Les Parents Terribles (National Theatre), Dr. Faustus and Death of a Salesman (West Yorkshire Playhouse). Upcoming films include Dr. Watson in Guy Ritchie's Sherlock Holmes, being released on December 25 and Tony in Terry Gilliam's The Imaginarium of Doctor Parnassus, being released on September 24 and Repossession Mambo. Other films include The Talented Mr Ripley (BAFTA Film Award), Wilde (Evening Standard British Film Award), Cold Mountain, Road to Perdition, Closer, Alfie, The Aviator and Sleuth, among others.
London critics embraced Law's performance and Grandage's production. "Law's performance is detailed and powerful and vividly personal," raved Henry Hitchings, Evening Standard. "Jude Law is excellent," agreed Quentin Letts, Daily Mail. "A swift, clear well-staged version of Shakespeare's most exciting play," proclaimed Michael Billington, Guardian. "Jude Law's Hamlet is vivid, lucid and impassioned. A feverish energy seems to surge from his fingertips," cheered Kate Bassett, Independent on Sunday. "It's a pleasure to report that Law is more than equal to the role; he has the physical and vocal range for its operatic demands and brings vulnerability, honesty and charisma to Hamlet's soul-searching," claimed Caroline McGinn, Time Out London. "Law's Hamlet is deeply moving, lucidly spoken," hailed Charles Spencer, Telegraph. "Grandage's gripping, thrilling, deeply-felt accessible production seizes on the fact that Hamlet is an absolutely crackling psychological thriller."
The company of Hamlet is appearing with the permission of Actors' Equity Association. The producers gratefully acknowledge Actors' Equity Association for its assistance to this production.
HAMLET is currently playing at Wyndham's Theatre in London's West End, where it completes its sold out run on August 22. It then travels to Kronberg Castle, Elsinore, for a sold out run from August 25-30, prior to Broadway.
In Shakespeare's definitive tragedy, the King of Denmark is dead. Consumed with grief, Prince Hamlet (Jude Law) determines to avenge his father's death with devastating consequences for his family and the kingdom.
Hamlet is produced on Broadway by Arielle Tepper Madover. The production is designed by Christopher Oram, with lighting design by Neil Austin. Composer and sound designer is Adam Cork.
Performances are Tuesday at 7:00 PM, Wednesday at 2:00 PM and 7:30 PM, Thursday and Friday at 7:30 PM, Saturday at 2:00 and 8:00 PM, Sunday at 3:00 PM. Tickets ($116.50 - $25) are available through Telecharge.com at 212-239-6200 or www.telecharge.com.

As part of the Donmar's commitment to greater accessibility, producer Arielle Tepper Madover has announced that more than 100 tickets priced at $25 will be available at every performance through Telecharge.com and the Broadhurst Theatre box office.
For more information, vist www.HamletBroadway.com.
Photos by Johan Persson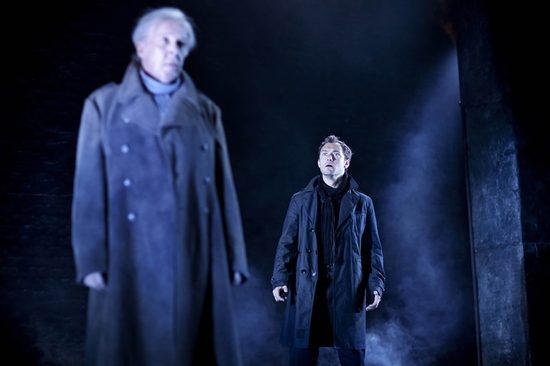 Peter Eyre and Jude Law