Click Here for More Articles on PETER AND THE STARCATCHER
Photo Exclusive: PigPen Theatre Company Boys Visit PETER AND THE STARCATCHER
Directed by Tony Award-winner Roger Rees and Tony Award-nominee Alex Timbers, Peter and the Starcatcher began performances on March 28, 2012 and opened April 15, 2012, and is playing at Broadway's Brooks Atkinson Theatre (256 West 47th Street). The boys of the PigPen Theatre Company visited the production yesterday, and you can check out exclusive backstage photos below!
PigPen just opened The Old Man and the Old Moon, which is now playing at the Gym at Judson. Formed at Carnegie Mellon School of Drama in 2008, PigPen has toured nationally and became the first company in history to win the top honor for a play at the New York City International Fringe Festival two years in a row, in 2010 and 2011.
Originally developed by Disney Theatrical Productions in 2003, the project received its first lab at Williamstown Theatre Festival in 2007, under the direction of Rees and Timbers. A full length version of the play was then written by Elice, further developed by Disney Theatricals in a Page to Stage production at La Jolla Playhouse in the winter of 2009. Following revisions, the play received its first fully staged production in March 2011 at NYTW where it opened to rave reviews and was extended due to popular demand. In 2012, Nancy Gibbs, Greg Schaffert, Eva Price, and Tom Smedes became lead producers for the production and its transfer to Broadway.
In this innovative and imaginative new play, based on The New York Times best selling Disney-Hyperion novel by Dave Barry and Ridley Pearson, a company of twelve actors plays more than a hundred unforgettable characters, all on a journey to answer the century-old question: How did Peter Pan become The Boy Who Never Grew Up? This epic origin story of one of popular culture's most enduring and beloved characters proves that an audience's imagination can be the most captivating place in the world.
Photo Credit: Jennifer Broski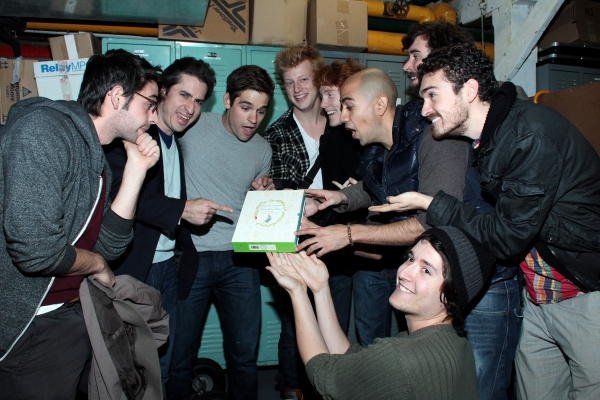 The Pigpen Boys present a gift to the cast of Peter and the Starcatcher: Curtis Gillen, Matthew Saldivar, Jason Ralph, Matt Nuernberger, Ryan Melia, Arya Shahi, Ben Ferguson, Alex Gurary Falberg, Daniel Weschler

The Pigpen Boys present a gift to the cast of Peter and the Starcatcher: Curtis Gillen, Matthew Saldivar, Jason Ralph, Matt Nuernberger, Ryan Melia, Arya Shahi, Ben Ferguson, Alex Gurary Falberg, Daniel Weschler

Curtis Gillen, Matthew Saldivar, Arya Shahi, Matt Nuernberger, Jason Ralph, Daniel Weschler, Ryan Melia, Ben Ferguson, Alex Gurary Falberg