Peter and the Starcatcher - 2012 - Broadway
In this innovative and imaginative new play, a company of twelve actors plays some 50 characters, all on a journey to answer the century-old question: How did Peter Pan become The Boy Who Would Not Grow Up? This epic origin story of one of popular culture's most enduring and beloved characters proves that an audience's imagination can be the most captivating place in the world.
Peter and the Starcatcher opened to rave reviews last March in its premiere Off Broadway at New York Theatre Workshop. The sold out run was extended by popular demand and set a record for the highest grossing single day in NYTW's history. The production went on to receive five Drama Desk nominations (and a win for Outstanding Music in a Play); two Obie Awards (for Direction and Design) and two Lucille Lortel Awards (for Outstanding Lead Actor and Outstanding Choreography).
Video preview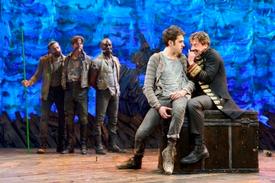 Photo preview
Featured Reviews For Peter and the Starcatcher
STAGE REVIEW Peter and the Starcatcher - Entertainment Weekly
Once the entire gang of orphans, pirates, and aristocrats get caught up in a doozy of a sea storm, the show starts to get a little bumpy as well. (Directors Roger Rees and Alex Timbers' deliberately low-tech staging — think spray bottles, sticks, and wires — is terribly clever and impeccably paced, but that is one looong shipwreck scene.) And when everyone finds themselves wandering through a jungle, your mind may begin to wander as well. A bunch of savages with names like Fighting Prawn and Hawking Clam who want to 'butterfly and deep-fat fry' Peter & Co. definitely overstay their welcome.
Peter and the Starcatcher - Time Out NY
Peter and the Starcatcher has indeed grown up: It's on Broadway with a steeper ticket price than during its intimate maiden voyage at New York Theatre Workshop last year. And while the production is bigger and shinier, beneath the dazzling, tricked-out proscenium beats the exhilarated heart of a kid who wants to fly. And you can be sure: Peter soars—deliriously high and gloriously far.
Peter and the Starcatcher Broadway Cast