Peter and the Starcatcher - Broadway
In this innovative and imaginative new play, a company of twelve actors plays some 50 characters, all on a journey to answer the century-old question: How did Peter Pan become The Boy Who Would Not Grow Up? This epic origin story of one of popular culture's most enduring and beloved characters proves that an audience's imagination can be the most captivating place in the world.
Peter and the Starcatcher opened to rave reviews last March in its premiere Off Broadway at New York Theatre Workshop. The sold out run was extended by popular demand and set a record for the highest grossing single day in NYTW's history. The production went on to receive five Drama Desk nominations (and a win for Outstanding Music in a Play); two Obie Awards (for Direction and Design) and two Lucille Lortel Awards (for Outstanding Lead Actor and Outstanding Choreography).
Video preview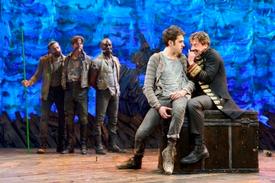 Photo preview
Featured Reviews For Peter and the Starcatcher
NY Review: 'Peter and the Starcatcher' - Backstage
Has "Peter and the Starcatcher," the dazzlingly fun riff on the Peter Pan legend that lit up the intimate New York Theatre Workshop last season, lost any of its luster in a trip to the Never Never Land of Broadway? When this clever and joyous entertainment opened last March, there were immediate murmurings about a Main Stem transfer. There were also fears that Rick Elice's adaptation of Dave Barry and Ridley Pearson's novel would lose its special charm in a cavernous Midtown theater. I'm happy to report that "Peter" has not given up a speck of its fairy dust–infused whimsy. This is a celebration of youth and of the power of theater to inspire children and adults alike.
Broadway review: 'Peter and the Starcatcher' - Philadelphia Inquirer
An extended hit last year at New York Theatre Workshop, Peter and the Starcatcher opened Sunday night on Broadway, a Broadway show suitable for families. Adults will enjoy its complex theatricality (an enormous crocodile made from found objects, electrified touches of acting through movement choreographed by Steven Hoggett,sound design by Darron L West that puts us squarely in different places and situations). Kids will follow it for its bizarre and hammy characters and its constant sense of adventure.
Peter and the Starcatcher Broadway Cast