Click Here for More Articles on ROCK OF AGES
Photo Coverage: 'ROCK OF AGES' Welcome Styx and REO Speedwagon to Bdwy!
One month after their classic songs debuted as part of the score of the new hit musical comedy, ROCK OF AGES, two unparalleled rock stars - Tommy Shaw from STYX and Kevin Cronin from REO Speedwagon - made their Broadway debuts as they performed their new single, "Can't Stop Rockin'", immediately following the evening performance on Monday, April 27, 2009 at the Brooks Atkinson Theatre, 256 W. 47th Street).
The performance of the new song, co-written by Cronin and Shaw, celebrates the rockers recently announced CAN'T STOP ROCKIN' 2009 Tour, which kicks off on May 12th, presented by VH1 Classic and Rock Band®. LOST Star Matthew Fox was also in the house as the bands nearly blew the roof off with their performances! Of course, BroadwayWorld.com's cameras were there to "bang our heads" along with the wild crowds so we could bring you all the action!
Following an extremely successful off Broadway run and a bidding war over the film rights in which New Line Cinema won; the new musical comedy ROCK OF AGES opened on Tuesday, April 7, 2009 at Broadway's Brooks Atkinson Theatre (256 W. 47th Street). Previews began on Tuesday, March 17, 2009. ROCK OF AGES, starring Constantine Maroulis ("American Idol"), is an arena-rock love story told through the mind-blowing, face-melting hits of Journey, Bon Jovi, STYX ("Too Much Time on My Hands" & "Renegade"), REO Speedwagon ("Can't Fight This Feeling" & "Keep On Lovin' You"), Pat Benatar, Foreigner, Twisted Sister, Poison, Asia, Whitesnake and many more. The show is written by Chris D'Arienzo, directed by Kristin Hanggi and choreographed by Kelly Devine.
VH1 Classic and Rock Band ® are proud to bring the CAN'T STOP ROCKIN' 2009 Tour to America, featuring REO Speedwagon, STYX and 38 Special, three of the hardest working bands in rock n' roll. CAN'T STOP ROCKIN' kicks off on May 12th in Amarillo, Texas and will feature hit-packed sets spanning the course of these three rock legacies. The tour is geared to give the ultimate classic rock experience at a fan friendly ticket price (as low at $13.50). Confirmed tour dates are listed below, with additional concerts to be announced shortly.
In addition to Constantine Maroulis, ROCK OF AGES features Amy Spanger (The Wedding Singer, Kiss Me Kate) as "Sherrie" and James Carpinello (Saturday Night Fever, VH1's "So NoTORIous") as "Stacee Jaxx", Adam Dannheisser (The Coast of Utopia, Twelfth Night), Mitchell Jarvis (Fiddler on the Roof), Michele Mais (Roza), Lauren Molina (Sweeney Todd), Paul Schoeffler (Sweet Charity, Nine), Wesley Taylor (See Rock City), Ericka Hunter (Flower Drum Song, 42nd Street), Jeremy Jordan (Little Dog Laughed tour), Michael Minarik (Les Miserables), Angel Reed (Saturday Night Fever tour), Bahiyah Sayyed-Gaines (Pal Joey, The Color Purple), Katherine Tokarz (White Christmas, A Chorus Line ), Andre Ward (Xanadu, The Producers), Savannah Wise (Les Miserables), Tad Wilson (The Full Monty) and Jeremy Woodard (Glory Days). And rockin' in the on-stage band, ARSENAL, are Music Director/ keyboardist Henry Aronson (Theatre: Rocky Horror, RENT ), lead guitarist Joel Hoekstra (Night Ranger), drummer Jon Weber (The Orion Experience, Theatre: Hedwig), bassist Winston Roye (Ace of Base, Theatre: Bright Lights, Big City) and guitar player David Gibbs (Counting Crows, Film: That Thing You Do), who also wrote the original arrangements. The Music Supervision, Arrangements & Orchestrations are by Ethan Popp (Tarzan; Europe: We Will Rock You, Mamma Mia)
Just as economy conscience as the CAN'T STOP ROCKIN' 2009 Tour, ROCK OF AGES offers several ticket initiatives that that will treat audience members to one of the most unique (and inexpensive!) experiences on Broadway, every night. Starting 30 minutes before every show and during intermission, audience members seated in the orchestra will be able to buy color-coded drink chips from waiters in the orchestra or at the bar. The chips can then be redeemed during the show, from your seat, for the drink of your choice. In addition to having the least expensive top ticket price on Broadway (at $89.00 during the week & $99.00 during the weekend), ROCK OF AGES will also have a two VIP GREEN ROOM boxes ($295.00 for 4 tickets), which includes four tickets to the show located in one of only two mezzanine boxes and your own waiter, and LOTTERY tickets ($26.50 each, max 2 per person) which will be available two hours before every show at the box office, cash only.
The performance schedule for ROCK OF AGES is Monday at 8pm, Tuesday at 7pm, Thursday at 8pm, Friday at 8pm, Saturday at 2pm & 8pm and Sunday at 2pm & 7pm.
For more information on ROCK OF AGES visit: www.RockofAgesMusical.com
For more information on the CAN'T STOP ROCKIN' 2009 Tour, visit the bands' web sites:
www.speedwagon.com, www.styxworld.com, and www.38special.com.
Photos by Peter James Zielinski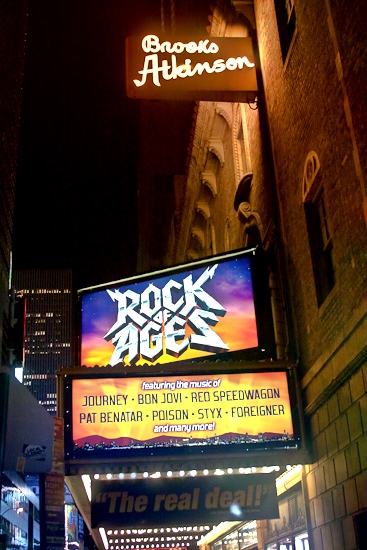 Rock of Ages at the Brooks Atkinson Theater

James Carpinello starts off the evening...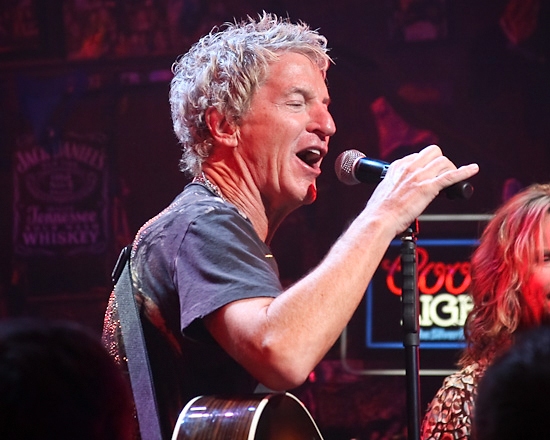 Kevin Cronin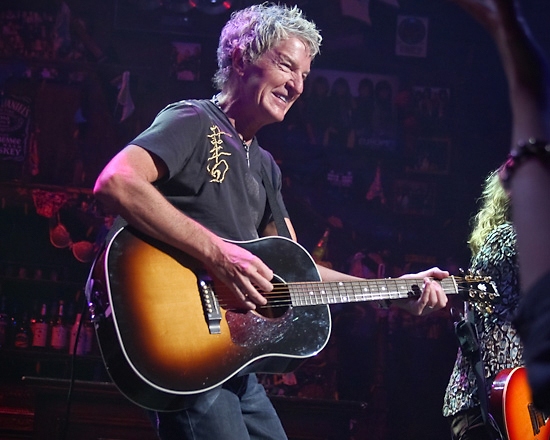 Kevin Cronin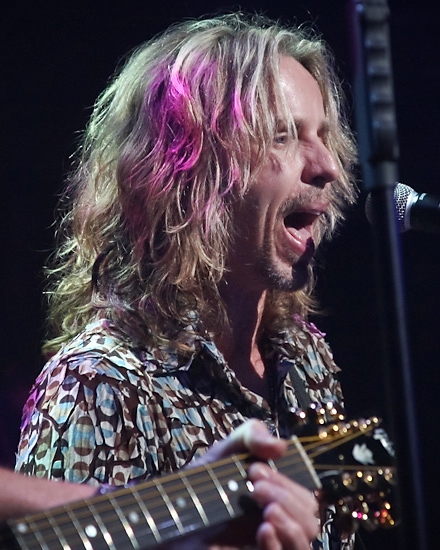 Tommy Shaw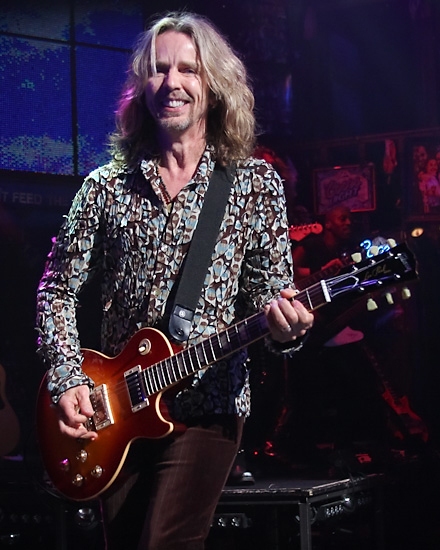 Tommy Shaw

Tommy Shaw

Tommy Shaw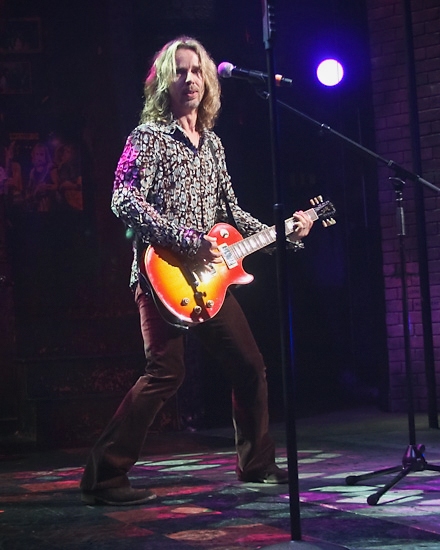 Tommy Shaw

Kevin Cronin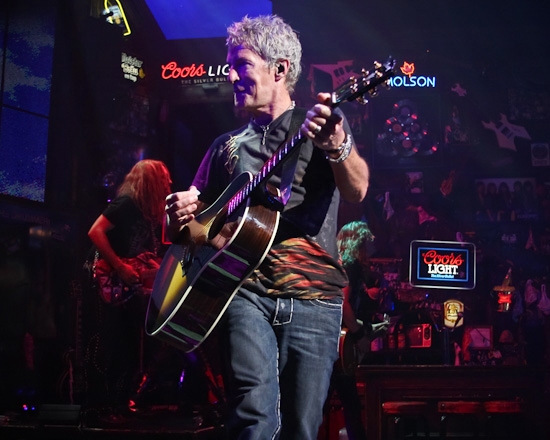 Kevin Cronin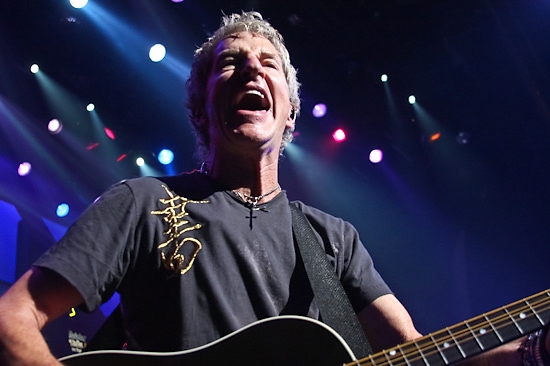 Kevin Cronin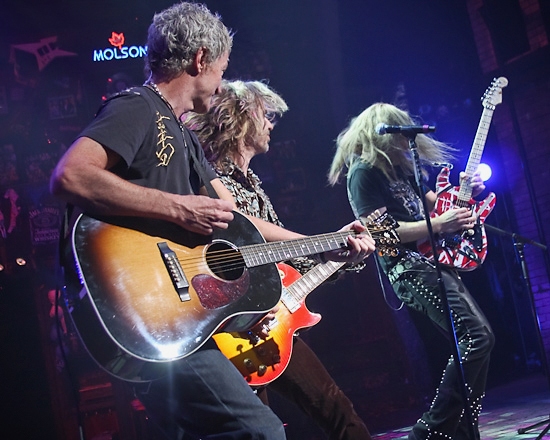 Kevin Cronin, Tommy Shaw, and Joel Hoekstra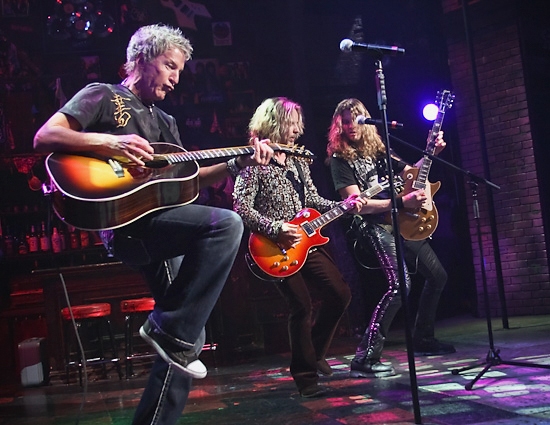 Kevin Cronin, Tommy Shaw, and Joel Hoekstra

Kevin Cronin, Tommy Shaw, and Joel Hoekstra

Kevin Cronin, Tommy Shaw, and Joel Hoekstra

Kevin Cronin, Tommy Kessler, Tommy Shaw, and Joel Hoekstra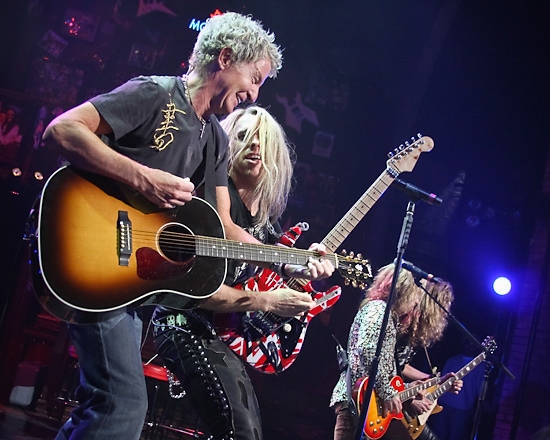 Kevin Cronin, Tommy Kessler, Tommy Shaw, and Joel Hoekstra

Kevin Cronin, Tommy Kessler, Tommy Shaw, and Joel Hoekstra

Amy Spanger, Wesley Taylor, and Lauren Molina keep rockin' in the wings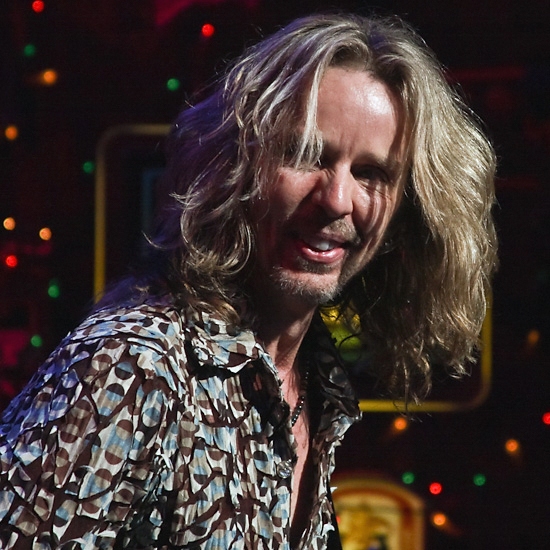 Tommy Shaw

Miss Lizzy, Rock of Ages #1 Superfan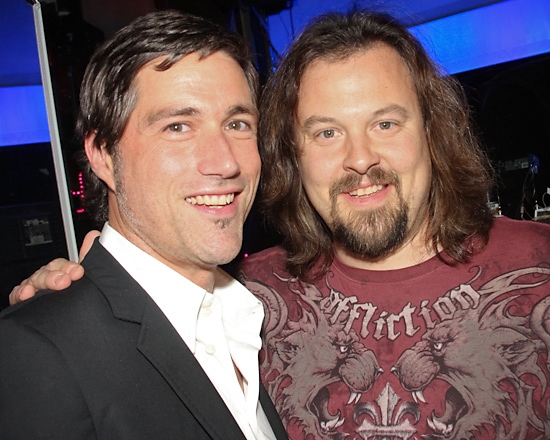 Matthew Fox and Tad Wilson

The cast with Matthew Fox, Kevin Cronin and Tommy Shaw

Lauren Molina, Kevin Cronin, Tommy Shaw, and Mitchell Jarvis

Amy Spanger and Matthew Fox

James Carpinello and Tad Wilson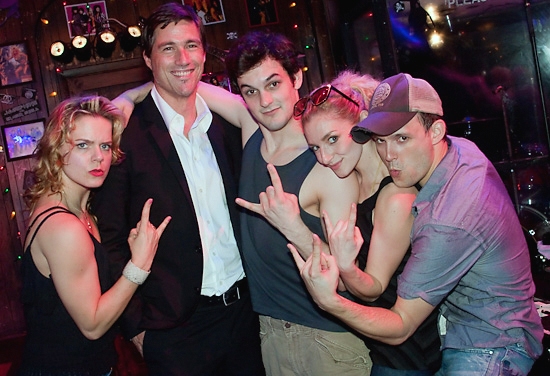 Amy Spanger, Matthew Fox, Wesley Taylor, Lauren Molina, and Jeremy Woodard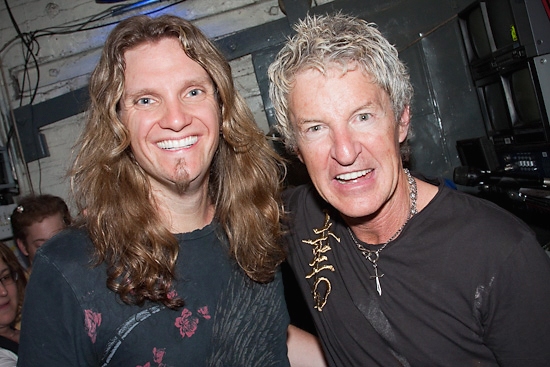 Joel Hoekstra and Kevin Cronin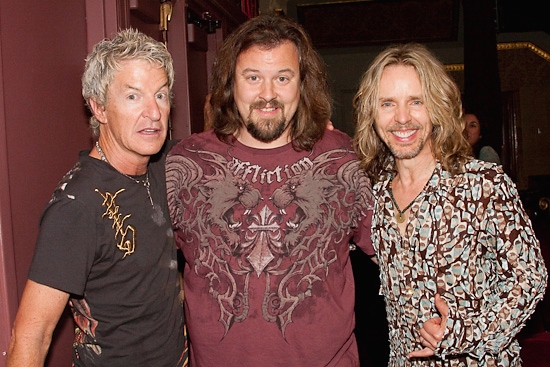 Kevin Cronin, Tad Wilson, and Tommy Shaw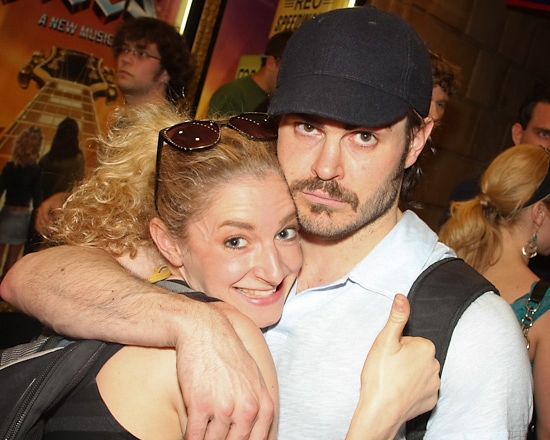 Lauren Molina and Mitchell Jarvis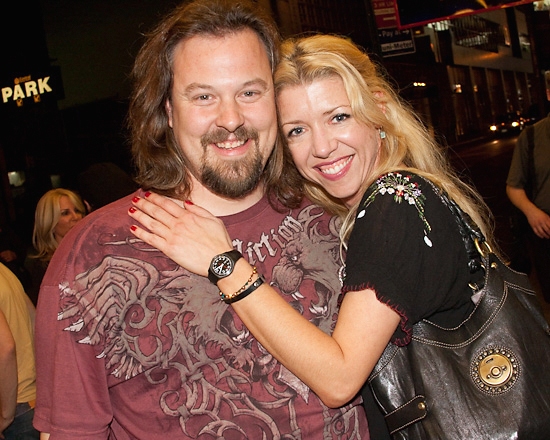 Tad Wilson and choreographer Kelly Devine

Jeremy Jordan

Jeremy Jordan

Jeremy Jordan
Related Articles
As an Equity actor, Peter is photographing the industry from the inside out. He has performed in numerous shows regionally, sung a duet with Richard (read more...)