Painting Comes To Life In Short Dance Film With Broadway Performers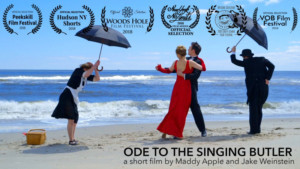 The new short dance film "Ode to the Singing Butler" was released on Nov. 1st after being shown at film festivals this summer including the Coney Island Film Festival and the Woods Hole Film Festival.
"Ode to the Singing Butler" brings to life the characters of Jack Vettriano's iconic painting, "The Singing Butler." With an award-winning orchestral score by Jake Weinstein, the film explores the moments before the man and woman find themselves waltzing on the beach.
Directed & Choreographed by Maddy Apple and Jake Weinstein, the cast features Broadway performers Max Clayton (Hello, Dolly!, Bandstand, Something Rotten!, Gigi, On The Town) as the Man and Christine Cornish Smith (My Fair Lady, Cats) as the Woman with Maddy Apple (Hello, Dolly!) as the Maid and Jake Weinstein (A Chorus Line Tour) as the Butler.
Jake Weinstein debuted the film's score in Vienna, Austria last summer, where he was awarded 1st Place at the Golden Key Composition Festival.
The film features orchestrations by Will Curry (LES MISERABLES, Miss Saigon, My Fair Lady). Eric Mann (Unreel Films) serves as the Director of Photography with Costume Design by Mikita Thompson (The Americans).
Watch the film here: