Original Broadway 'Elvis' to Star in HEARTBREAK HOTEL Premiere at Ogunquit Playhouse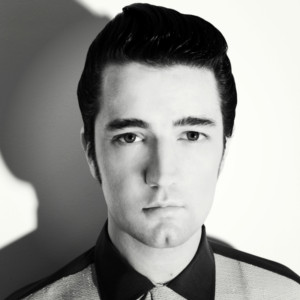 From the creator of Tony Award-winning musical Million Dollar Quartet, the Ogunquit Playhouse will produce the World Premiere of Heartbreak Hotel, as part of its 85th anniversary season, on stage August 30 to September 30.
This brand new musical tells the story of Elvis Presley's journey from an unknown musician to the cusp of his super-stardom.
This new musical features hit songs from the King himself, as well as the legends who influenced his iconic music, with chart-toppers including "Blue Suede Shoes," "Tutti Frutti," "That's All Right," "Shake Rattle and Roll," and, of course, "Heartbreak Hotel."
Executive Artistic Director Bradford T. Kenney stated, "Throughout this year I have had the privilege of working very closely with Floyd Mutrux, the creator of the Tony Award-winning musical Million Dollar Quartet on its prequel, Heartbreak Hotel, now making its premiere on our stage. It has been an incredible journey working hand in hand with Floyd, the commercial partners, and Authentic Brands Group/Elvis Presley Enterprises, to bring the rich story and music of Elvis to life. Elvis became one of the great icons of our popular culture. He made a lasting imprint on our society, and his career changed the course of popular music, not only in our country, but around the world - all during a time of great change in America. I am thrilled that Ogunquit audiences will be the first to see this exciting new show."
This brand new tribute to the "King of Rock 'n' Roll" features actors who also play all their own instruments. It stars Eddie Clendening in the role of Elvis Presley, as well as Co-Musical Director. Mr. Clendening originated the role of Elvis in the Broadway production of Million Dollar Quartet, which he played for 1500 performances, and later Off-Broadway for 523 performances.
He will recreate the role for this tender story that follows Elvis Presley in the early years of his bourgeoning career as he and Sam Phillips create the music that will forever change their lives. As Elvis' career skyrockets, both lifting and shattering the lives of those he loves, a secret love story is revealed, a betrayal is discovered, and "Colonel" Tom Parker changes the course of history.
When describing the show, Writer/Director Floyd Mutrux explained, "This is the story of 18 months of the life of a truck driver, and how he and his music impacted the world around him."
Jerry Kernion makes his debut at the Ogunquit Playhouse as Col. Tom Parker, Elvis Presley's long-time manager. Mr. Kernion has performed around the world with The Reduced Shakespeare Company for the last 15 years; many regional and international productions including Cirque du Soliels' The Beatles, LOVE, Cirque du Soliels' Banana Shpeel; and various shows at regional theatres including Laguna Playhouse, Merrimack Repertory Theatre, San Diego Repertory Theatre, and many more.
Joining the cast as Sam Phillips, the record producer who founded Sun Records and is credited with discovering Elvis Presley, is Matt McKenzie. He recently debuted on Broadway in Monday After the Miracle with Jane Alexander, directed by Arthur Penn. He's played leading roles at many regional theatres across the country. In the Academy Award-winning film Gods and Monsters, he played Colin Clive opposite Sir Ian McKellan.
Also returning to the Ogunquit Playhouse is Christopher Sutton who will portray Dewey Phillips, one of Rock 'n' Roll's early disc jockeys. He was last seen on the Ogunquit stage as Prince Herbert in Spamalot. In New York he has appeared as Mark Antony in The Harlem Shakespeare Festival's Antony and Cleopatra, Henry VI, Ancient History, I Love You, You're Perfect, Now Change, and the World Premieres of Flight of the Lawnchair Man, Lissabon, Lola-Lola, Bloodties, Valueville, Hell Is For Real, and The It Girl directed by Jerry Zaks. Mr. Sutton played Prince Herbert in Monty Python's Spamalot (Outstanding Actor Award) for over 1,200 performances under the direction of Mike Nichols, and is a recipient of the Barrymore Award (The Buddy Holly Story), and the Sudler National Prize in the Arts. His regional credits include Memphis, Elf, Blood Brothers, Carousel, Of Mice and Men, Desire Under the Elms, Twelfth Night, and As You Like It.
Los Angeles music scene veteran Geno Henderson serves as Co-Music Director and also appears as B.B. King, Ike Turner and Chuck Berry in this production. Mr. Henderson is a guitarist, vocalist and songwriter, who has toured, recorded and/or made television with: The Gap Band (featuring Charlie Wilson), The Pointer Sisters, Billy Preston, Roberta Flack, James Ingram and Patti Austin (at Carnagie Hall), Smokey Robinson, Sly Stone, and many others. In 2011, he made his Broadway debut originating the role of Jocko Henderson in the musical Baby It's You.
Bassist Nathan Yates Douglass returns to the Ogunquit Playhouse as Bill Black, one of the pioneers of Rock 'n' Roll music and bassist in Elvis Presley's trio in the early days of his career. He was last seen on the Ogunquit stage in the 2016 production of Seven Brides for Seven Brothers and Million Dollar Quartet. His National Tour credits include The Buddy Holly Story and The Tammy Wynette Story, and Off-Broadway On the Bum.
Drummer Jamie Pittle will perform as DJ Fontana, a drummer for the Louisiana Hayride radio broadcasts and Elvis Presley's drummer for fifteen years. Mr. Pittle appeared Off-Broadway in the US Premiere of Missed Connections and Requiem for a Lost Girl. In regional theatres he has appeared in Million Dollar Quartet as Fluke, and The Buddy Holly Story as Jerry Allison. Guitarist Matt Codina will make his acting debut in Heartbreak Hotel as Scotty Moore, the guitarist and recording engineer who was known for backing Elvis Presley in the first part of his career, up to the beginning of Elvis's Hollywood years.
Brenna Bloom portrays Marion and the queen of Rockabilly, Wanda Jackson. She has performed Off-Broadway in One Day and in regional theatres in such productions as Spring Awakening, Chicago, Grease and A Chorus Line. Erin Burniston plays Elvis' girlfriend Dixie Lock. She recently performed in the National Tour of Spring Awakening and in regional theatre productions of Gypsy, La Cage Aux Folles, Hello, Dolly!, George M!, Seven Brides for Seven Brothers and many more.
Kara Mikula joins the cast as Gladys/ensemble, returning to the Playhouse after last being seen as Mrs. Hoallum in the 2016 production of Seven Brides for Seven Brothers. She has performed Off-Broadway in Classic Stage Company's Allegro and in the National Tour of White Christmas. Fallon Goodson is making her debut on the Ogunquit Stage as Alice from Dallas/ensemble. She has appeared in numerous films such as Maladies starring Catherine Keener, David Strathairn and James Franco, which premiered at the Berlin Film Festival in 2013; L!fe Happens starring Kate Bosworth, Krysten Ritter and Jason Biggs and is the lead in Eli Roth's upcoming film Lake Mead. Terita Redd joins the cast as Rosetta Tharpe/ensemble. She has appeared on Broadway in Leap of Faith, Hairspray, Caroline or Change, and Rent as well as the First National Tours of Ain't Misbehavin' and Rent. Her regional theatre credits include Hairspray, Ain't Misbehavin', Beehive and The Wiz. Musician and solo artist, Berlando Drake plays Ruth Brown/ensemble. She is an Image Award nominee who has performed on Broadway in Baby It's You and in regional theatre productions of Little Shop of Horrors, Bad Water, For Colored Girls, and Showboat.
Director and writer for Heartbreak Hotel is Floyd Mutrux, who is the co-author of the Tony award-winning Million Dollar Quartet and the co-author/director of the Tony nominated Broadway production of Baby It's You! Mr. Mutrux has worked at Alley Theatre, Houston; Second City, Chicago; and studied in New York at Columbia University. In Los Angeles, he created, wrote, directed or produced fifty films over 25 years including American Hot Wax, Scarecrow (Best Film, Cannes), Hollywood Knights, Urban Cowboy, The Untouchables, American Me, Freebie and the Bean, Up in Smoke, and Dick Tracy.
Birgitte Mutrux joins the creative team as Choreographer. She choreographed Million Dollar Quartet in the original Florida production and Baby It's You! on Broadway (NAACP Theatre Award-Best Choreography). For the last decade, she has collaborated on projects with her husband, Floyd Mutrux.
Music Supervisor for the Ogunquit Playhouse production of Heartbreak Hotel is John Banister. Mr. Banister was the Music Supervisor for the very successful 2013 Ogunquit production of Buddy, The Buddy Holly Story and is the Music Supervisor for Buddy Worldwide Productions. He has appeared in several West End, London productions including Great Balls of Fire, Jailhouse Rock, and The Sound of Music.
Returning to the Ogunquit Playhouse as Costume Designer for Heartbreak Hotel is Dustin Cross. His work can be seen on Broadway in The 24Hour Plays and Off-Broadway in numerous productions including Spamilton, for which he won an Off Broadway Alliance Award and was a Outer Critics Circle nominee, The Glass Menagerie, A Midsummer Night's Dream, The Other Josh Cohen, and Cougar: The Musical. Mr. Cross's costume designs can be seen in the upcoming film, Little Button Girl, starring Dick Van Dyke.
Ogunquit Playhouse Resident Lighting Designer, Richard Latta, is the lighting designer for Heartbreak Hotel. Mr. Latta has created the lighting for dozens of Ogunquit Playhouse productions, including most recently Mamma Mia!, Bullets Over Broadway, Ragtime, Anything Goes, and Million Dollar Quartet, in addition to many regional theatres in the US. He recently was nominated for Best Lighting Design by the IRNE Awards for the 2016 Ogunquit Playhouse production of The Hunchback of Notre Dame.
Adam Koch is the Set Designer for Heartbreak Hotel. He is returning to the Ogunquit Playhouse after previously working on Sister Act, Saturday Night Fever, and Mamma Mia!. Mr. Koch was nominated for Best Scenic Design by the IRNE Awards for the 2016 production of The Hunchback of Notre Dame.
Brad Peterson joins the creative team as Projection Designer for Heartbreak Hotel. On Broadway he has worked on the 2016 revival of CATS as well as Fish in the Dark. Some of Mr. Peterson's numerous regional credits include Bring It! Live, A Little Night Music, Carousel, The Lion, the Witch, and the Wardrobe, On the Town, and 9 to 5.
Sound Designer for Heartbreak Hotel is Don Hanna, returning to the Playhouse where his past credits include 2016's Priscilla: Queen of the Desert and Disney's Beauty and the Beast, and 2013's Young Frankenstein. He was Sound Designer for the Regional Premieres of Saturday Night Fever, Rock of Ages, and The Addams Family.
Individual tickets are on sale and prices start at $52 each. To learn more about becoming a Playhouse member, or to purchase tickets and gift cards, visit www.ogunquitplayhouse.org or call the Ogunquit Playhouse Box Office at 207-646-5511.
Closing the landmark season is From Here to Eternity, on stage October 4 to October 29. The Ogunquit Playhouse is honored to be collaborating with Sir Tim Rice on the rollout of the North American Premiere of this epic new musical set in Hawaii in the weeks before the 1941 attack on Pearl Harbor. The Ogunquit Playhouse production of White Christmas returns to the Music Hall in Portsmouth, NH November 29 to December 17. Visit www.themusichall.org or call 603-436-2400.
The Ogunquit Playhouse, a 501c3 not-for-profit organization listed on the National Historic Register, is located on Route One in Ogunquit, Maine and produces the finest Broadway musicals each season with performances Tuesday through Sunday, from May 17 to October 29. Follow the Ogunquit Playhouse on Twitter (@OgunquitPH) and on Facebook (facebook.com/OgunquitPlayhouse) for behind-the-scenes info, photos and fun throughout the season.