Oratorio Society Of New York Announces Expanded 2018-19 Season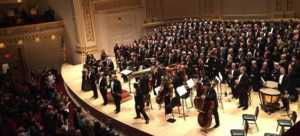 For its 2018-19 season, the 200-voice Oratorio Society of New York, led by Music Director Kent Tritle, is expanding its annual Carnegie Hall season to four concerts.
The season begins on November 11 when, in commemoration of the 100th anniversaries of the World War I armistice and the independence of Poland, the Society will present masterworks by Szymanowski and Górecki, and Vaughan Williams's plea for peace, Dona nobis pacem.
On December 17, the Oratorio Society will continue one of New York City's longest-lasting musical traditions when it presents its 145th annual performance of Handel's Messiah. On February 25, the chorus will divide its forces to perform works for women's chorus by Berlioz and Debussy, and Sibelius' epic suite, Kullervo, for soloists and men's chorus. The season ends on May 9 with Verdi's massive and mighty Messa da Requiem.
Of the eight works programmed for the 2018-19 season, four will receive their first performance by the Oratorio Society in its 146-year history: Szymanowski's Stabat mater and Górecki's Euntes ibant et flebant (Nov. 11), and Sibelius's Kullervo and Berlioz' Tristia: "La mort d'Ophelie" (Feb. 25).
Of the 13 soloists scheduled for the season, Finnish soprano Johanna Rusanen will make her New York debut; countertenor Daniel Moody will make his Carnegie Hall concert debut (Dec. 17). Polish mezzo-soprano Ewa P?onka (Nov. 11), tenor Isaiah Bell (Dec. 17), bass Joseph Beutel (Dec. 17), and soprano Elizabeth de Trejo (May 9) will make their Oratorio Society debuts. Returning artists are soprano Susanna Phillips and baritone Jesse Blumberg (Nov. 11); soprano Kathryn Lewek (Dec. 17); tenor Takaoki Onishi (Feb. 25); and mezzo-soprano Raehann Bryce-Davis, tenor Joshua Blue, and bass Adam Lau (May 9).
Furthermore, the artist roster includes two George London Award recipients (Ms. Bryce-Davis and Mr. Lau) and four finalists from the 2017 Oratorio Society Lyndon Woodside Oratorio-Solo Competition: winner Joshua Blue and finalists Isaiah Bell, Joseph Beutel, and Daniel Moody. Also joining the Society for Sibelius's Kullervo is the Manhattan School of Music Symphonic Men's Chorus (Feb. 25).
As New York's standard for grand choral performance, the Oratorio Society has historically presented a three-concert subscription series at Carnegie Hall. Now, at a time when other art ensembles are retrenching, the Society is expanding its series to include a fourth concert, allowing it to present more varied programming in its traditional home. According to the Society's president Richard Pace, "The Oratorio Society has grown during the tenure of Kent Tritle, now in his 14th season as music director. Under his leadership, the Society is able both musically and financially to put four full concerts on the stage of Carnegie Hall, our home since its opening in 1891."
November 11, 2018-Centennial of WWI Armistice and Polish Independence
On November 11, 1918, an armistice agreement was signed ending World War I. As monarchies fell, new nations were formed, among them an independent Poland, established that same year. One hundred years later, the Polish Cultural Institute New York invited the Oratorio Society to participate in its centennial celebration. OSNY Music Director Kent Tritle is honoring this dual anniversary with two 20th-century Polish masterworks-Szymanowski's Stabat mater and Górecki's Euntes ibant et flebant-followed by, in Mr. Tritle's words, "the quintessential piece to celebrate the Armistice," Vaughan Williams's Dona nobis pacem.
Szymanowski wrote his Stabat mater, with its focus on a grieving mother, in 1925-26, partly as consolation to his sister who had just lost her daughter. The work infuses the traditional liturgical text with Polish folk rhythms and melodies. Mr. Tritle describes it as "a deep and dark setting of the text in Polish that I thought was especially significant for a performance honoring these two centennials." Composed in 1972 for a cappella chorus, Gorecki's Euntes ibant et flebant ("They who go forth and weep") is sung in Latin and draws its text from Psalms 126 and 95.
In a similar spirit Mr. Tritle has chosen to end the concert with Vaughan Williams's Dona nobis pacem. The cantata was written in 1936, looking back at recent wars amidst the growing fears of a new one. It merges the Latin hymn with other texts, including poetry Walt Whitman wrote during the Civil War.
This concert, which begins at 2 pm, marks the Society's is first performance of the Szymanowski and Górecki works. It most recently performed Dona nobis pacem during its 2015 tour of Germany. The performance of Szymanowski's Stabat mater is presented in partnership with the Polish Cultural Institute New York.
The soprano soloist is Susanna Phillips. In the past five seasons she has joined the Oratorio Society for works of Brahms, Britten, Filas, Haydn, and Moravec. This will also be her eleventh consecutive season at the Metropolitan Opera, where she will appear in La bohème, Carmen, and Don Giovanni. Making her Oratorio Society debut is Polish mezzo-soprano Ewa P?onka. A graduate of The Juilliard School, she appeared in the New York City Opera's The Armida Project and has sung numerous roles with Oper Frankfurt. Baritone Jesse Blumberg first performed with the Society in 2013 as a soloist in Britten's War Requiem. This season he gives recitals in Paris, Connecticut, Minnesota, and Iowa; he is founder and artistic director of the Five Boroughs Music Festival.
December 17, 2018-Handel's Messiah
The Oratorio Society continues its annual holiday tradition of presenting Handel's beloved oratorio, as it has every December since 1874, and at Carnegie Hall every year that it has been open. In her review of a recent performance, Corinna da Fonseca-Wollheim wrote in The New York Times, "when the entire chorus belted out the word 'wonderful' in 'For unto us a child is born,' the effect was exactly that."
Returning for her fourth Oratorio Society Messiah is soprano Kathryn Lewek. Operatically Ms. Lewek has made The Magic Flute's Queen of the Night her signature role around the world. She has sung the role at the Metropolitan Opera in every presentation since her debut in 2013, and she returns to sing it this December.
The other three soloists-countertenor Daniel Moody, tenor Isaiah Bell, and baritone Joseph Beutel-were all finalists in the Society's Lyndon Woodside Oratorio-Solo Competition; they are now performing with the Society for the first time, and Mr. Moody is making his Carnegie Hall debut. Among other highlights of their 2018-19 season, Mr. Moody is making his debuts with Les Violons du Roy, Portland Baroque Orchestra, and Cincinnati Opera; Mr. Bell appears in the world premiere of Rufus Wainwright's Hadrian this October at the Canadian Opera Company; and Mr. Beutel appears in the world premiere of Russian composer Alexander Kastalsky's 1917 opera Memory Eternal to the Fallen Heroes, led by Leonard Slatkin at the Washington National Cathedral.
February 25, 2019-Finnish and French Masterworks for Divided Choruses
For the third concert of its Carnegie Hall series, the Society departs from its traditional concert format with a full evening of music for divided choruses. First, the women's chorus takes center stage to present Berlioz' Tristia: "La mort d'Ophelie" and "Sirènes," from Debussy's Nocturnes. After the intermission the men's chorus joins soloists Johanna Rusanen and baritone Takaoki Onishi for one of Sibelius's greatest symphonic choral works, Kullervo.
An early Sibelius composition, Kullervo is a 70-minute suite of five movements that follows the life of one of the most tragic characters in Finnish folk literature, Kullervo, as told in Kalevala, Finland's national epic poem. A men's chorus is featured in the third ("Kullervo and his Sister") and fifth ("Death of Kullervo") movements. Premiered in 1892, the work was initially well received, but Sibelius refused to let it be published until after his death, in 1957.
Soloists for Kullervo are Finnish soprano Johanna Rusanen and Japanese baritone Takaoki Onishi. Making her New York debut, Ms. Rusanen is hailed as a premier interpreter of the Sister role in Kullervo. On August 24, she will perform Mahler's Symphony No. 8 with the Finnish Radio Symphony. Next spring, she will sing her first Brünnhilde at the Finnish National Opera with Esa-Pekka Salonen. Mr. Onishi made his Oratorio Society debut in 2015 with Carmina Burana. He was the inaugural First Prize winner of the IFAC-Juilliard Prize Singing Competition in Japan, which provided him a full scholarship to attend The Juilliard School. For the past several years he has been a member of the Chicago Lyric Opera's Ryan Opera Center program.
This performance of Kullervo is made possible by the Jane and Aatos Errko Foundation. Kullervo and Trista: "La mort'Ophelie" are making their Oratorio Society premieres at this concert. Debussy's Nocturnes: "Sirènes" was last performed by the Society in March 2011.
May 9-Verdi's Messa da Requiem
The Oratorio Society will end its 2018-19 season with Verdi's thrillingly dramatic Messa da Requiem. The Requiem premiered in Milan in 1874 and has since become one of the most-performed works in the symphonic choral canon.
Making her Oratorio Society debut is soprano Elizabeth de Trejo. Kent Tritle heard her when she was a soloist in a concert he conducted in South Korea and was so impressed that he invited her to New York. Last season she was featured in a recording on the Naxos label of newly commissioned songs by Pulitzer Prize-winning poet Sara Teasdale, composed by Michael J. Trott, at the behest of the Poetry Society of New York. Mezzo-soprano Raehann Bryce-Davis returns to the OSNY, having sung in the world premiere of Paul Moravec's Sanctuary Road this past May. She is a recipient of the 2018 George London Award, and last season joined Theater an der Wien for her first performance of Wellgunde in Der Ring des Nibelungen.
Tenor Joshua Blue won the 2017 Woodside Competition, and this past May he was a soloist in the Society's performance of Sanctuary Road. This summer he has appeared in Candide, L'italiana in Algeri, and Dr. Atomic with the Santa Fe Opera. A winner of a 2015 George London Award, bass Adam Lau was soloist for the Society's Messiah performance in 2016 and Mahler's Symphony No. 8 at the Cathedral of St. John the Divine in 2015. This season he sings major roles with the Seattle, Utah, and Kentucky operas.
Lyndon Woodside Oratorio-Solo Competition Finals Concert-April 13, 2019
On April 13, the Oratorio Society will hold the finals of its annual Lyndon Woodside Oratorio-Solo Competition, which remains the only major competition to focus exclusively on oratorio singing, in Weill Recital Hall at Carnegie Hall. The Competition receives applications from around the world, and then the Society's Associate Conductor David Rosenmeyer leads the process to identify the eight finalists. Each will perform two works in concert before a panel of distinguished judges. "Through the Competition we've been able to shine a bright spotlight on this repertoire and encourage singers, who would otherwise just prepare for opera, to consider the richness of oratorio music," says Mr. Tritle.
--Andrew Preis
All performances in the Society's Carnegie Hall series will take place on the Perelman Stage of Stern Auditorium, Carnegie Hall.
Three-concert subscriptions for the Nov. 11, Dec. 17 and May 9 concerts are $252-$70. Single tickets for the Nov. 11 and May 9 concerts are $90-$25; Feb. 25 single tickets are $65-$20; and December 17 single tickets are $100-$28; they are on sale now. Tickets for the Lyndon Woodside Oratorio-Solo Competition Final Concert on April 13 are $25; they will go on sale in February. Oratorio Society tickets may be purchased at the Carnegie Hall Box Office, through CarnegieCharge at (212) 247-7800 or at www.carnegiehall.org.
Since its founding in 1873, the Oratorio Society of New York has become the city's standard for grand choral performance. It has given world, U.S., and New York premieres of works as diverse as Brahms's Ein deutsches Requiem (1877), Berlioz' Roméo et Juliette (1882), a full-concert production of Wagner's Parsifal at the Metropolitan Opera House (1886), Britten's The World of the Spirit (1998), Filas's Requiem (2015), Moravec's Blizzard Voices (2013) and Sanctuary Road (2018), and Rajbaran's We Are One (2018). On its 100th anniversary the Oratorio Society received the Handel Medallion, New York City's highest cultural award, in recognition of these contributions. www.oratoriosocietyofny.org
The Oratorio Society's Music Director since the 2005-06 season, Kent Tritle is also Music Director of the professional chorus Musica Sacra, and Director of Cathedral Music and Organist at the Cathedral of St. John the Divine, where he directs the concert series Great Music in a Great Space. Mr. Tritle is Director of Choral Activities at the Manhattan School of Music and a member of the graduate faculty of The Juilliard School. An acclaimed organ virtuoso, he is the organist of the New York Philharmonic and the American Symphony Orchestra. www.kenttritle.com
Related Articles

More Hot Stories For You
VIDEO: Jennifer Hudson Performs 'Bridge Over Troubled Water' as Tribute to John Lewis
Jennifer Hudson was one of the stars who took part in CBSa??s John Lewis: Celebrating a Hero TV special, which aired on Tuesday at 10 p.m. ET....

Check Out the Original Broadway Cast of HAMILTON's Latest Projects
What have the original cast members, ensemble members, swings, and standbys of Hamilton been up to lately? Check out their latest projects!...

Disney Employee Pulls the Curtain Back on What it is Like to Work at Disney World During the Pandemic
Rolling Stone has reported on a conversation they had with one Disney World employee, pulling the curtain back on issues of safety, whether social dis...

VIDEO: On This Day, August 6- HAMILTON Opens On Broadway!
On this day in 2015, Hamilton officially opened on Broadway at the Richard Rodgers theater!...

Disney's Live-Action MULAN Will Be Released on Disney+ This September for an Extra Fee
As BroadwayWorld previously reported, the release of Disney's live-action Mulan has now been delayed several times, but a new plan for its arrival has...

Zach Braff Shares Tattoo Tribute to His Friend, Nick Cordero
Zach Braff is remembering his friend, the late Nick Cordero, in a special way. Tattoo artist Doctor Woo shared a photo of his depiction of Nick in Bul...