Off-Broadway Cast Recording of WICKED CLONE Now Available for Pre-Order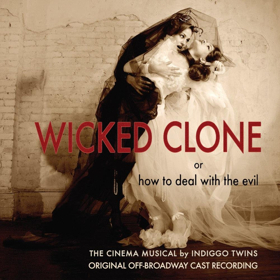 Broadway Records today announced that Wicked Clone or how to deal with the evil (Original Off-Broadway Cast Recording) will be released digitally on Monday, September 24, 2018 and in stores on Friday, October 5, 2018. The album is currently available for pre-order at www.BroadwayRecords.com and Amazon.com.
Wicked Clone or how to deal with the evil, based on the novel of the same name by Mihaela Modorcea, is an immersive blend of musical theatre, epic film projections, symphonic-gyspy songs and an original score written, arranged and performed by the multi-talented Indiggo Twins, Gabriela and Mihaela Modorcea. Depicting 15th century Transylvania to modern day NYC (and beyond), Wicked Clone is a magic realist story about a vampire bitten by a human being which turns the tables on tradition.
"A rare piece of audio and video creativity" (City Guide NY,) the musical introduces the audience to the native land of Indiggo Twins - "a realm reminiscent of Dante Alligheri's Divine Comedy," according to Mihaela, which further takes us "through the tunnels of Lucifer, the head of God, and down to the dreamland New York City." The original cast recording features 25 songs written, arranged, produced and performed by Indiggo Twins.
The Indiggo Twins are celebrating the release of their cast recording with a limited run encore presentation of Wicked Clone at the John Cullum Theatre of American Theatre of Actors, September 21 through September 30. Indiggo Twins perform their live stage musical interacting with seven other characters from the screen & with the audience. The twins are both heroes of the story and in their day-to-day life, inspiring the audience to conquer their "wicked clone" and reach their greatest Goal.
First Week: Friday through Saturday - 8 pm, Sunday 3 pm
Monday - 8pm - special performance, meet the Twins after the show
Second Week: Wednesday through Saturday - 8pm and Sunday 3 pm - meet the twins!
TRACK LISTING
Opening Songs:
1. Hello
2. Up and Down
3. Eureka
4. Nails Up
The Show:
5. La La La
6. Bite Back
7. Half Man, Half Vamp
8. A Kiss to Live
9. Ride With Me
10. Honey, Money
11. White Lies, White Sins
12. Wicked Clone
13. Little Lying Mirror
14. Pull the Curtains to the Side
15. Take Off Your Mask
16. Younger Than Yesterday
17. Queen of Tango
18. Love Flu
19. I'm Afraid of Who I Am
20. Tell Me Less & Love Me More
21. Different
22. Ooh La La / Fairies Call
23. I Am Like God
Closing Songs:
24. Dracula's Land
25. Immortal
Indiggo Twins, Mihaela & Gabriela Modorcea are Romanian-born American professional actresses, singers, writers/songwriters, composers, music producers, dancers, choreographers, fashion designers and painters based in New York City. Their roots are in Transylvania, Romania. Both twins majored in acting, having graduated with honors from the National University of Theatre and Cinematographic Arts of Bucharest; they played the leads in the award winning musical "The Two Orphans," "The Twin Towers," "The Future is in Eggs" and in several other awarded theatre plays. Indiggo Twins created the multi-project "Wicked Clone" which consists of the novel, the musical play, the film, the music album, the poetry book, and the fashion line. "Wicked Clone The Cinema Musical" has been staged and produced at the Lynn Redgrave Theatre, Ensemble Studio Theatre, Elektra Theatre, St. Luke's Theatre, Davenport Theatre and most recently at John Cullum Theatre of The American Theatre of Actors, finding the most enthusiastic audience. The twins were featured and credited as writers and performers on the multi-platinum and 4-time Grammy award-winning album "Watch The Throne" by Jay-Z and Kanye West, specifically on "Murder To Excellence" reviewed as "the centerpiece of the album." Europe-wide the twins' music was released under Sony BMG and featured in 20 countries; In the US Indiggo twins have worked with top music producers Swizz Beatz, Peter Zizzo, Rockwilder, Paul Oakenfold. Gabriela plays the piano while Mihaela plays the guitar, they speak four languages and can sing in seven. Mihaela is the fashion designer of the duo whereas Gabriela is the music producer. The twins have written and arranged together over 300 songs. www.IndiggoTwins.com