New York Theatre Podcast, Your Program Is Your Ticket, Presents A New Vodcast Version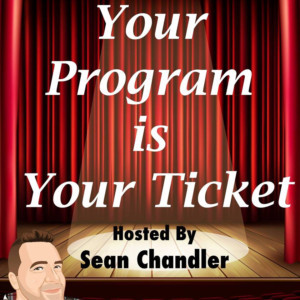 The popular theatre podcast, Your Program Is Your Ticket, premiered their new Vodcast version earlier this month. Each episode showcases a variety of theatre artists from Broadway to Off-Off Broadway as well as National and International theatre artists. The Vodcast is hosted by New York based playwright/creator Sean Chandler and co-hosted by actor/producer David Leeper.
Each Vodcast episode of Your Program Is Your Ticket (YPIYT) will also feature the podcast version. YPIYT creator, Sean Chandler's mission is to give a voice to all theatre artists. The Vodcast/Podcast offers a rare glimpse into the world of theatre from the people who create it. From producers, actors, lighting designers, stage managers, writers, understudy's, and directors.
The podcast version of YPIYT, premiered in February 2017. Since its inception, YPIYT has interviewed upwards of 250 theatre artists including Moe Angelos, Matthew Broderick, Charles Busch, Casey Cott, (Kevin Keller in the hit television series Riverdale/CW), and Corey Cott, Martin Denton, Shay Gines, Abigail Hawk, Dorothy Lyman, David Pittu, Peggy Shaw, Carly Street, New York & Chicago Neo-Futurists, Chicago's Flying Elephant Productions, Retro Productions, EPIC Players Inclusion Company, among others.
DECEMBER 2018 VODCASTS:
EPISODE 1
The first taped Vodcast features host Sean Chandler, with co-host David Leeper, who interview North Coast, NYC's Company Co-Manager Douglas Widick, Stripped Scripts Co-Artistic Director Allison Threadgold and Founding Member of The New York Neo Futurists Rob Neill who discuss what it's like to be a leader of their various theatre companies.
YOUTUBE VODCAST: https://bit.ly/2Qse5tf
ITUNES PODCAST: https://itunes.apple.com/us/podcast/your-program-is-your-ticket-ep070-theater-leaders-douglas/id1204483146?i=1000425314374&mt=2
SOUNDCLOUD PODCAST: https://soundcloud.com/user-363664536/your-program-is-your-ticket-ep070-theater-leaders-douglas-widick-allison-threadgold-rob-neill
EPISODE 2
YPIYT discusses the production of the new play; The Baby Monitor which concluded its successful run at the Theater at the14th Street Y. Guests include the playwright and actor David Stallings, director Antonio Miniño and actor Amanda Jones.
YOUTUBE VODCAST: https://bit.ly/2GhJmdD
ITUNES PODCAST: https://itunes.apple.com/us/podcast/your-program-is-your-ticket-ep071-the-baby-monitor/id1204483146?i=1000425730859&mt=2
PODCAST/SOUNDCLOUD: https://soundcloud.com/user-363664536/your-program-is-your-ticket-ep071-the-baby-monitor
More info is available at www.yourprogramisyourticket.com
iTunes: https://itunes.apple.com/us/podcast/your-program-is-your-ticket/id1204483146?mt=2
SoundCloud: https://soundcloud.com/user-363664536
Facebook: www.facebook.com/yourprogramisyourticket
Twitter: www.twitter.com/programticket
Hashtags: #YPIYT #YourProgramIsYourTicket
Sean Chandler (Creator/Producer/Host) is an award-winning playwright who has been a podcast host since 2012, having co-hosted three prior shows; Lundon Calling, Lundon Calling's Empty Closet Series, and Lundon Calling's Lundon Bridge with the legendary Ace Lundon and YouTube personality Donny Winter. As a writer, Sean's work includes the solo show At The Flash which had a nearly sold-out run at the 2016 New York International Fringe Festival and took home an award for Outstanding Solo Performance. The play also won awards from Pride Films and Plays Great Gay Play and Musical Contest Winner, and played at The Dublin Gay Theatre Festival where it received an Oscar Wilde Best New Work Nomination. Most recently his new musical We The People: A Theatrical Song Cycle, co-written with award-winning Composer Leo Schwartz, made its Chicago premiere this past January and February to rave reviews.

Other writing credits include: Running: A New Musical, Radical Morality (Nicholl Fellowship, Quarter-Finalist, Creative World Awards Semi-Finalist, PFP Great Screenplay Contest Semi-Finalist), Kissing The Frog Prince (Scriptoid Writers Challenge, All Access Screenwriters Competition & The Screenplay Festival Semi-Finalist), and The Pack (Creative World Awards Semi-Finalist). Sean resides in New York City and is a proud member of The Dramatists Guild. www.seanwchandler.com
David Leeper (Co-Host/Producer) is an award-winning actor and writer. He is most known for his solo-actor play; At The Flash that he has performed in Chicago, Los Angeles, Dublin, Philadelphia, Vermont and here in New York at FringeNYC where he was awarded an Overall Excellence Award for Solo Performance. On screen you can see him in the indie film Garden Party Massacre which is collecting awards right and left. David is a member of SAG/AFTRA and The Dramatist Guild. https://www.davidwleeper.com/