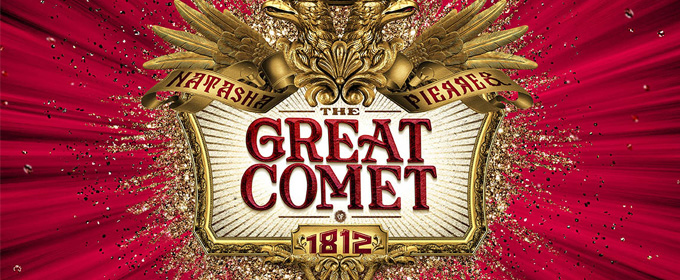 Click Here for More Articles on NATASHA, PIERRE AND THE GREAT COMET OF 1812
New Book Will Chronicle the Journey Behind 'GREAT COMET'; Includes All-New Recordings!
Follow the tail! NATASHA, PIERRE & THE GREAT COMET OF 1812: THE JOURNEY OF A NEW MUSICAL TO BROADWAY, edited and compiled by Steven Suskin with script and annotations by Dave Malloy, will hit the shelves this month.
This is the official, fascinating, behind-the scenes journey of the new musical Natasha, Pierre & The Great Comet of 1812, from its inception, to Off-Off Broadway, to Off-Broadway, to its premiere at the Imperial Theatre on Broadway. The musical is based on a dramatic 70-page slice of Leo Tolstoy's War and Peace.
Profusely illustrated, the book also includes an annotated script and a special CD with three songs from the Off-Broadway production and two all-new recordings for the Broadway production featuring Josh Groban with a 25-piece orchestra.
Steven Suskin has written 15 books about theater and music, including Show Tunes (Oxford University Press), The Sound of Broadway Music (Oxford University Press), Opening Night on Broadway (Schirmer), and The Book of Mormon: The Testament of a Broadway Musical (HarperCollins). He has written hundreds of reviews, liner notes, and columns for such outlets as Playbill, Variety, and the Huffington Post. On the other side of the footlights, he has served as producer and/or manager of dozens of plays and musicals. He lives with his wife, Helen, and children Johanna and Charlie in Manhattan.
Dave Malloy is a composer, writer, performer, Sound Designer, and orchestrator. He has written 11 musicals, including Natasha, Pierre & The Great Comet of 1812; other shows include Ghost Quartet, Preludes, Three Pianos, Black Wizard/Blue Wizard, Beowulf-A Thousand Years of Baggage, Beardo, Sandwich, Clown Bible, and (The 99-cent) Miss Saigon. He has won two Obie Awards, the Richard Rodgers Award, an ASCAP New Horizons Award, and a Jonathan Larson Grant, and has been a MacDowell fellow, composer-in-residence at Ars Nova, and guest professor in music theater at Princeton University and Vassar College. Future projects include adaptations of Moby-Dick and Shakespeare's Henriad. He lives in Brooklyn, NY.
ABOUT THE BOOK:
NATASHA, PIERRE & THE GREAT COMET OF 1812
THE JOURNEY OF A NEW MUSICAL TO BROADWAY
Edited and compiled by Steven Suskin • Script and Annotations by Dave Malloy
Sterling Publishing
ISBN: 9781454923282 • $40.00 ($45.00 Can) • Hardcover • 224 pages
Publication date: November 22, 2016
The new musical NATASHA, PIERRE &THE GREAT COMET of 1812 is now on Broadway,
starring Josh Groban as 'Pierre' and Denée Benton as 'Natasha' in their Broadway debuts. Created by Dave Malloy (Ghost Quartet, Preludes) and directed by Rachel Chavkin (Hadestown, Artistic Director of The TEAM), THE GREAT COMET began previews at Broadway's Imperial Theatre (249 West 45th Street) on October 18, and officially opened on Monday, November 14, 2016.
Led by Groban and Benton, the cast of THE GREAT COMET includes Brittain Ashford as
'Sonya,' Gelsey Bell as 'Princess Mary,' Nicholas Belton as 'Bolkonsky/Andrey,' Nick Choksi as 'Dolokhov,' Amber Gray as 'Helene,' Grace McLean as 'Marya D,' Paul Pinto as 'Balaga,' Scott Stangland as 'Pierre' (standby), and Lucas Steele as 'Anatole.' The ensemble includes Sumayya Ali, Courtney Bassett, Josh Canfield, Ken Clark, Erica Dorfler, Lulu Fall, Ashley Pérez Flanagan, Paloma Garcia-Lee, Nick Gaswirth, Alex Gibson, Billy Joe Kiessling, Mary Spencer Knapp, Reed Luplau, Brandt Martinez, Andrew Mayer, Azudi Onyejekwe, Pearl Rhein, Heath Saunders, Ani Taj, Cathryn Wake, Katrina Yaukey, and Lauren Zakrin.
THE GREAT COMET features choreography by Sam Pinkleton, set design by Mimi Lien, costume design by Tony Award winner Paloma Young, lighting design by Bradley King, sound design
by Nicholas Pope, music supervision by Sonny Paladino, musical direction by Or Matias, casting by Stewart/Whitley, and production stage management by Karyn Meek.
THE GREAT COMET is a theatrical experience like no other. Malloy's inspired adaptation of a 70-page slice of War and Peace puts audiences just inches away from Tolstoy's brash young lovers, as they light up Moscow in an epic tale of romance and passion.

Related Articles
More Hot Stories For You