Natasha, Pierre and the Great Comet of 1812 - 2016 - Broadway
Inspired by a 70-page slice of War and Peace, this "vibrant, thrillingly imagined new musical" (The New York Times) is "stunning and blazingly original" (Entertainment Weekly) and brings us just inches from Tolstoy's brash young lovers as they light up Moscow in a "heaven-sent fireball" (The New York Times) of romance and passion.
NATASHA IS YOUNG, ANATOLE IS HOT, AND ANDREY ISN'T HERE... BUT WHAT ABOUT PIERRE? Natasha is a beautiful ingenue visiting Moscow while she waits for her beloved fiance Andrey to return from the war. In a moment of indiscretion, she is seduced by the dashing (but already married) Anatole and her position in society is ruined. Her only hope lies with Pierre (Groban), the lonely outsider whose love and compassion for Natasha may be the key to her redemption... and to the renewal of his own soul.
"One of the decade's best musicals" (Time Out New York), THE GREAT COMET has "rousing music and ravishing performances" (Daily News) with a groundbreaking score that mixes rock, pop, soul, folk and electronic dance music with classic Broadway. THE GREAT COMET arrives fresh off its sold-out run in Boston and its critically acclaimed Off-Broadway premiere. Its renowned creative team has reimagined the Imperial Theatre as an opulent Russian salon, where every seat provides a unique perspective and an unforgettable experience which is "thrilling, a feast for the senses" (Associated Press) and "inventive, ravishing and full-on romantic" (New York Post).
Video preview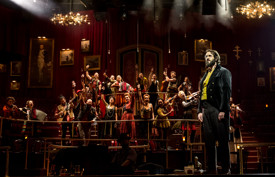 Photo preview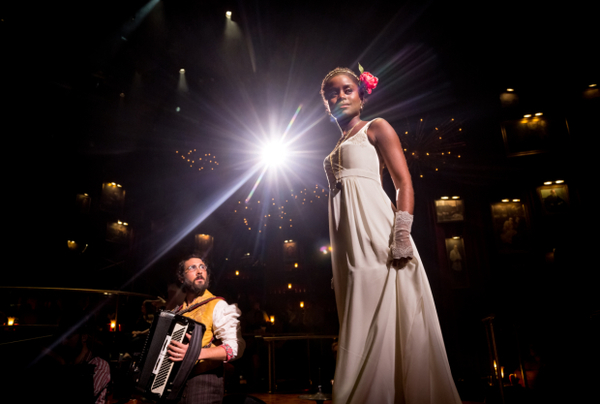 Schedule
Running Time: Two hours and 30 minutes, with one intermission
Featured Reviews For Natasha, Pierre and the Great Comet of 1812
Josh Groban shines in Broadway's supersized 'Natasha, Pierre & the Great Comet of 1812' - NY Daily News
The clean-cut crooner looks thicker in the waist and more unkempt than usual. Fitting, since he's playing a 19th century Russian slacker. The padded pounds and scraggly hair can't conceal Groban's burly burnished singing. The show, like his voice, is a pop-opera-hybrid. And he shines bright like high beams in this richly imaginative work created by Dave Molloy.
'Natasha, Pierre & The Great Comet of 1812' review: Josh Groban shines in the electro-pop opera - amNY
It truly is an opera (with sung-through scenes and arias instead of traditional songs) version of a novel (with plenty of exposition, long conversation and quiet meditation). Since it premiered, I have always found the show to be extremely uneven, with a stop-and-start momentum that alternates between all-out liveliness and long episodes of slow tedium.
Natasha, Pierre and the Great Comet of 1812 Broadway Cast