Click Here for More Articles on 2022 AWARDS SEASON
Michael Urie to Host The 63rd Annual Drama Desk Awards; Tickets Now On Sale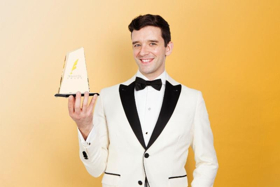 Tickets are now on sale for the 63rd Annual Drama Desk Awards, and can be purchased at www.DramaDeskAwards.com, it was announced today by Charles Wright, President of the Drama Desk, and Gretchen Shugart, President of Arts and Culture of AudienceView, which will present the awards ceremony. This year's Drama Desk Awards will be held on Sunday, June 3rd, 2018 at 8:00 PM at The Town Hall (123 W. 43rd Street).
Drama Desk Award winner Michael Urie (Torch Song, Buyer and Cellar, "Ugly Betty") will return as host of the ceremony for the third consecutive year.
The Drama Desk Awards are the only major New York City theater honors for which productions on Broadway, Off-Broadway, and Off-Off Broadway compete against each other in the same categories.
The Drama Desk Awards nominations announcement will take place on Thursday, April 26th at Feinstein's/54 Below at 10a.m.
"The Drama Desk is delighted that Michael Urie is hosting the Awards for a third time," said Drama Desk president Charles Wright. "Michael's enthusiasm for New York Theater and his distinctive sense of humor add the perfect zest to this annual celebration."
Joey Parnes Productions will produce and manage the show. The Awards show will be written by Bill Rosenfield (46 Beacon, True Fans, Sunshine and Shadow) and directed by Mark Waldrop (Not That Jewish, Howard Crabtree's When Pigs Fly, Bea Arthur on Broadway: Just Between Friends).
The 63rd Annual Drama Desk Awards will be sponsored by Music Theatre International, Hudson Scenic Studio, and Production Resource Group. More sponsors will be announced in the coming weeks.
The Drama Desk Awards, which are presented annually, honor outstanding achievement by professional theater artists on Broadway, Off-Broadway and Off-Off Broadway. What sets Drama Desk Awards apart is that they are voted on and bestowed by theater critics, journalists, editors and publishers covering theater. For this reason, Drama Desk Awards reflect enthusiasm for all aspects of New York's professional theater.
The 2017-2018 Drama Desk Nominating Committee is composed of: David Barbour, (Lighting&Sound America - Committee Chair), Linda Buchwald (freelance: Theatre is Easy, Playbill, American Theatre, TDF Stages), Peter Filichia (Broadway Select; Broadway Radio; author, most recently, Strippers, Showgirls, and Sharks - St. Martin's Press), Helen Shaw (Time Out NY; Village Voice), Martha Wade Steketee (freelance; Theater Pizzazz; Exeunt; HowlRound), Zachary Stewart (TheaterMania.com), Doug Strassler (Garden State Journal; Center on the Aisle; Back on the Block; TDF Stages), Charles Wright (Drama Desk President), ex officio.