Michael Emerson, Danny Burstein, and More Join LARAMIE: A LEGACY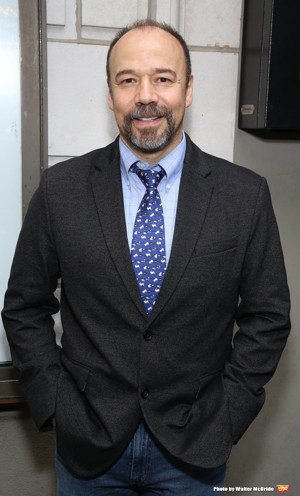 Tectonic Theater Project announced today that Michael Emerson, Danny Burstein, Purva Bedi and Andrew Keenan-Bolger have joined the cast of LARAMIE: A LEGACY, a reading of The Laramie Project honoring the life and legacy of Matthew Shepard for the 20th anniversary of his death, on Monday, September 24th at 7pm at the Gerald W. Lynch Theater at John Jay College.
Twenty years ago, the eyes of the nation were drawn to Laramie, Wyoming after the hate crime murder of Matthew Shepard. In the following weeks, the Matthew Shepard Foundation was founded and members of Tectonic Theater Project traveled from New York to Laramie to conduct interviews with the people of the town. These interviews formed the basis of The Laramie Project, which has become one of the most performed contemporary plays in the world. On September 24, 2018, the Matthew Shepard Foundation and Tectonic Theater Project will present LARAMIE: A LEGACY, a benefit reading of The Laramie Project to honor the progress made over the last two decades to erase hate.
Emmy and Peabody Award winning journalist Anderson Cooper will host the evening's benefit reception.
Emmy Award winner Michael Emerson ("Lost", Gross Indecency: The Trials of Oscar Wilde), six-time Tony Award nominee Danny Burstein (Fiddler on the Roof, The Drowsy Chaperone), Purva Bedi (Dance Nation, An Ordinary Muslim), and Drama League and Outer Critics Circle Award nominee Andrew Keenan-Bolger (Newsies, Tuck Everlasting) join previously announced cast members Tony, Emmy and Golden Globe Award winner Mary Louise Parker (Proof, "Weeds"); Tony Award winner Billy Porter (Kinky Boots); Olympic bronze medalist and U.S. Figure Skating champion Adam Rippon in his stage debut, Emmy Award nominee Samira Wiley (The Handmaid's Tale, Orange is the New Black), Critic's Choice Television Award nominee Asia Kate Dillon (John Wick 3: Parabellum, Billions), YouTube star and comedian Randy Rainbow, and the original company of The Laramie Project: Stephen Belber, Amanda Gronich, Mercedes Herrero, Andy Paris, Greg Pierotti, Barbara Pitts McAdams and Kelli Simpkins, with Tectonic Theater Project company member Scott Barrow. Tectonic Theater Project founder and Artistic Director Moisés Kaufman and company member Jimmy Maize direct.
Previously announced cast members Neil Patrick Harris (Hedwig & The Angry Inch; "How I Met Your Mother") and David Burtka (It Shoulda Been You) are no longer able to participate due to unforeseen scheduling conflicts.
Proceeds from LARAMIE: A LEGACY will benefit both the Matthew Shepard Foundation and Tectonic Theater Project, and their concurrent missions to educate and erase hate across the country through theater and activism. Company initiatives include Tectonic Theater Project's Moment Work Institute, which trains over 1,000 students and emerging artists each year in Tectonic's unique and powerful theater-making technique and The Matthew Shepard Foundation's continuing programs to foster a more caring and just world, including hate crime trainings for hundreds of police annually.
Tickets are available now by visiting www.laramiealegacy.org.
The Laramie Project is written by Moisés Kaufman and the members of Tectonic Theater Project, with head writer Leigh Fondakowski, and associate writers Stephen Belber, Greg Pierotti, Stephen Wangh. Dramaturge are Amanda Gronich, Sarah Lambert, John McAdams, Maude Mitchell, Andy Paris, Barbara Pitts McAdams, and Kelli Simpkins.
Host Committee Chairs for LARAMIE: A LEGACY are Mark Gude and Paul Sekhri. Vice-Chairs are Eric K. Fanning and Ben Masri Cohen. Celebrity Host Committee members are Sally Field, Jane Fonda, Tony Kushner, Laura Linney, Steve Martin and Mercedes Ruehl.
Photo Credit: Walter McBride / WM Photos