MasterVoices presents OUR AMERICA This March at The Cooper Union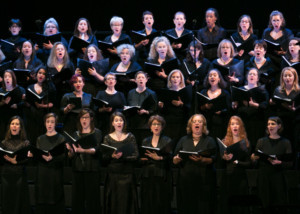 MasterVoices presents Our America-a unique program taking audiences on a journey through the contributions immigrants have made to the tapestry of American music-on Wednesday, March 7, 2018 at 7:00 p.m. at the Great Hall at The Cooper Union. Conceived by MasterVoices Artistic Director Ted Sperling, the program spans multiple genres and centuries, ranging from arrangements of the spirituals "Gospel Train," "Wayfaring Stranger," "I've Been in the Storm So Long," and "Ain't That Good News"; Irving Berlin's "Give Me Your Tired, Your Poor," and "Let Me Sing and I'm Happy,"; selections by Victor Herbert, Kurt Weill, Leonard Bernstein, and Gershwin; and new works by Jerusalem native and BMI Lehman Engel Musical Theatre Workshop member Daniel Rein and award-winning Chinese American composer Randall Eng.

The program also marks MasterVoices' debut at The Cooper Union- the birthplace of the NAACP, the women's suffrage movement, and some of the earliest workers' rights campaigns, as well as the site of speeches by President Abraham Lincoln and activist and writer Emma Goldman.

"I come from a family that was lucky to have had America as refuge, and my musical taste and inspirations are heavily influenced by the heritage my parents and grandparents brought with them from Europe," explains Artistic Director Ted Sperling. "American music simply wouldn't exist without the musically rich contributions of immigrants. I was inspired to create this new program to illustrate the tapestry of American music that is made up of threads from all over the world."

Additional performances in MasterVoices' 2017-18 season include: a new production of Orphic Moments, an evening featuring Gluck's Orfeo ed Euridice paired with Matthew Aucoin's dramatic cantata The Orphic Moment (May 6 and 7 at Rose Theater at Jazz at Lincoln Center's Frederick P. Rose Hall) featuring countertenor Anthony Roth Costanzo; and Naamah's Ark, a MasterVoices commission by Royce Vavrek and Marisa Michelson featuring Victoria Clark (Sunday, June 17 in Lower Manhattan, exact location to be announced), co-presented by Lower Manhattan Cultural Council as part of the River To River Festival 2018.
Program Information

OUR AMERICA
MasterVoices Chorus
Ted Sperling, Conductor

Wednesday, March 7, 2018 at 7:00 p.m.
The Great Hall at The Cooper Union
The Foundation Building
7 East 7th Street (between Third and Fourth Avenues)
New York, NY 10003

Ticket Information: Tickets, priced at $30 to $55, are available by visiting www.mastervoices.org or by calling 646-202-9623.
---
About MasterVoices
MasterVoices was founded in 1941 by conductor Robert Shaw, who believed in the voice as the world's most powerful instrument. Today the human voice remains at the heart of MasterVoices' concerts, from its acclaimed 100+ member chorus to the dazzling array of world-class soloists that perform with the group each year.

MasterVoices' productions are known for their vitality and scale, and the group's repertoire spans multiple genres, including choral classics, operas in concert, musical theater programs, and newly commissioned works at venues ranging from Carnegie Hall and New York City Center to site-specific concerts at synagogues, airplane hangers, museums, and bandshells. MasterVoices often tours internationally, most recently appearing with the Israel Philharmonic Orchestra and at the Verbier Festival in Switzerland.

The organization's concerts serve a deeper purpose as well: to nurture the artists of tomorrow. The Faith Geier Initiative gives debuts to promising young soloists, and at any time the chorus may include high school students from the Side-By-Side program, which invites aspiring young singers to join MasterVoices in concerts and tours, guided by experienced chorus members as mentors.

MasterVoices' vision continues to expand under the baton of Tony Award-winning Artistic Director Ted Sperling. Its musical theater offerings have become richer, as a result of the establishment of The Rees Fund for Musical Theater, and its new Bridges program has started to introduce composers to specific New York City communities to create new choral works inspired by their stories. For more details, please visit mastervoices.org.

About Ted Sperling
One of today's leading musical artists, Ted Sperling is a director, music director, arranger, orchestrator, conductor, singer, pianist and violinist. Mr. Sperling became the Artistic Director of MasterVoices in October 2013 and additionally serves as the Principal Conductor of the Westchester Philharmonic. He has conducted concerts with the New York Philharmonic, Chicago Symphony Orchestra, San Francisco Symphony, the Lyrics and Lyricists series at the 92nd Street Y.

Mr. Sperling won the 2005 Tony and Drama Desk Awards for his orchestrations of The Light in the Piazza, for which he was also music director. Other Broadway credits include the rapturously received revivals of Fiddler on the Roof, The King and I, and South Pacific; Guys and Dolls, Dirty Rotten Scoundrels, The Full Monty, How to Succeed in Business Without Really Trying, My Favorite Year, and Sunday in the Park with George. Off- Broadway credits include A Man of No Importance, A New Brain, Saturn Returns and Floyd Collins. Opera work includes two New York City premieres by composer Ricky Ian Gordon: 27 starring Stephanie Blythe, and The Grapes of Wrath, starring Nathan Gunn; Dido and Aeneas starring Kelli O'Hara and Victoria Clark; and La Voix Humaine starring Audra McDonald. Mr. Sperling's work as a stage director includes the world premieres of The Other Josh Cohen, See What I Wanna See, Striking 12, and Charlotte: Life? Or Theater?, as well as a revival of Lady in the Dark. Mr. Sperling received the 2006 Ted Shen Family Foundation Award for leadership in the musical theater, headed the Music Theater Initiative at The Public Theater, and is Creative Director of the 24-Hour Musicals.

Image by Erin Baiano