MEAN GIRLS On Broadway to Take Over DragCon NYC!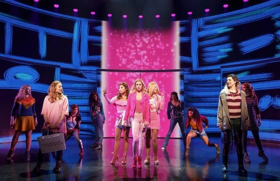 Mean Girls on Broadway is taking over DragCon NYC with a panel and runway show that are hotter than Aaron Samuels. Check out the full fetch details below!
Panel: Too Gay To Function: The Cultural History of Mean Girls
Prepare thyself for an eleganza extravaganza conversation-anza with Grey Henson (Damian in the Broadway musical Mean Girls!), Daniel Franzese (Damian from the film Mean Girls!), and Damian Holbrook (the real-life inspiration for the character!) where we discuss universe-altering, life-affirming, questions that have had us shook since 2004 - how and why did the film, Mean Girls, become an instant classic and dominate the modern lexicon (look it up, queen), why has it become so influential in gay and drag culture, and honestly the biggest question - if she doesn't go here, then where does she go?!
Event: North Shore Winter Talent Show with Regina George
Grab your best blonde wig, shortest skirt, and choke down a Kalteen bar because it's time to serve Regina George realness. Lip-sync for your life to "World Burn" from Mean Girls and you just might be crowned Queen Bee of North Shore in a contest judged by Queen of Broadway, Taylor Louderman (Regina George, Mean Girls on Broadway) and the other Queen of Broadway, Grey Henson (Damian Hubbard in Mean Girls on Broadway). Just remember to shave your back first. K?
For more details visit: rupaulsdragcon.com
Featured BroadwayWorld Events
Check out these concerts...
Related Articles
More Hot Stories For You
Final Lineup Announced For SAVE BIRDLAND: A Celebration Of Music, History, And Community
The fundraising campaign for Birdland Jazz Club will conclude on January 24th with a free streaming concert titled Save Birdland: A Celebration of Mus...

NYTW Gala To Celebrate 25th Anniversary Of RENT Featuring Original Cast Members Anthony Rapp, Adam Pascal, Idina Menzel, and More!
Today marks the 25th Anniversary of RENT's first performance at New York Theatre Workshop. The NYTW has announced that its 2021 Annual Gala will celeb...

VIDEO: On This Day, January 24- Happy Birthday, Daveed Diggs!
For his performance in Hamilton, Daveed won the 2016 Tony Award for Best Featured Actor in a Musical, as well as a 2016 Grammy Award for the cast albu...

VIDEO: Celebrate Chita Rivera's Birthday on Stars in the House- Live at 8pm!
Stars in the House continues tonight (8pm) with Chita Rivera's birthday celebration! An accomplished and versatile actress/singer/dancer, Chita Riv...

VIDEO: Get a Sneak Peek at Jeremy Jordan in Hallmark's MIX UP IN THE MEDITERRANEAN
Jeremy Jordan is returning to your screens with the all new Hallmark movie, Mix Up in the Mediterranean....

VIDEO: On This Day, January 23- LITTLE WOMEN Opens On Broadway
On this day in 2005, a musical adaptation of the classic novel Little Women landed on Broadway, starring Tony Award-winner Sutton Foster as the fearle...