Lindsay Mendez and Ryan Scott Oliver's ACTOR THERAPY Begins 2017 Fall Cabaret Series Next Week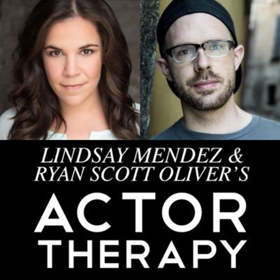 Lindsay Mendez & Ryan Scott Oliver'S ACTOR THERAPY presents their Fall 2017 Cabaret Series at Don't Tell Mama, beginning on October 19th, 2017 at 9:30pm with "REINTRODUCING ALINA FONTANILLA." On November 2nd, 2017 at 9:30pm,, Gerry Vega stars in his show "PENNIES FROM HEAVEN". The series will also present solo shows by AMY BUTTON on November 17th at 9:30pm and EDDY CAVAZOS on November 30th at 9:30pm. The series is hosted by Actor Therapy alum Mathieu Whitman.
"Reintroducing Alina Fontanilla" (October 19th at 9:30pm) stars Alina Fontanilla, with musical direction by Jason Wetzel, and features opening acts Mat Bautista & Robert Murray. All of her friends are getting engaged and married, and Alina is just over here trying to get a callback! Three months shy of 30, Alina reflects on where she's been, what she's learned, and how far she'll go...all in the name of "Reintroducing Alina Fontanilla." With tunes from "Smash" to Stephen Schwartz to Nicki Minaj, it's like an existential crisis...with showtunes!
In his second solo cabaret, Gerry Vega recounts his quest to strengthen his superpower: Positivity. "Pennies from Heaven" (November 2nd at 9:30pm) incorporates Pop/Rock, Musical Theater, and the American Songbook to revisit the disappointment, heartbreak, and anxiety Gerry overcame to become a superhero. The pennies are those cheap moments we all experience...collect enough of them, and you'll have something far more valuable: strength and stability. It was Originally workshopped as part of Feinstein/54 Below's 2017 Concert Lab Series, and debuted at The Duplex this past June. "Pennies from Heaven" stars Gerry Vega, directed by Amy Polk, with musical direction by William TN Hall & Rodney Bush, and features opening acts Christine McNeal & Alex Monge.
"Amy Button at Don't Tell Mama" (November 17th at 9:30pm) stars Amy Button and features opening acts Nicole DeLuca & ByRon Martin Turk, with special guests Russell McCook & Shannon Walsh. A night of song, dance, and everything in-between, from the classics of Loesser and R&H, to Stevie Wonder, Pink, Meghan Trainor (and a holiday tune or two!), Amy won't miss a beat-or a decade. The perfect treat to kick off your holiday season!
"Masc for Mascara" (November 30th at 9:30pm) stars Eddy Cavazos with musical direction by Rodney Bush and features opening acts Anna Robbins & Shannon Walsh. Tony Award Viewer Eddy Cavazos premieres his newest solo work, an honest and hilarious show that unpacks masculinity (in all its various facets.) This culmination of song and story will feature musical theater classics, contemporary musical theater material, some Jessie J & Sam Smith, and promises to both excite AND enlighten.
Lindsay Mendez & Ryan Scott Oliver's Actor Therapy plays Don't Tell Mama (343 W 46th St.) on October 19th, November 2nd, November 17th, & November 30th, all at 9:30pm.. There is a $15 cover charge (cash only) and a 2-drink minimum per person. Tickets and information are available at http://www.donttellmamanyc.com/shows.
MORE ABOUT THE ARTISTS:
Alina Fontanilla recently completed the inaugural Musical Theatre Intensive at the Royal Academy of Dramatic Art, where she appeared in Greenwillow (directed by Geoff Bullen). She will be seen next in a reading of Steadfast Tin Solider, a new musical by Allen Robertson, book and story adaptation by Damon Brown and Allen Robertson, with arrangements by Hamilton's J. Quinton Johnson.
Gerry Vega is a proud member of Actors' Equity Association and most recently debuted his solo show at The Duplex and as part of Feinstein/54 Below's 2017 Concert Lab Series. His first show "Growing Up?" premiered at The Duplex Cabaret Theater in the summer of 2016. Other credits include: Berry the Elf (Santa's Village), E (Billy Bonfire: A Rock Opera), and Brother Bear (The Berenstain Bears LIVE: In Family Matters, the Musical).
Amy Button is ecstatic to be singing on the Don't Tell Mama's stage for the second time this year! Most recently, Amy was seen in the ensemble of Ethan Carlson's new work, Her Sound, which premiered this past June. Amy has also recently danced around the country in the ensemble of Andrew Lloyd Webber's North American Tour of The Wizard of Oz. Other credits include: Into the Woods (Little Red Ridinghood), BatBoy (Shelley), 110 in the Shade (Snookie), and The Pajama Game (Mae). Proud OCU grad!
Eddy Cavazos most recently appeared eating chips on his couch. Recent NYC credits include: Lift Every Voice @ Joe's Pub and Manuel vs. The Statue of Liberty (Manuel). Regional credits include: White Christmas (Mike Nulty), Hairspray (Edna), The Little Mermaid (Scuttle), Altar Boyz (Juan), and Peter and the Starcatcher (Swing). M.F.A. from The Boston Conservatory.
Mathieu Whitman most recently starred as Frog in the national tour of A Year With Frog and Toad, and debuted his solo cabaret at both Don't Tell Mama & Feinstein's/54 Below in NYC. Credits: Frog and Toad (Casa Manana), A Christmas Carol (Nat'l Tour); Pinkalicious! (Off-Broadway & Nat'l Tour); Charlie Brown in You're a Good Man... (Millbrook Playhouse); & the feature film Jug Face. He has a BFA in Drama (NYU/Tisch) and is a proud member of Actors' Equity.
MORE ABOUT ACTOR THERAPY:
Broadway actress Lindsay Mendez (the recently announced Carrie Pipperidge in the 2018 revival of Carousel; Wicked, Dogfight, Godspell) and award-winning composer-lyricist Ryan Scott Oliver (35mm, We Foxes, Jasper in Deadland, Darling) present ACTOR THERAPY, a series of masterclasses for performers looking to improve their auditions, build a better book, and expand their understanding of what it means to be an actor and song interpreter in New York today. The "therapy" part of ACTOR THERAPY refers to the fact that one-night masterclasses are great for song critique and to help you work on one song at a time... But ACTOR THERAPY focuses on working on the actor inside. What is keeping you from going on auditions? From updating your headshot/resume? Why are callbacks getting fewer and far between? Do you lack motivation to be productive during the day? Do your poor skills with money force you to take survival jobs that are killing your will to audition? These questions and more are the topics of every ACTOR THERAPY class. The cabaret series is an extension of their work, featuring debut solo shows by some of their long-term students. www.actortherapynyc.com
MORE ABOUT Don't Tell Mama:
Established in 1982, Don't Tell Mama is celebrating over 30 years as a world famous entertainment destination. Located on renowned Restaurant Row in the heart of New York's theater district, Don't Tell Mama is one-of-a-kind - a veritable nightlife mall with four individual spaces: a piano bar, a restaurant and 2 separate cabaret showrooms: a cineplex of cabaret!
Countless luminaries have come through their doors, such as Liza Minnelli, Paul Newman, Joan Rivers, Bette Midler, Rosie O'Donnell, Chita Rivera, Kathy Griffin, Audra MacDonald, Kristin Chenoweth, Mario Cantone, & Cuba Gooding Jr., to name but a few!