KRIS KRINGLE THE MUSICAL with Cathy Rigby, Andrew Keenan-Bolger and More, Arrives at Town Hall Today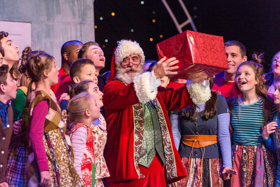 Kris Kringle The Musical, featuring Tony Award nominees Cathy Rigby and Pamela Myers (Company, Into the Woods), and Broadway's Andrew Keenan-Bolger (Tuck Everlasting, Newsies) and Kim Crosby (Into the Woods,Guys & Dolls) plays two performances, today, November 24 at 3PM and 8PM, at The Town Hall (123 W. 43rd Street, NYC).
KRIS KRINGLE The Musical, a heartwarming new musical revealing the untold story of the North Pole, weaves a new and entirely original tale that will delight audiences of all ages. Based on one of the most familiar names of holiday folklore, this is the tale of a young, starry-eyed toymaker, Kris Kringle, who crosses paths with an evil New York City toy company CEO and finds himself wrapped up in a magical curse with the power to destroy Christmas. From the top of the world in the North Pole, Kris Kringle teams up with Santa and Mrs. Claus, the beautiful Evelyn Noel, a band of hilarious Apprentices and Elves, and magical Toys to remind us what Christmas is really about.
KRIS KRINGLE The Musical features an original book by Maria Ciampi. With music and lyrics by Tim Janis and Angelo Natalie, and additional lyrics by Maria Ciampi, Kris Kringle The Musical lights up the stage with an original score of songs destined to become holiday classics.
Directed by Pierre Brault, Keenan-Bolger, Crosby, Rigby and Myers are joined on stage by Todd Buonopane (Chicago on Broadway), Derrick Cobey (The Scottsboro Boys on Broadway), Matt Densky (How the Grinch Stole Christmas! at Madison Square Garden), Ani Djirdjirian(Endangered! The Musical, Off Broadway), Kaylin Hedges (Annie at the Westchester Broadway Theater),Samantha Hill (The Phantom of the Opera, Les Misérables on Broadway), Michael Mauldin (Les Miserables on Broadway), Gabrielle McClinton (Chicago the Musical on Broadway), Jackie Nguyen (How The Grinch Stole Christmas!, national tour), Sarah Pesek (Investigation Discovery's "Pandora's Box"), Amy Persons (Sister Act,national tour), Anthony Rosenthal (Falsettos on Broadway), Josh Tolle (Kinky Boots, national tour), Nick Varricchio (A Chorus Line, national tour), Jeremy T. Villas (Kinky Boots on Broadway) and Gregory Violand(Batman vs Superman-Dawn of Justice).
KRIS KRINGLE The Musical features musical direction by Charles Eversole, and a costume, prop and puppet design by Inda Blatch-Geib. Kris Kringle The Musical is presented by Angel Polar Bear LLC. Tony Award nominee Gerald A. Goehring (A Christmas Story The Musical) and John E. Thomas (Little Women The Musical) are Executive Producers. Casting is by Stephanie Klapper, CSA.
KRIS KRINGLE The Musical is to benefit The Singing Angels, a charity whose mission is to "encourage, foster and cultivate positive youth development by engaging youth from all communities in quality music and performing arts education."
ABOUT THE ARTISTS:
Cathy Rigby (Narrator) is a two-time Olympic Gymnast (1968 and 1972). During her gymnastics career, Cathy won twelve international medals, eight of them gold. In 1998, she was inducted into the International Gymnastics Hall of Fame. When Cathy retired from the sport in 1972, she joined ABC's Wide World of Sports. For 18 years, she covered two Olympics in Montreal and Los Angeles, providing expert commentary on the sport of gymnastics around the world. During this time, ABC's venerable Wide World of Sports named her one of "America's Most Influential Women in Sports." After seven years of intense voice and theatrical training, she embarked on a new career in performing arts. National and regional tour credits include: Annie Get Your Gun, Meet Me In St. Louis, South Pacific, Paint Your Wagon, The Unsinkable Molly Brown, Silvia, and Steel Magnolias. On Broadway, she starred as the title role in Peter Pan in 1991 and 1998, and inSeussical the Musical as Cat-In-The-Hat in 2002. Cathy has been honored with the National Broadway Theatre Award, "Ovation" Lifetime Achievement Award (the West Coast version of a "Tony"), and the 2004 Distinguished Lifetime Service Award from The League of American Theatres and Producers. In 1991, Cathy received a Tony Award nomination for Best Leading Actress in a Musical when she starred in the 35th Anniversary production of Peter Pan on Broadway. In addition to multiple Tony nominations, Peter Pan also garnered several Emmy nominations when A&E filmed the show for television broadcast in 2001, taking home two Emmy awards in the process. She also starred in the popular American Girl movie "An American Girl: McKenna Shoots for the Stars." Cathy and husband Tom McCoy are Executive Producers of the McCoy Rigby Entertainment Series at La Mirada Theatre for the Performing Arts in La Mirada, California.. There, they have successfully produced 23 seasons and have launched several national touring productions including: Jesus Christ Superstar, Annie Get Your Gun, 4 Broadway/National/international tours of Peter Pan, Camelot, Happy Days the Musical and Seussical the Musical. In addition, Cathy and Tom McCoy own and run McCoy Rigby Conservatory of The Arts in Yorba Linda, California which provides students with an opportunity to find their creative outlet, whether it is acting, dancing, singing, art or playwriting. McCoy Rigby Arts, Inc, the nonprofit arm of MRCA, offers Merit scholarships as well as social and educational classes, and performance opportunities for children at risk and with No Limits special needs. To donate, visit www.mccoyrigbyarts.com.
Andrew Keenan-Bolger (Kris Kringle)is an actor, director, author and filmmaker. He's been working in the entertainment industry since the age of 10 when he made his Broadway debut as "Chip" in Beauty and the Beast. Recently, he starred as "Jesse Tuck" in Tuck Everlasting on Broadway (Drama League Award nominee). He created the role of "Crutchie" in Newsies on Broadway (Outer Critics Circle nominee) as well as the record-breaking film version which premiered in 2017. Other Broadway credits include Mary Poppins, Seussical, A Christmas Carol. 1st Nat'l Tours: Spelling Bee, How The Grinch Stole Christmas, Mary Poppins, Ragtime. On film he's portrayed "Billy Frazier" in The Rewrite starring Hugh Grant,Marci X, You Must Be Joking and the upcoming To Dust starring Matthew Broderick. TV credits include Nurse Jackie(Showtime), Looking (HBO), Naked Brothers Band (Nickelodeon), One Life to Live. He has a B.F.A. from the University of Michigan. His work as a filmmaker has been profiled in The New York Times, The Wall Street Journal, Entertainment Weekly, The Associated Press and New York Magazine. He is the director of the award-winning short films Sign and The Ceiling Fan. Along with collaborator, Kate Wetherhead, he is the co-creator the critically acclaimed webseries, Submissions Only (www.submissionsonly.com) and co-author of the best-selling children's book series Jack & Louisa. (Penguin Random House).
Pamela Myers (Grandma Kringle) is a graduate of the University of Cincinnati, College Conservatory of Music. She was nominated for a Tony in the original cast of Stephen Sondheim's Company. She also appeared in the Broadway revival of Into the Woods in 2002. She performed in numerous TV shows in the 70's and 80's including In Performance at the White House with Marvin Hamlisch and Jerry Herman. She toured for two seasons with White Christmas and performed around the country in Gypsy, Sweeney Todd and many POPS concerts.
Kim Crosby (Mrs. Claus) originated the role of Cinderella in Stephen Sondheim's Into the Woods. Other Broadway credits: Sarah Brown in Guys and Dolls, and the original company of Jerry's Girls. National tours of Peter Pan with Cathy Rigby, and Oklahoma! Other New York appearances at BAM, City Center, and the York Theatre. Regionally, Kim has performed at The Old Globe, ART, Goodspeed, Barrington Stage, MUNY, KC Starlight, among others. Performed extensively as a Pops concert artist in the US and abroad. Married to actor Robert Westenberg. They have three children.
Maria Ciampi (Original Story, Book Writer & Additional Lyrics), who wasborn on Christmas Day, brings inspiration to this production ofKRIS KRINGLE The Musical. She is the author of Kris Kringle The Musical, which is based on her screenplay and her book entitled Kris Kringle. She is also the author of the screenplay Principal Meaney's Last Detention and is currently writing an original screenplay Grandma Oscar. In addition to her writing talents, Maria is a practicing attorney, a former law school professor, and the author of the legal treatise, The Question Presented, which has been used as part of the curriculum at Harvard Law School.
Tim Janis (Music & Lyrics) has two No. 1 Billboard charting CD's in Classical and Classical Crossover, 5 National Public Television Specials and has worked with some of the top artists in the music and entertainment business, from Sir Paul McCartney, Billy Joel, Kate Winslet, Dick Van Dyke, Ray Charles, Andre Previn, Sir James Galway and James Earl Jones. His music has travelled a long and fascinating journey from Carnegie Hall and Lincoln Center in New York City to Africa, Japan, China and Eastern Europe. He has conducted and performed with The American Symphony Orchestra and numerous international Symphony Orchestras and has recorded with Kurt Masur, New York Philharmonic, David Snell, and The London Symphony Orchestra. His music transcends Symphony and Orchestra with his production of The Christmas Rose starring Jane Seymour which debuted at Carnegie Hall in 2012 (script and music written by Tim Janis) to his music arrangements for QVC (2001 - Present).
Angelo Natalie (Music & Lyrics). For thirty years, advertisers and networks such as Cabbage Patch Kids, Pepsi, Dodge, Pizza Hut, A&E, AMC and Nickelodeon have called on Angelo to score spots and themes for them. The producers of PBS' Barney & Friends use over 30 of his songs in the TV show as well as on CDs & DVDs, all of which are distributed internationally. Angelo's song, "It's C-C-Cold Burr" was performed on national television at the Macy's Thanksgiving Day Parade in 2004. He is the primary songwriter for the direct-to-DVD series Boz: The Green Bear Next Door created and produced by former Barney executives.
Pierre Brault (Director)is the Co-founder and Artistic Director of Mercury Theatre Company, a professional theatre company in Cleveland, Ohio celebrating its 20th Anniversary. At Mercury, Pierre has staged many award-winning productions, including: Grand Hotel, Ragtime, Peter Pan, A Musical Adventure, Finian's Rainbow, Disney's The Little Mermaid and the production that put Mercury on the map, the critically acclaimed, Honk! Pierre serves as Resident Director of Virginia Musical Theatre in Virginia Beach, VA, where he has staged over a dozen musicals, most recently the regional premiere of Mamma Mia and Freaky Friday. Recently, his work in A Christmas Story, The Musical at Riverside Center for the Arts was acknowledged as one of the Best Directions and Best Musicals of 2016 by DCMetroTheatreArts. A native of Cleveland, Brault has worked as a director, actor, talent agent, teacher, and held the position of Booking Associate at The Brickhouse Network for the recording artist, Jim Brickman. Currently, Pierre is Director of Theatre at Notre Dame College. Pierre earned his Bachelors of Music in Musical Theatre from Baldwin-Wallace University, under the direction of Victoria Bussert.
Charles Eversole (Music Director)is the Artistic Director of Cleveland's world-renowned youth chorus "The Singing Angels." He holds vocal music degrees from the University of Michigan and Baldwin-Wallace Conservatory of Music. He served as a musical director for over 40 productions, including the national tours of The Who's Tommyand A Grand Night for Singing. He is also the Music Director of the Cleveland Cabaret Project, an organization dedicated to the advancement of cabaret performance in and around Cleveland.
Gerald A. Goehring (Executive Producer) is a Tony® and Grammy® nominated producer who has been creating and producing new projects across the country for over twenty five years, while managing critically acclaimed non-profits and academic performing arts centers. Recent national and New York productions include lead producer for the critically-acclaimed musical A Christmas Story, the Musical, which broke existing box office records at Broadway's Lunt-Fontanne Theatre. A Christmas Story also received Tony nominations for Best Musical, Best Score and Best Book. It also has toured nationally, played Madison Square Garden and will be featured as a live musical on Fox TV on December 17, 2017. Mr. Goehring served as the Executive Director/CEO of the Tony Award® - winning National Theatre of the Deaf (NTD) and also co-founded, with his wife Patty Carver, the national touring company, Connecticut Children's Theatre, Inc. in 1991, which has performed for well over one million children. In addition, he was executive producer for the Grammy® nominated CD of Ogden Nash's "The Christmas That Almost Wasn't," starring John Lithgow for "Best Spoken Word for Children." He is Director of Performing Arts at Sacred Heart University in Fairfield, CT. Current Broadway projects include lead producer for the Broadway revival of The Secret Garden, the new musical comedy, "Intermission!" by famed comedic writer Jerry Zucker ("Airplane!," Naked Gun," etc.) and "Fido" with music/lyrics by Joe Iconis and book by Kyle Jarrow.
John E. Thomas (Executive Producer) and his wife Danita Thomas are the founders and owners of the Creative Licensing Group. Their clients include major corporate brands and celebrities as well as Broadway shows and Broadway tours. They have represented Memphis, Million Dollar Quartet, Chicago, The Addams Family, Ghost, Cathy Rigby is Peter Pan, Toxic Avenger, the Rodgers and Hammerstein library and the upcoming Broadway revival of The Secret Garden. John and Danita began their Broadway producing careers over 15 ago when they produced the Tony nominated musical Little Women starring Sutton Foster and Maureen McGovern. They are best known for their enormously successful brand, Kid Concoctions, setting records during the 15 years they appeared on QVC & PBS. They have been seen on countless national television shows and have written several international best-selling children's books selling a combined 10 million copies.
Angel Polar Bear LLC (Producer) is a New York limited liability company that has produced Stage Readings (New York and Kennedy Center, Washington D.C.), an abridged version (Book Expo America, Javits Center, New York), and a full production (Cleveland, Ohio) of Kris Kringle The Musical. Angel Polar Bear is delighted to bring this "Storybook Edition" production to Town Hall for the 2017 holiday season.
Founded in 1921 by suffragettes, THE TOWN HALL began as a lecture hall and public debate forum and grew to be a landmark institution for arts, culture, and education. Over the decades, Eleanor Roosevelt, Margaret Sanger, Billie Holiday, Igor Stravinsky, Bob Dylan, and Miles Davis have graced the stage. Today the Hall boasts the hottest acts in rock, pop, folk, cabaret, world music, comedy, and dance. Recent artists include Elvis Costello, Larry David, Ani DiFranco, Amanda Palmer, Rodriguez, Pat Metheny, Norah Jones, Brandi Carlile, Joe Jackson, Pink Martini, Regina Spektor, and Lang Lang. For over twenty-five years, The Town Hall has hosted live broadcasts of Garrison Keillor's Prairie Home Companion and produced a number of new and critically acclaimed musical series, including Century of Change, Not Just Jazz, Broadway by the Year, Broadway Cabaret Festival and, recently, Newish Jewish Music Festival and Leyendas: Latin Music Legends.
Related Articles
More Hot Stories For You
VIDEO: On This Day, January 16 - Happy Birthday, Lin-Manuel Miranda!
On this day we're celebrating the birthday of the great Lin-Manuel Miranda! ...

10 BRIDGERTON The Musical TikToks That We're Obsessed With
This idea started by songwriter Abigail Barlow who asked the question, 'Okay, but what if Bridgerton was a musical?'...

VIDEO: HAMILTON Cast Members Reunite For the SAG Nominating Committee
Original cast members from Hamilton reunited on Zoom for a Screen Actors Guild Q&A this weekend. The Zoom call featured Lin-Manuel Miranda, Daveed Dig...

Virtual Theatre This Weekend: January 16-17- with Kelli O'Hara, Adam Pascal, and More!
Broadway might be dark, but that doesn't mean that theatre isn't happening everywhere! Below, check out where you can get your daily fix of Broadway t...

IATSE Calls For Turning Live Performance Venues into Vaccination Sites
IATSE, the union that represents the workers behind-the-scenes at live performance venues, tweeted earlier this week in support of turning venues into...

VIDEO: On This Day, January 18- RAGTIME Opens on Broadway!
Today we celebrate Ragtime the Musical, which opened on Broadway on this day in 1998. ...