Josh Prince's Broadway Dance Lab Launches Today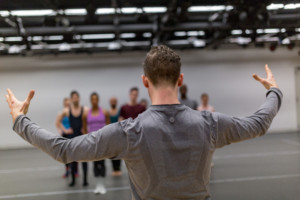 Broadway Dance Lab (BDL), a choreographic incubator supporting new works of dance-driven theatre, has announced that Brook Wendle (Paramour, Gossip Girl), Caleb Teicher (Dance Magazine's "25 to Watch"), Abdul Latif (Lincoln Center Institute artist-in-residence), and Katie Rose McLaughlin (Designated Movement Company), will join artistic director Josh Prince as choreographers for the company's Fall 2017 Cycle. The Lab is set to begin on Oct. 30, and will run through Dec. 15.
The roster of dancers for the Fall Cycle will include Francisco Graciano, recently retired from Paul Taylor American Modern Dance after 13 seasons, and Amy Yakima, winner of Season 10 of FOX's hit television show So You Think You Can Dance. Additional dancers joining the Lab are Lloyd Amir Boyd III, Melanie J. Comeau, Tony D'Alelio, David Ferguson, Kory Geller, Morgan Gillott, Kelly Loughran, Oliver Medus, Valerie Salgado, Latra Wilson.
Founded in 2012 by Prince, BDL is the only arts service organization of its kind dedicated to giving theatre dance makers the tools they need to practice their craft and test their ideas in an environment of artistic privacy.
"BDL gave me the gift of risking being courageous again," Lorin Latarro, choreographer of Waitress, said. "I've been asking questions again and practicing process again. It reminded me how much I love dance and dancers, and how many ways to spend eight counts there are in the universe."
In addition to Latarro, past BDL choreographers have included Andy Blankenbeuhler, Marcelo Gomes, Larry Keigwin, Camille A. Brown, JoAnn M. Hunter, Wendy Seyb, Ron Todorowski and Al Blackstone. The company has been presented by the Guggenheim Museum's Works and Process, and has been profiled by PBS, American Theatre Wing, The Wall Street Journal and Dance Magazine. Their recently launched podcast, In Step with Broadway Dance Lab, features interviews with choreographers discussing their careers in the industry. It is available for streaming on Apple iTunes.
To learn more about Broadway Dance Lab visit www.broadwaydancelab.org.