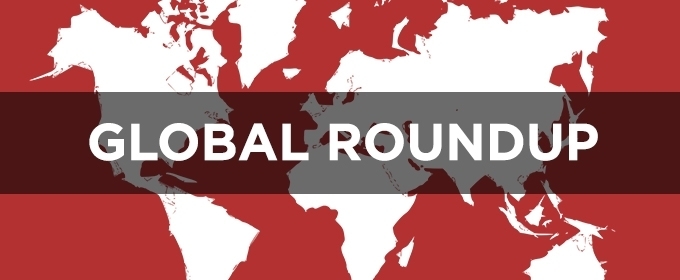 Global Roundup 3/29 - Michael Crawford Visits High School Phantom, Ohio Theatre Group 'Takes on Liberals', and More!
BroadwayWorld presents a comprehensive weekly roundup of regional stories around our Broadway World, which include videos, editor spotlights, regional reviews and more. This week, we feature Michael Crawford Visits High School Phantom, Ohio Theatre Group Takes on Liberals, and More!
Check out our top news and features from around the BroadwayWorld below! Want more great global content? Check out our "Around The World" section!
---
Top Stories

Photo and Video Special: Original Star Michael Crawford Visits Orange County High School PHANTOM Production - This weekend, Michael Crawford made a surprise appearance at the Huntington Beach Academy for the Performing Arts' production of The Phantom of the Opera in Orange County, California. After watching the performance, Crawford appeared on-stage and met with the students to congratulate the cast, orchestra, crew and production team. (Read more)
---
VIDEO: Ohio Community Theater Group Takes On 'Liberal Stranglehold' on the American Stage - Stage Right Theatrics is a company promoting conservative-themed plays and the artists who create them. In a new feature from Vice News, the company - based in Columbus, OH, is profiled. Check out the video below. The company was started by playwright Robert Cooperman, in an effort "to give credence to a truly marginalized group of artists whose voices are systematically silenced." (Read more)
---

PHOTO/VIDEO: New Jersey High School Stages Visually Stunning Adaptation of ALIEN - A high school in New Jersey has taken the internet by storm with their stage production of Alien. Photos from the stage adaptation of the film, performed by North Bergen High School Drama Club, surfaced on social media, thanks to Paul Owens. The photos caused the production to create quite a buzz across the internet. (Read more)
---

Photo: Art Revealed For Britney Spears Musical ONCE UPON A ONE MORE TIME - Art has been revealed for Once Upon a One More Time, a new Broadway-bound musical comedy set to the smash hit music of Grammy Award-winning superstar Britney Spears. The musical will have its world premiere this fall at Broadway In Chicago's James M. Nederlander Theatre, with previews set to begin Tuesday, October 29, 2019, with an opening night of November 13, 2019, for its limited engagement through December 1, 2019. (Read more)
---
Photo Flash: Get A First Look At The Toronto Production of DEAR EVAN HANSEN - BroadwayWorld has a first look at the Toronto company of Dear Evan Hansen! The cast includes Robert Markus as 'Evan Hansen', Stephanie La Rochelle as 'Zoe Murphy', Jessica Sherman as 'Heidi Hansen', Claire Rankin as 'Cynthia Murphy', Evan Buliung as 'Larry Murphy', Sean Patrick Dolan as 'Connor Murphy', Alessandro Costantini as 'Jared Kleinman', and Shakura Dickson as 'Alana Beck', along with Zachary Noah Piser as the 'Evan' alternate and understudies Erin Breen, Malinda Carroll, Jay Davis, David Jeffery, Laura Mae Nason, Kaitlyn Santa Juana and Josh Strobl. (Read more)
---
Top Reviews
UK / West End: Contributor Flora Seymour reviews LA FORZA DEL DESTINO at the Royal Opera House, writing "Not since a memorable La traviata in 2008 have superstars Anna Netrebko and Jonas Kaufmann appeared together at the Royal Opera House. Small wonder, then, that their pairing as fate-thwarted lovers Leonora and Don Alvaro in Verdi's sprawling tragedy La Forza del Destino sent the Royal Opera House booking system into meltdown, with tickets soon appearing on external sites for four-figure sums. No sooner had that excitement subsided than the usual rumours started circulating: one or other of the stars would pull out - both have form. And when Kaufmann failed to appear for the dress rehearsal the doom-mongers' chatter gained volume."
---
Australia - Melbourne: Contributor Victoria Beal reviews MURIEL'S WEDDING THE MUSICAL in Melbourne, writing "PJ Hogan has returned to the story he wrote 25 years ago, bringing it into the world of social media and viral sensations which only strengthens the relevance of the story by shining a light on the way social media presents a pressure to be perfect and a constant need for validation. The rest of the story stays true to the original narrative, so fans of the film will get all the favourite one-liners that remain colloquialisms today. You know the ones..."
---
Dallas: Contributor Zac Thriffiley reviews DISASTER! at Uptown Players, writing "Director B.J. Cleveland has assembled one of the hardest working casts and creative teams in Dallas right now, and the success of the show is carried as much by their talents as his vision. DISASTER makes physical demands of its characters that one wouldn't expect in a jukebox musical. Actors run, jump, climb, and throw themselves across the stage in nearly every scene - and that's before one even adds in the high-octane (and exquisitely executed) choreography of Trevor Wright."
---
Nashville: Contributor Jeffrey Ellis reviews Nashville Rep's Sparkling SHAKESPEARE IN LOVE, writing "Oh, those wacky Brits: They love their comedy dry, broad and often rather lowbrow, they adore mistaken identities, hijinks in the bedchamber and a bit with a dog. And that, gentle readers, is exactly what is delivered in the deliciously irreverent, surprisingly heartfelt Shakespeare in Love - Lee Hall's stage adaptation of the 1999 Oscar-winning best film of the same name - now onstage at Tennessee Performing Arts Center's Andrew Johnson Theatre in a sparkling new production from Nashville Repertory Theatre."
---
San Francisco: Contributor Steve Murray reviews FALSETTOS at SHN Golden Gate Theatre, writing "William Finn's score is transcendent. With very little spoken dialogue, it feels as though every character lives and breathes the music and everyone gets ample chance to shine. It's a contemporary opera done in Finn's stream of consciousness style. Its strong all the way through with not a wasted tune or lyric. Opening with the comic "Four Jews in a Room Bitching", Finn sets the play's tone by having the four male characters kvetch about their fragility. Trina sings of the frustrations of her situation in another comic number, "I'm Breaking Down". Whizzer pours out his anger in "The Games I Play", and Marvin loving serenades his lover in the hopeful "What More Can I Say". There's an equitable distribution of great songs among the seven characters. The overarching theme of Lapine's book is quite gay, written at the beginning of the AIDS pandemic that rocked his NYC theater community. But the play is so much more. Finn's score is sensitive, touching and ultimately uplifting."
---
Regional Editor Spotlight:
Steve Murray
Steve Murray is a writer for Cabaret Scenes magazine, contributor to ForAllEvents and now BroadwayWorld. He started writing rock reviews for his college newspaper in the 1970's, produced a variety show in San Francisco for 6 years and staged comedy, theatre and music performances in the Bay Area. An avid tennis player and competitive swimmer, Steve works in Biotech for his paychecks.
---
Join Team BroadwayWorld! Interested in joining our team, but not exactly sure what we do? All of your questions are answered, along with every open position from guest and student bloggers, Regional Editors, and more! Find out where we have open positions available here!

Related Articles