BWW Review: Nashville Rep's Sparkling SHAKESPEARE IN LOVE Caps An Impressive 2018-19 Season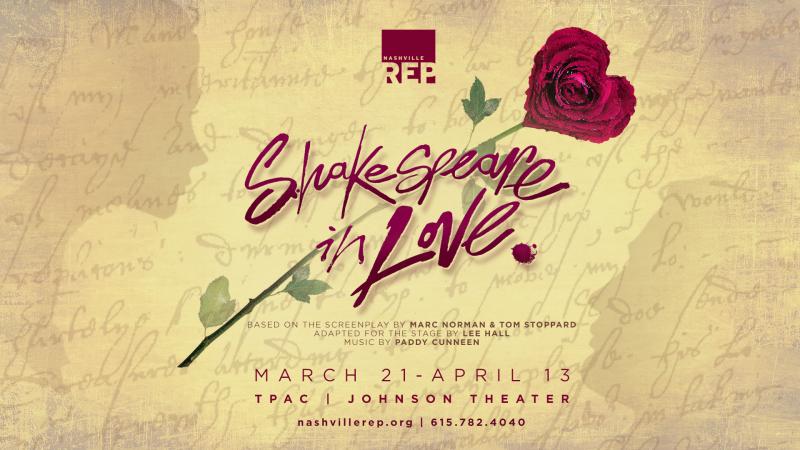 Oh, those wacky Brits: They love their comedy dry, broad and often rather lowbrow, they adore mistaken identities, hijinks in the bedchamber and a bit with a dog. And that, gentle readers, is exactly what is delivered in the deliciously irreverent, surprisingly heartfelt Shakespeare in Love - Lee Hall's stage adaptation of the 1999 Oscar-winning best film of the same name - now onstage at Tennessee Performing Arts Center's Andrew Johnson Theatre in a sparkling new production from Nashville Repertory Theatre.
Based on the screenplay by Marc Norman and Tom Stoppard, featuring Paddy Cunneen's Elizabethan-inspired musical score performed by a cadre of actors who make merry in other ways throughout the delightful diversion, Shakespeare in Love is directed by Nashville Rep artistic director Rene D. Copeland (with an able assist from Santiago Sosa in the assistant director's chair) with her customary flair and penchant for accuracy, closing out the company's season in high-flying style, as if tying a bow around one of the company's most satisfying (artistically, critically and popularly - no matter how you typify it) slates of shows in our memory.
Beginning with the high voltage production of Avenue Q which started the 2018-19 season, followed by the wonderfully compelling A Doll's House, Part 2, the final presentation of the company's traditional holiday season offering of A Christmas Story and a searing staging of Suzan-Lori Parks' Topdog/Underdog and now this show, a honest-to-goodness love letter to the theater, it's truly been a banner year for Nashville Rep and we can't wait to find out on April 4 what the 2019-20 season has to offer. So long as Copeland and her creative team of artists continue to pump out productions like the ones we've seen this year, you can rest assured Nashville Rep will continue to prosper and to lead the way artistically.
Lori Gann-Smith's exquisitely crafted costumes for Shakespeare in Love are so bloody gorgeous that audiences cannot help but take notice of them: she clothes the actors in picture-perfect raiments of the period and her attention to detail is greatly appreciated and, truth be told, awe-inspiring. As expected, Gary C. Hoff provides another beautifully designed physical setting for all the onstage cavorting and Phillip Franck lights it with atmospheric hues that illuminate the proceedings. Evelyn Thornhill's props are ideally suited to the production and Ned Singh's sound design is well-conceived and realized. Jason Tucker provides strong musical direction for the play with music, while choreographer Pam Atha (a longtime collaborator of Copeland's) keeps the ensemble in perfect step.
Shakespeare in Love is at once a comic romp about ego-driven theatrical personalities and a sweetly romantic tale of star-crossed lovers, oftentimes appearing to be a take-off, if you will, of Romeo and Juliet or a send-up of The Bard's entire canon of literature. Surely, there's enough material there to be mined for a screenplay or a theatrical script and Hall (and Norman and Stoppard who had the original idea for the film) judiciously makes grand use of the source material to craft an Elizabethan world that fairly crackles with contemporary intensity while somehow remaining true (with some anachronistic nods, to be sure) to its time period and setting.
The plot revolves around an imagined love affair between young and hungry Will Shakespeare, who's suffering from writer's block, and a winsome and lovely woman of some means named Viola (her father is a merchant, so rest assured, Viola needs to marry up in order to better her station in life), who yearns for a career as an actress, at such a time women weren't allowed onstage due to already antiquated laws and absurd social customs. The often outrageous plot blithely mixes historical characters with totally fabricated ones to tell an entertaining story filled with Shakespearean references and offers an affectionate behind-the-curtain glimpse at the uncertainty (and histrionics) of a life in the theater.
Copeland has assembled a terrific ensemble of actors to bring the script to life on the Johnson Theatre stage - a cast list that reads like a who's who of Nashville actors, both veterans and up-and-comers - and they do so with remarkable style, refreshing wit and impeccable timing. Joe Leitess and Cailen Fu lead the cast as the aforementioned star-crossed lovers Will Shakespeare and Viola De Lesseps (the roles played by Joseph Fiennes and Gwyneth Paltrow in the 1998 film) and both exude so much charm and stage presence that it's a wonder the elevators from the TPAC basement are able to ascend upwards (we don't understand the analogy ourselves, but somehow it makes sense) to street level.
The chemistry shared by Leitess and Fu is palpable and the ease with which they interact is magical, if not mesmerizing. Leitess is handsome and rakish, while Fu manages to be both ethereal and powerful - together they represent some kind of theatrical alchemy that we'd claim translates into box office gold, if we wrote for Variety. They are each eminently watchable and, when paired, their stageworthy sleight of hand is notable and impressive, ensuring the audience is held in rapt attention to what transpires before them.
Surrounding Leitess and Fu is an impressive coterie of the region's finest actors who bring the show to life with aplomb and commitment: Nat McIntyre is boorish and outrageous as the smarmy, manipulative Lord Wessex; David Ian Lee is blustery and buffoonish as Richard Burbage; Jacob York threatens to steal the show right out from under the rest of Copeland's estimable cast with his electrifying entrance as the consummately hammy actor Ned Alleyn; Joel Diggs is forthright and arch as Christopher Marlowe; and Bobby Wycoff and Chip Arnold prove once again how their command of the stage has made both men such favorites of local audiences for the past few decades.
When Dame Judi Dench won the Academy Award for portraying Queen Elizabeth I in the film treatment of Shakespeare in Love - for a mere eight minutes of total screentime - wags were chuffed by her Oscar win, but her performance is proof that a capable actor doesn't have to be onscreen for long in order to be appreciated for her artistry. In Nashville Rep's version, the redoubtably stunning Jennifer Whitcomb-Oliva proves that point once again (and with feeling) as she creates an indelible portrait of the Virgin Queen with her regal bearing and surefire delivery of her lines. To put it succinctly: she stops the show.
Equally impressive is the reliably scene-stealing Rachel Agee, who plays Viola's nurse (who ultimately becomes the inspiration for Juliet's) to the hilt, ensuring the audience takes notice every time she makes an entrance.
Among the various and sundry other characters filling up the Elizabethan landscape are David Wilkerson as the unctuous Lord Chamberlain Tilney, James Crawford as the conniving Henslowe and all manner of fresh faces (Jonah Jackson, Andrew Johnson, Joy Greenawalt, Katie Bruno, Kit Bulla, Mikey Rosenbaum, Trevor Wheetman, Gerold Oliver, Seth Brown, Matthew Benenson Cruz and KevinRome) who prove themselves equally adept at delivering the theatrical goods.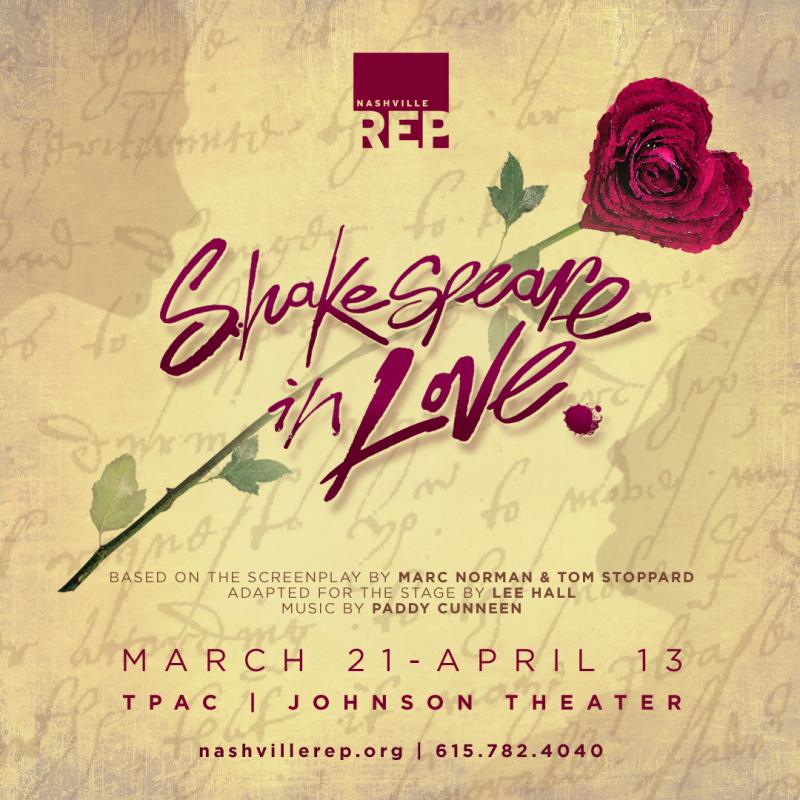 Odds are we'll be adding a new category to the 2020 First Night Award for "outstanding performance by a dog," thanks to the completely disarming performance of Rahja, who plays Spot in "the bit with the dog." W.C. Fields' warning to avoid being onstage with dogs and children proves pertinent once again. And since my dog Jessie gave a sterling performance in a recent production of Singin' in the Rain, there's a definite rivalry for which canine should take home the award - and it's not even April yet, and there's a production of Wizard of Oz still to come.
Shakespeare in Love. Based on the screenplay by Marc Norman & Tom Stoppard. Adapted for the stage by Lee Hall. Music by Paddy Cunneen. Directed by Rene D. Copeland. Musical direction by Jason Tucker. Choreographed by Pam Atha. Presented by Nashville Repertory Theatre at Tennessee Performing Arts Center's Andrew Johnson Theatre, Nashville. Through April 13. For further information, go to www.tpac.org; for tickets, call (615) 742-4040. Running time: 2 hours, 30 minutes (with one 15-minute intermission).
photos by Michael Scott Evans