BWW Review: DISASTER! Delights in Destruction at Uptown Players
A favorite pastime among me and my friends is to watch old science-fiction and action movies from the 60's, 70's and 80's and hurl insults at the screen. We laugh at films like The Poseidon Adventure andThe Towering Inferno, cracking jokes about the now-cheesy dialogue, special effects, and unbelievably ridiculous situations. Looking back, almost fifty years later, we can't help but ask: why were movies like this ever made?
Well, because they're fun. And the electrically energetic cast of Uptown Players' DISASTER proves it, reveling in the ridiculous and happily taking the audience aboard for the ride. The musical runs through April 7 at the Kalita Humphreys Theater.
Written by Broadway superfans Seth Rudetsky and Jack Plotnick, DISASTER takes place in 1979 on the opening night of a floating casino and discotheque in New York City. A motley crew - including lounge singers, disco divas, and even one nun - join in the fun only to be struck by a series of increasingly comical disasters (the earthquake is just the beginning). With all the action accompanied by a soundtrack straight out of the 70's, audience members of all ages will be delighted by the endless destruction.
Director B.J. Cleveland has assembled one of the hardest working casts and creative teams in Dallas right now, and the success of the show is carried as much by their talents as his vision. DISASTER makes physical demands of its characters that one wouldn't expect in a jukebox musical. Actors run, jump, climb, and throw themselves across the stage in nearly every scene - and that's before one even adds in the high-octane (and exquisitely executed) choreography of Trevor Wright.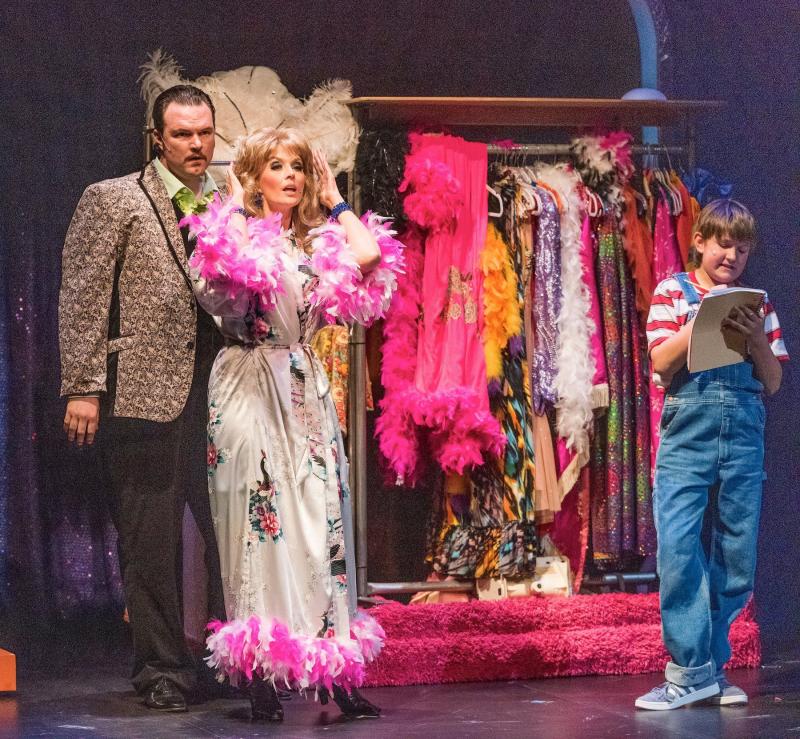 The cast excels as an ensemble, feeding off the energy of the group and responding to each other with perfect comedic timing. Greg Hullett is gleefully slimy as the casino owner who's cut a few corners in getting his business up and running. He's opposed by Professor Ted Scheider, a disaster scientist played by Josh Bangle with an innocent charm and wit as dry as fine champagne. Chimberly Carter Byrom drips with confidence as Levora Verona, a down-on-her-luck disco queen, and her rendition of "Knock On Wood" ends Act I on several soulful high notes.
Of course, there's no shortages of romances at sea. After a nasty breakup, Chad (Kyle Igneczi) and Marianne (Alyssa Cavazos) run into each other again and stir up feelings as tumultuous as a tidal wave. Igneczi sings classic love ballads with a powerful rock tenor voice, and Cavazos matches him belt for belt with just as much charisma in stirring anthems such as "I Am Woman." Contrasting them are the older and happily married couple, Maury and Shirley, respectively played by Randy Pearlman and Linda Leonard. Pearlman and Leonard have some of the best chemistry in the show, having fun with one another in ways that are infectious for both the cast and the audience.
Cara Statham Serber is silly and sweet as Jackie, the stereotypical blond lounge singer who's had her heart broken too many times. In addition to her air of endearing naivety, Serber sings with a beautifully soothing voice perfect for the 70's, sounding like a mix of Dolly Parton and Carol Carpenter. Equally talented is Quin Solley, playing both of Jackie's young fraternal twins. It is difficult to say which is more impressive: Solley's mature sense of comic timing despite his age or the physical gymnastics he sometimes has to pull off to play both boy and girl roles in the same scene. On top of it all, his voice is as every bit as trained and polished as many of his castmates.
Perhaps the breakout audience favorite of the show, though, is Laura Lites as Sister Mary Downy, a nun tempted by sin and vice even as she tries to lead her fellow passengers to heaven. Lites's style doesn't fit neatly into any stereotypical archetype, which provides much of the character's appeal. After delivering a line with flat precision and icy coldness, she can switch to explosive ecstasy and back again, proving herself to be an actress expertly in control of her craft. I won't spoil the surprise by saying which numbers she sings, but one in particular is the funniest love ballad you're likely to ever see performed onstage.
The remainder of the ensemble are unsung heroes in their own right, falling victim to calamity after calamity without missing a figurative or literal beat. Under the music direction of Kevin Gunter, their voices blend together in pleasing harmonies that bring classic hits to new life along with the help of a rocking orchestra. Dennis Canright and Kevin Brown's scenic design gives the actors a jungle gym of a set to play on, complete with slot machines and chandeliers flying in and out without slowing the pace of the show. Suzi Cranford and Jessie Chavez's costume design - complete with hair, wigs, and makeup by Michael B. Moore - help the performers achieve the atmosphere of disco decadence with bright jumpsuits and paisley shirts missing just the right number of buttons.
With this powerhouse team under his direction, Cleveland has produced a hit as fun and exciting as "Saturday Night" or "I Will Survive." Simply put, this is one disaster you won't want to miss.
Photo Credit: Mike Morgan