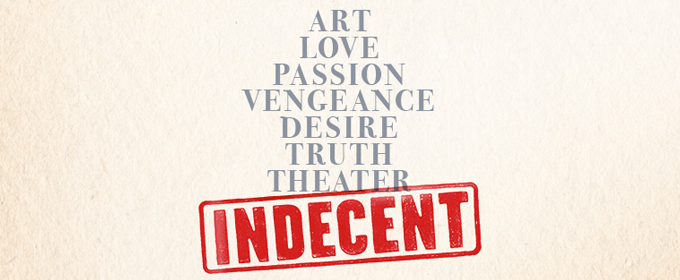 Click Here for More Articles on INDECENT
Famed Sex Therapist Dr. Ruth Westheimer to Lead INDECENT Talkback Next Week
Famed sex therapist and media personality Dr. Ruth Westheimer will be the special guest at a post-performance talkback on Tuesday, May 30 at Indecent, the Tony Award nominated Best Play, at the Cort Theatre (138 West 48th Street).
Dr. Ruth, a German-born Jewish immigrant, shot to fame in 1980 with her radio show, "Sexually Speaking," which earned her nationwide celebrity. Her communications network includes television, radio, books, newspapers, home video and her website, www.drruth.com.
A new play by Pulitzer Prize-winner Paula Vogel, created by Ms. Vogel and Rebecca Taichman, and directed by Ms. Taichman, INDECENT, nominated for three Tony Awards including Best Play, is about the love and passion to create theatre, even in the most difficult of circumstances. The play follows a troupe of actors, the cast of Polish-Jewish playwright Sholem Asch's God of Vengeance, who risked their lives and careers against enormous challenges to perform a work in which they deeply believed, at a time when art, freedom and truth were on trial. It is a story told with compassion, honesty, but also with great theatricality, and joyous songs and dances.
In addition to the Tony Award nominations, Indecent has been nominated for Best Play by the Drama Desk and Drama League, and has received the Outer Critics Circle Award for Outstanding Director of a Play (Rebecca Taichman) and the Lortel Award for Outstanding Choreography (David Dorfman). Paula Vogel is being honored with a Special Citation as playwright and mentor from the New York Drama Critics Circle, and will receive a Lifetime Achievement Award from the Obie Awards.
The ensemble of Indecent features Matt Darriau, Lisa Gutkin, Aaron Halva, Katrina Lenk, Mimi Lieber, Max Gordon Moore, Tom Nelis, Steven Rattazzi, Richard Topol and Adina Verson. The cast has - not unlike the theater troupe depicted in the play itself - been performing the play together for more than two years: during its development with the Sundance Theater Institute and Oregon Shakespeare Festival, followed by productions at Yale Rep, La Jolla Playhouse and the Vineyard Theatre, where Indecent had its New York debut last summer.
The production also features Zoë Aqua, Ben Cherry, Andrea Goss, Eleanor Reissa, Uri Sharlin and Doug Wieselman.
INDECENT features music composed by Lisa Gutkin and Aaron Halva, who play onstage along with cast members throughout the show.
The production is choreographed by David Dorfman. Scenic design is by Riccardo Hernandez; costume design is by Emily Rebholz; lighting design is by Christopher Akerlind; sound design is by Matt Hubbs and projection design is by Tal Yarden.
INDECENT is produced on Broadway by Daryl Roth, Elizabeth Ireland McCann and Cody Lassen, in association with Vineyard Theatre, La Jolla Playhouse and Yale Repertory Theatre.
Related Articles
More Hot Stories For You