Exclusive: Get A First Look At The World Premiere Musical FIVE POINTS
BroadwayWorld has an exclusive first look at Theater Latté Da's world premiere musical FIVE POINTS. Check out the cast in action in the photos below!
This latest and most ambitious musical world premiere to date brings together the talents of a dynamic creative team. The score is the work of Douglas Lyons and Ethan D. Pakchar, a New York-based songwriting team with significant Broadway credits. The book is written by the prolific Twin Cities-based playwright Harrison David Rivers, who has penned three world premieres this season including FIVE POINTS, as well as productions at the History Theatre and Penumbra Theatre. Theater Latté Da Artistic Director Peter Rothstein directs the production with Resident Music Director Denise Prosek.
Performances began April 4 at the Ritz Theater (345 13th Avenue NE in Minneapolis). Tickets can be purchased at latteda.org or by calling 612-339-3003.
FIVE POINTS is set in 1863 in the Five Points: a crucible neighborhood on Manhattan's Lower East Side during the volatile years of the Civil War. The neighborhood is the new home of free African Americans and impoverished European immigrants. Inspired by the confluence of African American and Irish cultures, and the birth of American tap dance, FIVE POINTS tells the story of historical figures John Diamond and Master Juba, who risk everything for the chance to be a part of the American Dream.
"The world premiere of FIVE POINTS is a testament to the success of NEXT 20/20, Theater Latte Da's extraordinary commitment to developing and premiering 20 new musicals by 2020," says Elissa Adams, Latté Da's new Associate Artistic Director, who is overseeing new work. "By giving resources and guidance to talented teams of diverse artists, Latté Da is ensuring that the future of the American Musical reflects the gorgeous complexity of America itself."
"Douglas Lyons and Ethan Pakchar are an incredibly skilled songwriting team. They cut their teeth working as performers on Broadway and have extraordinary musical chops despite their young age," says Artistic Director Peter Rothstein. Pakchar has served as guitarist on Hamilton and Dear Evan Hanson. Lyons has appeared in Broadway productions of Beautiful: The Carole King Musical and The Book of Mormon. "As a team they have created a sound that is uniquely theirs," says Rothstein. "It is both complex and accessible, contemporary and nostalgic, popular and theatrical. Harrison Rivers' book reflects his ability to ground characters in emotional realism while providing the narrative efficiency and drive needed for the musical theatre form."
Rothstein brings together a dynamic cast featuring Ben Bakken as John Diamond, an immigrant and former Irish dance champion. Bakken appeared in Latté Da/Hennepin Theatre Trust's production of Aida and in Chanhassen Dinner Theatre's recent production of Grease. Lamar Jefferson is Willie Lane, a young black performer at the famed Almack's Dance Hall. Jefferson appeared in the Latté Da/Hennepin Theatre Trust production of Oliver and in the Guthrie's recent production of Sunday in the Park with George. Dieter Bierbrauer, currently in Latté Da's Assassins is P.T. Barnum. The cast includes Ann Michels (Latté Da: Parade) and Thomasina Petrus (Latté Da: NEXT FESTIVAL 2016 and 2017), recently seen in Penumbra Theatre's production in Girl Shakes Loose. The cast also features top-notch talent including Shinah Brashears, Ivory Doublette, Daniel Greco, John Jamison, LaMont Ridgell, Matt Riehle, Kendall Anne Thompson, Evan Tyler Wilson, and Alejandro Vega.
FIVE POINTS features choreography by Kelli Foster Warder, scenic design by Joel Sass, costume design by Trevor Bowen, and lighting design by Mary Shabatura.
Theater Latté Da is an award-winning Twin Cities musical theater company that combines music and story to illuminate the breadth and depth of the human experience. the company seeks to create new connections between story, music, artists, and audience by exploring and expanding the art of musical theater. www.latteda.org
Photos by Dan Norman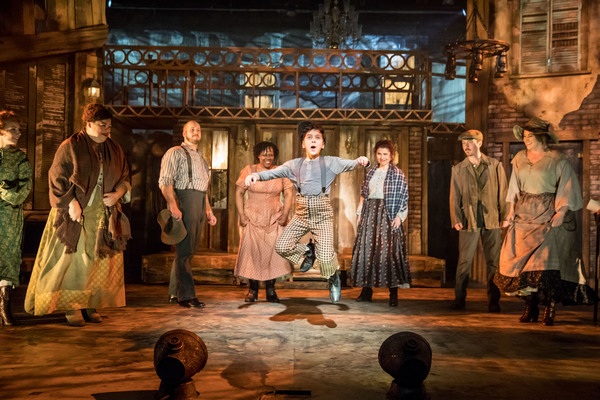 Alejandro Vega (John Diamond Junior) and Company

Lamar Jefferson (Willie Lane)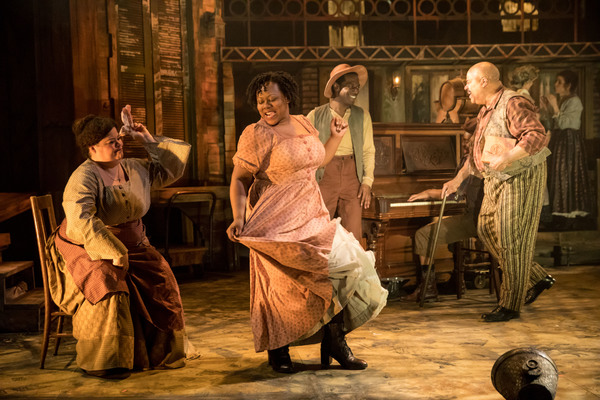 Thomasina Petrus (Pauline King), Ivory Doublette (Stella Lane), Lamar Jefferson (Willie Lane), and T. Mychael Rambo (Pete Lane)