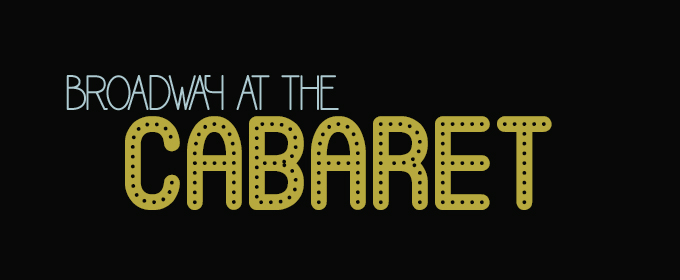 Click Here for More Articles on Broadway at the Cabaret
Broadway at the Cabaret: Katharine McPhee, Eva Noblezada, Jennifer Sanchez & More!
What good is sitting alone in your room this week? If you don't already have plans to see a Broadway show, come out to see your favorite Broadway stars in a cabaret act instead. After Broadway orchestras begin their overtures, ensemble members take their dance breaks, and performers belt out their eleven o'clock numbers, the party continues at various cabaret venues throughout New York City.
Below, BroadwayWorld brings you our top Broadway acts that can't be missed this week, May 13 - May 19, 2018. Come hear the music play!
---
Katharine McPhee in Waitress Sings Sara Bareilles
May 13 at Green Room 42- BUY TICKETS!
How you know her: Smash!
Katharine McPhee and cast of WAITRESS are coming together to celebrate the music of Sara Bareilles and to raise money for BROADWAY CARES EQUITY FIGHTS AIDS at The Green Room 42! Directed by Molly Jobe and Matt DeAngelis, Waitress sings Bareilles will be a fun night of silliness and heartfelt tunes by the 7 time Grammy nominated composer of the Broadway Hit!!! Please join us in celebration of one of the true musical voices of our generation and raise some money for an incredible cause!!!!
---
A Very Broadway Mother's Day
May 13 at Feinstein's/54 Below- BUY TICKETS!
Celebrate Mother's Day at Feinstein's/54 Below! Leading ladies from the world of Broadway and cabaret share the stage with their children and their moms to sing about the glory of family, friendship, and love. It's a Mother's Day celebration of moms - and this year it's at a special matinee time making it the perfect way for families to share to the day together. Moms are our first loves, our best friends, our fiercest defenders, and our first singing partners - now let's celebrate that in song. Back for a fourth year, this emotional concert will fill your heart and soul on Mother's Day! Featuring Ursula Abbott and Kate Connolly, Barbara Andres, Kristy Cates with Gracie, Zina Goldrich, Rachel Stern, Mary Lane Haskell, Mary Donnelly Haskell, Jessica Hendy with Beckett Hendy, Blaine Krauss and Denise Wilson, Sally Mayes (Tony Nominee for She Loves Me), Janet Metz and Phoebe Unger, Allison Posner and Walter Bolin, Kelli Rabke with Joseph and Abigail Agresta, Tracy Sallows with Mairéad O'Neill, Rachel Ulanet with Alessia and Chiara Navazio.
---
Eva Noblezada: Girl No More
May 14 at Green Room 42- BUY TICKETS!
How you know her: Miss Saigon
Through her favorite artists like Amy Winehouse and Frank Sinatra, Eva sings from her heart and reveals a side of her story you've never heard. Join her for an intimate evening of music, a good drink, and a wonderfully colorful set list.
---
Linda Lavin
May 8 - 19 at Cafe Carlyle- BUY TICKETS!
Lavin was seen recently in Candide, directed by Hal Prince, and received stellar reviews. Inducted into the Theatre Hall of Fame in 2011, other theatre credits include The New Century(Drama Desk Award), Other Desert Cities (LCT), and Too Much Sun (Vineyard Theatre). She is a two-time Golden Globe winner for her role as Alice on the 9 year hit TV series Alice on CBS, and she co-starred with Sean Hayes in the NBC series, Sean Saves the World. Lavin has also recently guest starred on MOM and The Good Wife. She appeared with Robert De Niro in Nancy Meyer's The Intern. Recent feature films include A Short History of Decay, Manhattan Nocturne with Adrien Brody, and upcoming, How to Be A Latin Lover opposite Rob Lowe and Eugenio Derbez. Currently, Linda can be seen on the CBS sitcom 9JKL opposite Mark Feurstein and Elliot Gould. Born in Portland, Maine and a graduate of the College of William & Mary, which recently conferred on her an honorary doctor of arts degree where she endows a theater program.
---
Jennifer Sanchez: Gin and Jazz
May 17 at Green Room 42- BUY TICKETS!
Broadway's Jennifer Sanchez makes her Green Room 42 debut in "Gin and Jazz." Join her in an evening of new jazz arrangements from shows she has performed in on Broadway. Featuring new takes on music from "West Side Story," "Sunday in the Park with George," "Women on the Verge of a Nervous Breakdown", and a set of Jennifer's original music. Also featuring Mike Hunter on violin and Marianna Ramirez on percussion. An Albuquerque, New Mexico native, Jennifer Sanchez is currently featured in "PRETTY WOMAN - The Musical" which will transfer to Broadway this summer. Before that she was seen as the nurse (opposite Jake Gyllenhaal) in the Broadway revival of "SUNDAY IN THE PARK WITH GEORGE". She made her New York debut as Rosalia in the Broadway revival of "WEST SIDE STORY", where she and Karen Olivo sang "America" hundreds of times on stage and TV, including the Grammy award winning album. Additional Broadway credits include: ON YOUR FEET, SPIDER-MAN TURN OFF THE DARK, GHOST, WOMEN ON THE VERGE OF A NERVOUS BREAKDOWN. Off-Broadway: LITTLE MISS SUNSHINE, I'M GETTING MY ACT TOGETHER AND TAKING IT ON THE ROAD. Jennifer is an activist, songwriter and mother.