Click Here for More Articles on Broadway by Design
Broadway By Design: David Korins & Japhy Weideman Bring DEAR EVAN HANSEN from Page to Stage
Who is Annie without her red dress? Or Eva with out her balcony? It is the charge of the Broadway designer to transport the audience into the world of a show, whether it be Great Depression-era New York City or outside of the Casa Rosada.
In Broadway by Design, BroadwayWorld is shining a spotlight on the stellar designs of this Broadway season, show by show. Today, we continue the series with David Korins and Japhy Weideman, who acted as scenic and lighting designers for Broadway's emotional triumph, Dear Evan Hansen.
---
A letter that was never meant to be seen, a lie that was never meant to be told, a life he never dreamed he could have. Evan Hansen is about to get the one thing he's always wanted: a chance to finally fit in. Both deeply personal and profoundly contemporary, Dear Evan Hansen is a new American musical about life and the way we live it.
So where did Korins' process begin? "For me, Dear Evan Hansen is about connectivity and isolation," the scenic designer explains. "My initial impulse for the show was to create these warm tectonic plates of life that float around in the murky darkness of cyberspace. These lily pads of furniture floating around in this isolated world give the simultaneous sense of loneliness and connectivity."
"One of the huge challenges of this show was that we somehow had to depict the internet, and specifically what it feels like to traverse the expanses of it over the course of many hours. We really had to find a way to immerse our characters and our story in that experience. We showed the Internet as it's used for "good" (crowd sourcing, community building, etc.), and for "evil" (cyber bullying, negatively toned viral stories, etc.). It was really difficult to depict what living in a cyber community looks like."
"What's so fun and relieving about this show is that at the end we get to fast-forward to a year in time and have this cathartic revelation of space, in which the seemingly unending hard-edged cyber world finally opens up," says Korins. "The darkness goes away and the sun shines in, piercing the space with the organic material of the orchard."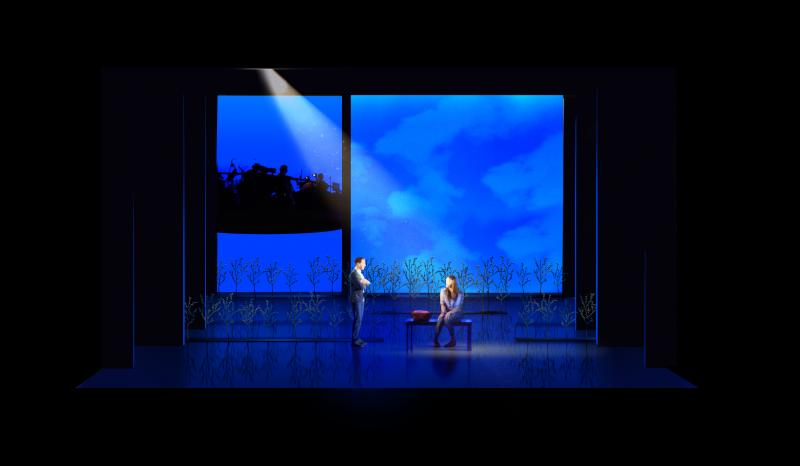 Lighting designer Japhy Weideman (Tony-nominated for this design) found inspiration in Pasek and Paul's score. "What's perhaps most distinctive about the musical diversity for Dear Evan Hansen is how beautifully it captures the peaks and valleys of adolescence, the thoughtful lyrics, and the music itself. It spans from indie-pop ("Anybody Have a Map?"), to alt rock ("Good for You"), to the more contemplative and yearnful melodic tunes ("Words Fail"). It's deeply rich and varied, and from the moment I listened to it, I knew we needed a lighting pallet that could vividly illustrate all of its complex sonic layers. Thus music guides every aspect of the cueing."
"In a sense, I interpret the emotional frequencies of the music into a visual picture," says Weideman. "One of the strong elements that can be seen in the design is that we use many shades and sizes of intense beams of light from above during special moments in the music."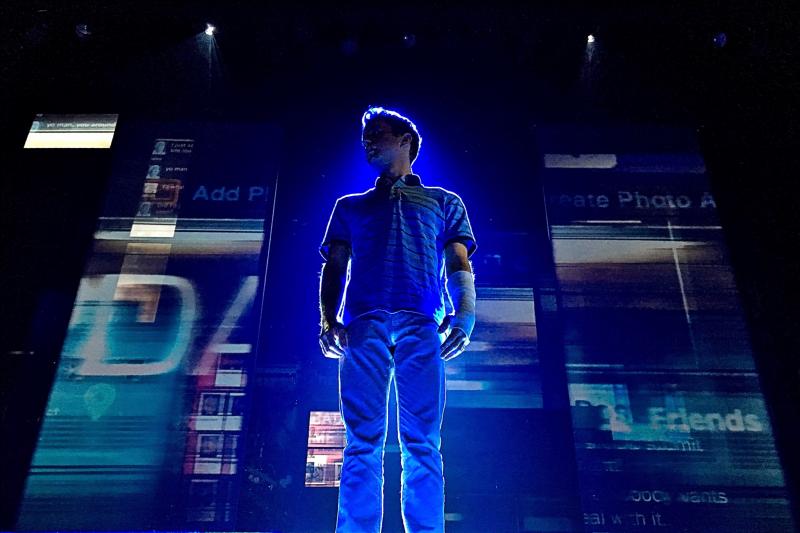 "The beams range from piercing, tight, blue-white pinpoints (like the iconic moment in "Waving Through a Window," when all of the characters create a circle around Evan and are suddenly revealed in a circle of interconnecting beams), to intense, thick, golden columns of sunlight ("For Forever"). The beams sometimes form geometrical intersections, creating a kind of aerial architecture that weaves the interrelationships of the characters together. While these light beams serve as a way to draw the eye directly to the actor, they also serve to connect them to the divine and mysterious, or some may interpret them to embody the world of the afterlife, always emanating from above."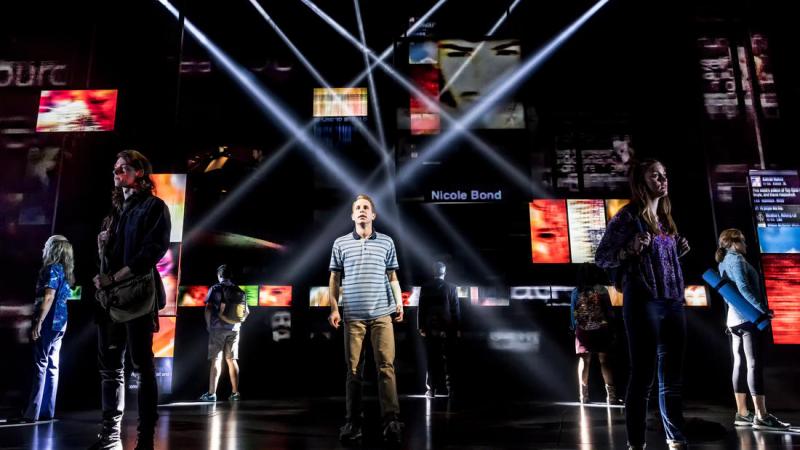 What were his biggest challenges? "The scenic space is an empty, black stage that consists only of movable LED panels, scrims, and minimal props that can be positioned in various spatial configurations; the set serves as a blank canvas to create the visual information for the story with the use of light and video," explains Weideman. "While an empty black space may seem like a daunting challenge, we found it to be a unique opportunity, allowing the possibility to create infinite environments. The light itself effectively becomes the scenery to form a multitude of locations such as Evan's Bedroom, the Murphy's home, the school, and the online virtual world through which the story develops." In addition, the illumination serves as glue between the characters and projected images in their surroundings, blending the elements into a picture that looks believable to the eye."
"Peter Nigrini designed the video. Working together with director Michael Grief and set designer David Korins, the designers created a physical composition of screens, panel, and furniture positions for a specific scene. Peter and I would then work in tandem to blend the lighting, video, and actors into a picture that looked cohesive. The panel positions always defined what was possible in terms of angle, so there would always be discussions between the collaborators on how to place the panels and screens in positions that allowed the video content to do it's work, while still allowing for dramatic lighting angles that merge the picture. Thus, we had to create a lighting scheme that was extremely versatile in order to serve the immense requirements of this story, physical and emotional."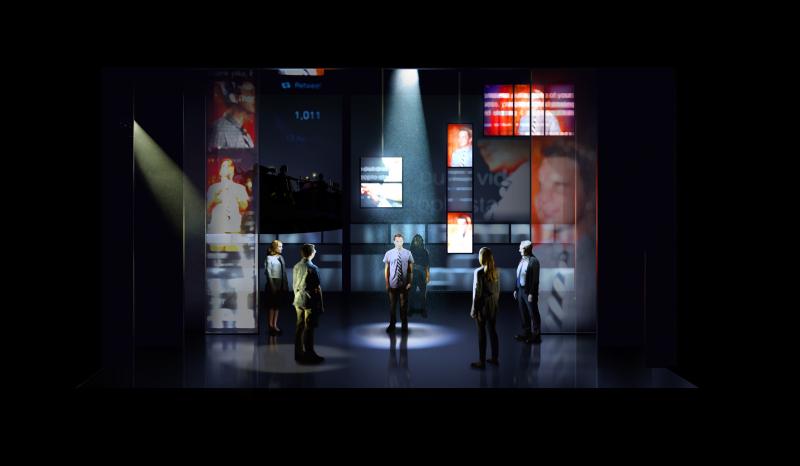 Want more Broadway By Design? CLICK HERE.
---
With a book by Obie Award-winner Steven Levenson, a score by Tony Award nominees Benj Pasek & Justin Paul, and directed by four-time Tony Award nominee Michael Greif, Dear Evan Hansen officially opened on December 4. The Broadway cast of Dear Evan Hansen includes Ben Platt, Laura Dreyfuss, Rachel Bay Jones, Jennifer Laura Thompson, Mike Faist, Michael Park, Will Roland and Kristolyn Lloyd, and Michael Lee Brown, Garrett Long, Olivia Puckett, Colton Ryan, and Asa Somers.
Dear Evan Hansen had its world premiere at Arena Stage, Washington D.C. and played a record-breaking New York debut at Off-Broadway's Second Stage. Last season, the musical won 'Best Musical' prizes from the Obie Awards, Outer Critics Circle Awards and Helen Hayes Awards. It is nominated for nine Tony Awards this season.

Related Articles
Originally from Pittsburgh, Pennsylvania, Nicole began writing for BroadwayWorld in 2010. She currently resides in New York City, where she gets to enjoy far more (read more...)