Click Here for More Articles on Broadway by Design
Broadway By Design: David Gallo, Jane Cox and Toni-Leslie James Bring JITNEY from Page to Stage
Who is Annie without her red dress? Or Eva with out her balcony? It is the charge of the Broadway designer to transport the audience into the world of a show, whether it be Great Depression-era New York City or outside of the Casa Rosada.
In Broadway by Design, BroadwayWorld is shining a spotlight on the stellar designs of this Broadway season, show by show. Today, we continue the series with Tony nominees David Gallo, Jane Cox and Toni-Leslie James, who acted as scenic, lighting and costume designers for August Wilson's final Broadway debut, Jitney.
---
Set in the 1970s, this richly textured piece follows a group of men trying to eke out a living by driving unlicensed cabs, or Jitneys. When the city threatens to board up the business and the boss' son returns from prison, tempers flare, potent secrets are revealed and the fragile threads binding these people together may come undone at last.
So where did Gallo begin with his scenic design? "Like all August Wilson plays, the great visual inspiration is the artist Romare Bearden. August wrote all his plays with this in mind, and Bearden painted with such incredible richness that I have never run out of material to tap into," explains the Tony nominee. "At first glance, the set may appear mostly realistic, but in fact it juxtaposes real elements in unrealistic ways, creating a slightly disorienting collage effect. It veers around almost randomly in scale as though it were made of individual photographs collaged together. There is no sentimentality to it whatsoever."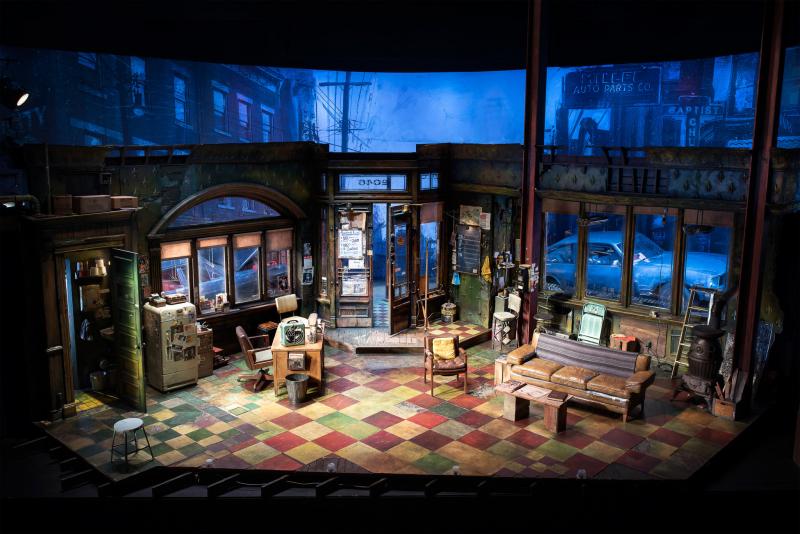 "Even though I'd designed the entire cycle already, including Jitney, I was surprised how easy it was to come back to The Hill District and create an entirely new set for this production. With these plays, the challenge is always getting a new crew to realize the amount of work these sets require. We asked the staff to come in for paint call after paint call, during which they layered so many details on a scene that at first glance looks simple and unassuming, but they turned it into something majestic."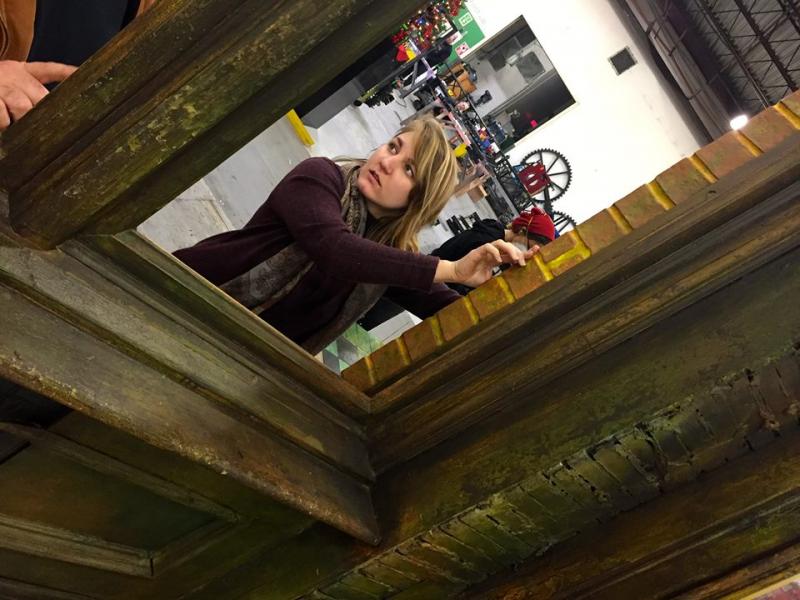 "Getting the right level of detail has always been the challenge with this work. These shows have actually gained in beauty from touring; they've developed a patina of love," says Gallo.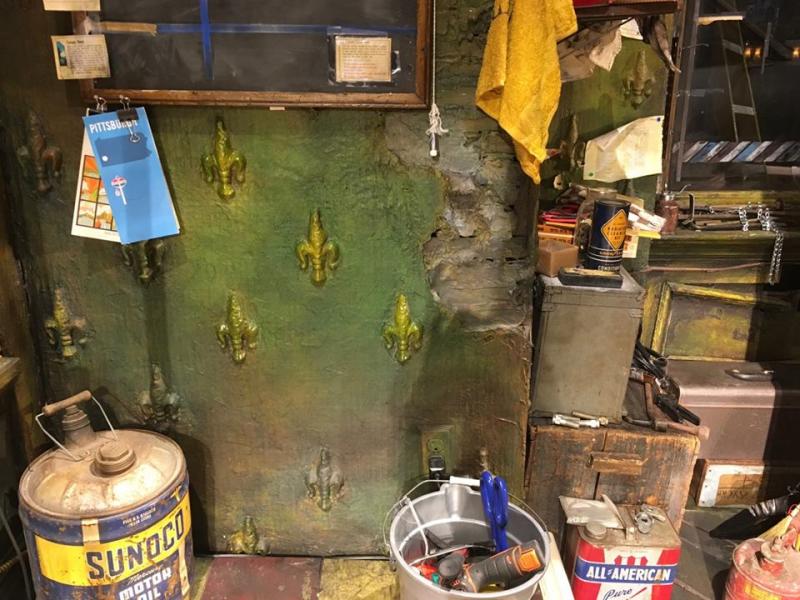 When it came to the lighting design, Tony-nominated Cox says that the material was inspiration enough. "Discovering August Wilson after moving here from Ireland felt like being allowed into a really rich and thrilling world. The inspiration for the lighting really comes from the rhythms and textures of August Wilson's language, which marches right into the soul. The language, as embodied by these kinds of extraordinary actors, brings a particular kind of beauty and atmosphere and music to the stage - everything in August Wilson is a marriage of the very specific and the poetically epic that begs for lighting that equally marries realism with lyricism and musicality."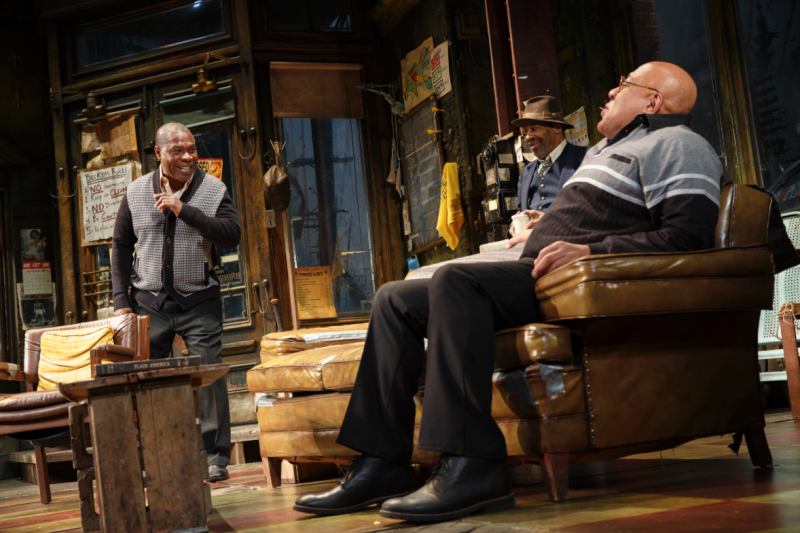 "When I'm lighting an actor in this kind of work, I feel as if I'm breathing with them, and I feel as if I'm painting them - I'm trying to get the audience to see and hear the character as I do, to subtly shift the emotional tone of the room to bring the audience closer to one idea or person, then to another, then to the group," says Cox. "Lighting is a very voyeuristic profession - the actor can't really see you, because of all the light in their face, but you are studying them intently, looking for exactly the right background and modeling of facial expression. At one moment we're focusing in on a close up of a person to that we can see every gesture; then we're opening up to see everyone all at once, then we're looking beyond them to the world they live in in Pittsburgh. All the cues to these choices come from the language."
What were her challenges? She explains: "The biggest challenge is this same marriage of realism and the operatic. In reality, would this Pittsburgh car service have been in a room that could be drenched with amber sunset or cut through by the cold rays of dawn? Probably not. Another play in this type space might be best lit with florescent lighting, or by emphasizing the compressions of the urban environment. But August Wilson isn't asking for that. He's asking that you relate these lives to the larger world, to make these lives epic at the same time as he wants you to understand the smallest details of their day. Finding the right balance between the two at each moment, and creating a light plot that could accommodate both large and detailed ideas within the compressed space of the curved backdrop and a room with walls and cornices, was a very pleasurable challenge both technically and artistically."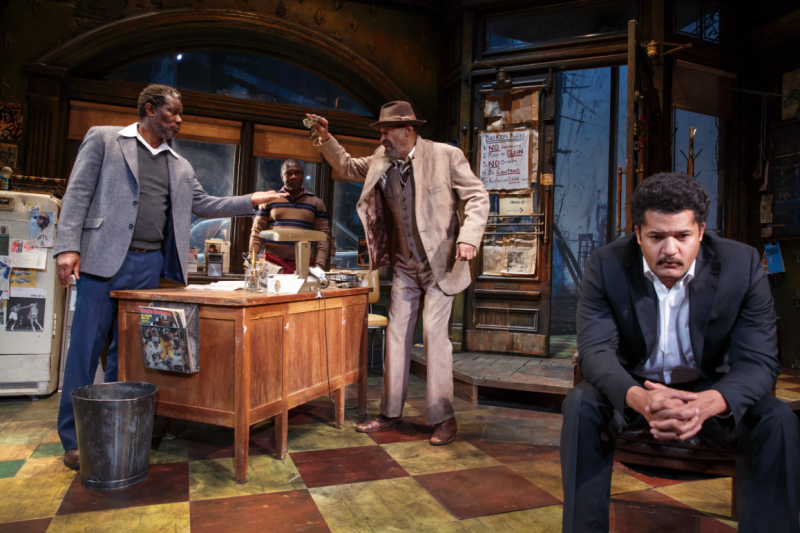 Costume designer Toni-Leslie James started her process with her own memories. She explains: "I was inspired by my relatives and the people I grew up around. I was born and raised in Clairton, Pa, a small town about 30 miles outside of Pittsburgh, with Ruben Santiago-Hudson's brother and other relatives in the same town. You took the #46 city metro bus to get into Pittsburgh, which still runs from Clairton to Pittsburgh. My late mother, Alice B. James (I can't even begin to describe this exceptional woman), was the Court of Calanthe's Grand Worthy Councilor of the State of Pennsylvania. The Pittsburgh branch owned an old Victorian mansion in the Hill District of Pittsburgh. The ground floor was rented to a jitney company, which helped the court keep the lights on. As a child I spent countless weekends exploring the mansion, while my mother conducted court business, and scrounging pop (soda) and potato chips from various jitney drivers because I was the princess known as 'Miss Alice's Baby'."
"I turned 20 in 1977, so I wasn't trying to research what Rena or any other black person was wearing in Pittsburgh in 1977, because I had lived it. It was a completely natural process to design this production because of vast personal experience and memory."
What were the Tony nominee's biggest hurdles? "Being an authentic voice in representing August Wilson's intent and staying true to my personal memory was the biggest challenge I faced with this project," says James. "I didn't research what people in Pittsburgh were wearing, but I compiled a ton of research to eliminate what I absolutely felt they were NOT wearing in 1977. What you see in Super Fly (though I would give my right and left arms to design those costumes) are not what you see on everyday jitney drivers in Pittsburgh in 1977." I feared that my own memories of time and place regarding Jitney were so completely personal that the "powers that be" would not buy what I was trying to sell. It's absolutely and completely gratifying that the costume designs were supported by Ruben, the incredible cast, and MTC to make a strong contribution to the storytelling of Jitney on Broadway.
Want more Broadway By Design? CLICK HERE.
---
The long-awaited Broadway debut of August Wilson's Jitney, Directed by Tony Award winner Ruben Santiago-Hudson (The Piano Lesson, Seven Guitars, Gem of the Ocean), completes August Wilson's ten-play The American Century Cycle on Broadway. The show was nominated for six Tony Awards.

Related Articles
Originally from Pittsburgh, Pennsylvania, Nicole began writing for BroadwayWorld in 2010. She currently resides in New York City, where she gets to enjoy far more (read more...)