Click Here for More Articles on Broadway by Design
Broadway By Design: Beowulf Boritt, Tyler Micoleau, Alex Basco Koch & Ryan Rumery Bring BE MORE CHILL from Page to Stage
Who is Annie without her red dress? Or Eva with out her balcony? It is the charge of the Broadway designer to transport the audience into the world of a show, whether it be Great Depression-era New York City or outside of the Casa Rosada.
In Broadway by Design, BroadwayWorld is shining a spotlight on the stellar designs of this Broadway season, show by show. Today, we continue the series with Beowulf Boritt, Tyler Micoleau, Alex Basco Koch, and Ryan Rumery, who acted as scenic, lighting, projection and sound designers for Broadway's big upgrade, Be More Chill.
---
What if popularity came in a pill? Would you take it, no questions asked? In Be More Chill, achieving that elusive "perfect life" is now possible thanks to some mysterious new technology-but it comes at a cost that's not as easy to swallow. What could possibly go wrong? Blending the contemporary with retro sci-fi, this thrillingly exciting, comically subversive, and deeply felt new musical takes on the competing voices in all of our heads. And ultimately proves, there's never been a better time in history to be yourself-especially if you're a loser...geek...or whatever.
How did the design process begin? Scenic designer Beowulf Boritt started with the text. "Be More Chill is a temptation story like Faust or Macbeth," he explains. "Our protagonist sells his soul for love and fame (high school popularity!). Instead of selling his soul to the devil or witches, he sells it to technology, The Squip. The set is a psychological landscape of Jeremy's brain as it's taken over by the computer he's ingested. It starts looking like the sleek rounded rectangles of the iPhones we all see the world through."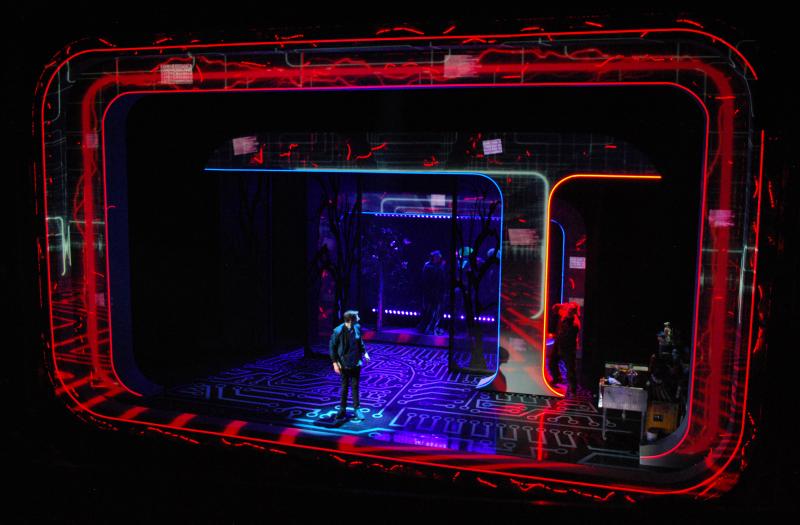 "Scenery slides on and off stage like a right-swipe, or a left-swipe. But as The Squip begins to reveal its dark controlling side, we begin to see through the frames to the circuits and wires inside. It's messy, it's scary, and it's also exciting," says Boritt.
He found his biggest challenge in achieving balance. "It's an original musical, so we were starting from scratch, not trying to re-create some earlier visual conception. I wanted a super-clean, almost boring world that could go crazy as the action goes off the rails. But we were always careful to balance the design pyrotechnics with the story we're telling. The audience has to follow the story the actors are telling, and it's a bizarre story! Sometimes we pull way back on the design, so we don't step on the story. Other times, as in the song "The Pitiful Children," we can go wild and the design elements get to go crazy."
Lighting designer Tyler Micoleau found inspiration in his own youth. "I lived a lot of the life of Jeremy, and I grew up in 70's and 80's (started designing lighting in the early 90's) and experienced first-hand a lot of the cultural tropes that the Joe Tracz and Joe Iconis are (and Ned Vizzini was) tapping into, to tell the BE MORE CHILL story. I've also been with the show since it started at Two River Theater in 2015, so I've had three opportunities to try different design approaches and have been around as ideas developed for the writing, staging."
"The biggest challenge for lighting," says Micoleau, "was how to put a 50-pound object into a 10-pound bag. The book and music support and demand so much visual dynamism in the cueing and compositions; on Broadway I was enabled to use a lot of new lighting technology - sourced from the Electronic Dance Music and Pop concert worlds."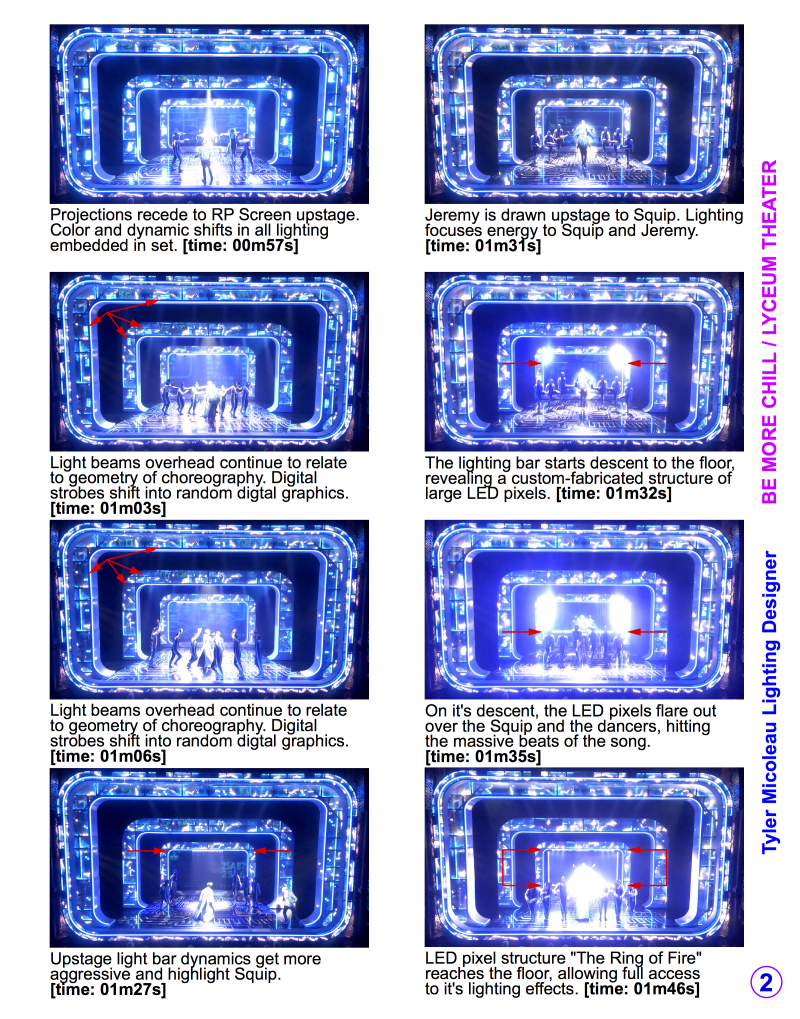 Alex Basco Koch went to the movies to begin his own projection design process. "A lot of what drove the initial aesthetic ideas for the projection design was revisiting some of my favorite sci-fi films of the nineties, like the Matrix, Johnny Mnemonic, Hackers... And that is kind of indicated in the lyrics to Two Player Game - Michael and Jeremy are into retro pop culture."
"And then it was a matter of looking at Beowulf's set, understanding the shapes and forms it enabled us to successfully project," says Koch. "The set rightly encouraged us to focus on developing images that would live in the audience's peripheral vision. We wanted to transform the space, turn on Jeremy's view of the world, but have it feel really connected to the set and let the audience stay focused on the emotional journey Jeremy is on."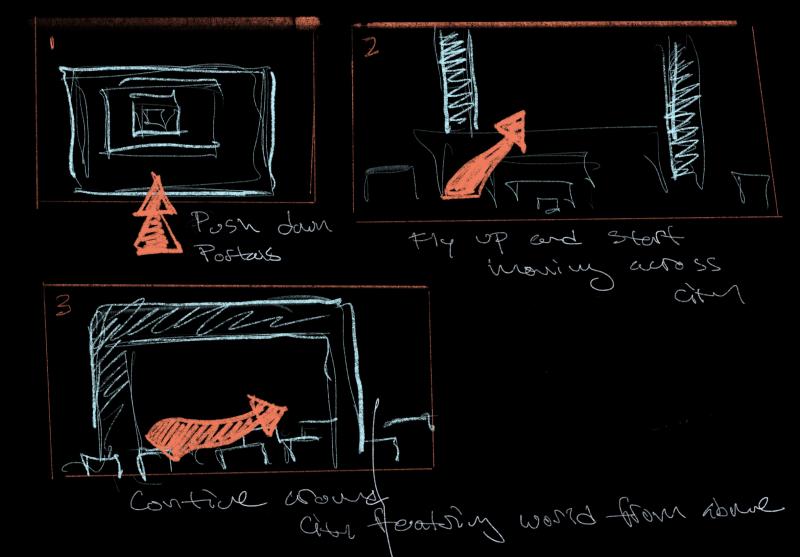 "For a musical that encourages moments of techno-marvel there's also such a pure story of overcoming doubt; designing satisfying highs that left ample room for the story to come through was a beautiful balance to negotiate. The creative team had incredibly fluid communication about building up those climatic moments, we were aware that our tricks work best when the line between set, lights, and projection is blurred. One place you can really see this in action is during the Midsummer sequence towards the end of Act II; the projection shows this expansive digital space unlike anything we've seen up until that point in the show. The digital landscape riffs on Beowulf's set and the lights in the digital space follow Tyler's work on the actual set. It becomes a seamless, carefully crafted chaotic space that I think enhances what Jeremy is going through as he defends his high school (and probably all of humanity) from some seriously haywire Artificial Intelligence."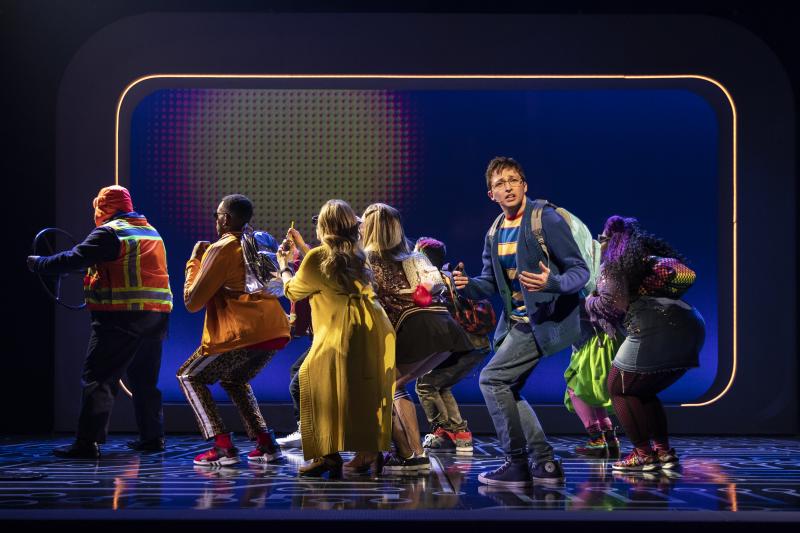 Ryan Rumery drew from some of his colleague's visuals to create the sound of Be More Chill. "I usually take something visual and I try to see what that would sound like. For instance, at the Signature when we started this, Beowulf had the circuitry on the floor, so I wondered what that would sound like. Then there was all the 'technological junk' - old computers and things- what would that sounded like?"
"Being a musician and writing music, I'm really keen on what things should sound like, so I got this delay pedal that I thought might be interesting. A delay pedal is something that you plug in and it makes all sorts of different sounds. So I just started messing around with that early on and I pulled computer glitchy sounds and in the end started making those effects myself."
He found his biggest challenge in making the musical heard in every corner of the theatre. "The Lyceum is so high, so many people are like 'well the balcony is going to sound bad up there.' We basically had three guys roaming every show during previews on all the levels, reporting at the end of the show, making sure all the levels sounded good. You can't get the experience to be exactly the same, but we really tried hard to make sure people were liking it in the balcony, liking it in the mezzanine and then the orchestra as well, too."
Want more Broadway By Design? CLICK HERE.
---
Be More Chill is now playing at the Lyceum Theatre (149 W. 45th Street).
The cast of Be More Chill features Will Roland as Jeremy; George Salazar as Michael; Stephanie Hsu as Christine; Gerard Canonico as Rich; Katlyn Carlson as Chloe; Tiffany Mann as Jenna; Lauren Marcus as Brooke; Britton Smith as Jake; Jason SweetTooth Williams as Mr. Heere - Mr. Reyes - Scary Stockboy; and Jason Tam as The Squip. Cameron Bond, Anthony Chatmon II, Morgan Siobhan Green, Troy Iwata, Talia Suskauer, and Joel Waggonerare the company understudies.