Ben Vereen, The Muppets, Sondheim Unplugged and More Coming Up This Month at 54 Below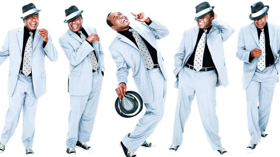 Next week, Feinstein's/54 Below, Broadway's Supper Club & Private Event Destination, presents some of the brightest stars from Broadway, cabaret, jazz, and beyond. To purchase tickets or for more information, visit www.54Below.com/Feinsteins or call (646) 476-3551.
---
54 CELEBRATES THE MUPPETS, NOVEMBER 20 AT 7:00PM AND 9:30PM:
It's time to play the music! For over 60 years, the Muppets have been entertaining the world through laughter, learning, love - and lots of music. Join some of Broadway and comedy's brightest stars in a celebration of the songs they've brought us and the stories they've told us - those most sensational, inspirational, celebrational, muppetational Muppets!
Hosted by Richard Kind (Inside Out) and Griffin Newman (Amazon's The Tick). Featuring Jennifer Barnhart (Avenue Q, Sesame Street), Noel Carey (Murder for Two, Brooklyn Sound)*, Stephanie D'Abruzzo (Tony Award nominee, Avenue Q, Sesame Street), Ashley Pérez Flanagan (The Great Comet), F. Michael Haynie (Charlie and the Chocolate Factory)**, Andrew Kober (School of Rock, Sunday in the Park with George)**, Rick Lyon (Avenue Q, Sesame Street), Julia Mattison (Godspell, Brooklyn Sound)*, Constantine Maroulis (Rock of Ages, The Wedding Singer), Monet Sabel (Sweeney Todd), Natalie Walker (Puffs, Cabaret), Nik Walker (Hamilton), Ari Wilford (Once), and more! *7:00 show only. **9:30 show only.
Music Direction by Ben Caplan. Produced and Directed by Philip Romano
$35-$45 cover charge. $75 premium seating. $25 Food & Beverage Minimum
STEPPIN' OUT WITH Ben Vereen, NOVEMBER 21-25 AT 7:00PM AND 8:00PM
Celebrate Thanksgiving week with the legendary Ben Vereen! Ben Vereen's last engagement at Feinstein's/54 Below blew the roof off the joint - audiences are still talking about it! Now join Ben for another unforgettable evening of song and story - featuring the showstoppers you love with new music that will leave you inspired!
Star of the Amazon hit series "Sneaky Pete", and Tony and Drama Desk Award winner for his renowned performance in Bob Fosse's Pippin, Mr. Vereen's Broadway credits include: Wicked, I'm Not Rappaport, Chicago, Hair, Fosse, Jelly's Last Jam, Jesus Christ Superstar, and A Christmas Carol. In 2010, Ben completed a successful run in the world premiere of Fetch Clay, Make Man, directed by Des McAnuff (Jersey Boys) at the McCarter Theatre. Film: Idlewild, All That Jazz, Sweet Charity, Funny Lady (Golden Globe nomination), Why Do Fools Fall in Love, Once Upon a Forest. Television: The legendary television miniseries "Roots," "How I Met Your Mother" (recurring), "Grey's Anatomy" (Prism Award), "Tyler Perry's House of Payne," "Law and Order: Criminal Intent," "Hallmark's An Accidental Friendship" (NAACP nomination), "Tenspeed and Brown Shoe," "Louis Armstrong - Chicago Style," "Ellis Island" (Golden Globe Nomination), Anne Rice's "Feast of All Saints," "Zoobilee Zoo," and "Star Trek - The Next Generation." Ben recently appeared in the feature films Top Five and Time Out Of Mind, and as Doctor Scott in Fox's TV version of "Rocky Horror Picture Show."
November 23rd, Thanksgiving Performance Information
For Mr. Vereen's Thanksgiving performance on Thursday, November 23, pre-selected reservations are mandatory & begin at 5:00pm. The kitchen will continue to serve throughout the entirety of the performance. Please arrive within 15 minutes of your scheduled reservation time to ensure that everyone has a wonderful holiday experience. Should you arrive earlier or later than your reservation time, you may be asked to wait at the bar or in the lobby until such a time as you can be seated. For this evening only, our regular menu will be replaced by a Thanksgiving prix fixe, which features classic holiday dishes and other festive seasonal favorites. All guests will be charged $85 each for their meals (this pricing does not include tax & gratuity).
Featuring: Lee England Jr. (Jimmy Kimmel Live, Making the Band), Jesse Lenat ("Sneaky Pete), and Nita Whitaker ("Star Search" winner, Ragtime, Ten Commandments).
$65-$95 cover charge. $95-$115 VIP seating. $125-$145 premium seating. $25 food & beverage Minimum. Required $85 Holiday Prix Fixe Menu for Thanksgiving 11/23.
NICOLE LIPPEY, NOVEMBER 21 AT 9:30PM:
After making a splash at Feinstein's/54 Below with her show Music & Laughter, Nicole Lippey is proud to bring her first solo show to the venue! Come join Nicole in an evening of songs and stories that will bring you A Way Back To Then. Nicole deconstructs her life story through a series of skits, songs, and candid storytelling. Featuring songs from [title of show], Avenue Q, Follies, 110 in the Shade, and more! Music directed by Jess Glover and Directed by Erin Dilly (Chitty Chitty Bang Bang, A Christmas Story). Featuring special guests Melanie Beck and Angelo De Fazio.
$25-$35 cover charge. $60 premium seating. $25 food and beverage minimum.
GUNHILD CARLING FROM POST MODERN JUKEBOX, NOVEMBER 22 AT 9:30PM:
Gunhild Carling, Sweden's sensational Queen of Swing makes her Feinsteins/Below 54 concert debut. This amazing singer and award-winning multi-instrumentalist has been featured on Scott Bradlee's "Post Modern Jukebox" putting a twenties twist on the eighties tunes "Material Girl" and "Never Gonna Give You Up." Gunhild is notorious for playing trumpets at once and a recent video of her playing bagpipes went viral with over 15 million views.
$25-$35 cover charge. $60 premium seating. $25 food and drink beverage minimum.
Shelton Becton, NOVEMBER 24 AT 9:30PM:
Upon returning from London's Wyndham's Theater as music director, pianist, and actor along with Audra McDonald in Lady Day at Emerson's Bar & Grill, Shelton Becton will now embark on his solo debut at Feinstein's/54 Below.
His original compositions span the gamut from classical, choral, and solo anthems to contemporary gospel, R&B & pop, while embracing jazz along the way. Over the years, Shelton has become known as an accomplished pianist, music director, vocalist, composer, arranger, and orchestrator for such renowned artists as Judy Collins, Patti Austin, Roberta Flack, and Phylicia Rashad - who calls him "a genius."
This live performance will leave the listener in awe of the gifts of consummate musicianship. Expect original compositions and also arrangements of beloved songs such as "Only For One Night," or "Make It Easy On Yourself." You will feel as though you're hearing these favorite tunes for the first time!
After being the facilitator and glue in support of other great artists from Audra McDonald to Jenifer Lewis, now see Shelton step into the spotlight to share his own heart, soul, and music.
Joining Shelton will be Buddy Williams on drums, George Farmer on electric and double bass and special guest Phylicia Rashad will sing a duet with Shelton of "We Belong Together."
$30-$40 cover charge. $70 premium seating. $25 food and beverage minimum.
JAMES TORMÉ, NOVEMBER 25 AT 9:30PM:
Internationally acclaimed singer James Tormé comes to Feinstein's/54 Below for a special one night engagement of his Color Me Jazz show, featuring jazz legend John Colianni. A brilliant reinvention of the smoky vocal jazz of the early sixties, it's a prelude to his upcoming Songs Of My Father PBS TV special (co-starring George Benson, Dave Koz, Take 6, and more), coming in the 2018 season. The second generation entertainer (yes he's the son of the great Mel Tormé), brings his buttery tone and high-level improvisational gifts to bare, tipping his hat not only to Chet Baker, Ella Fitzgerald, Marlena Shaw, and Jack Jones, but also to his own father, Mel Tormé, and several legendary arrangers.
From the high-energy Shorty Rogers versions of "Hi-Fly," "Moanin,'" "Puttin' On The Ritz," and a Claus Ogerman style "Comin' Home Baby" (featured in the current Nespresso commercials with George Clooney), to Johnny Mandel's ultra-dreamy, almost Ellingtonian iteration of Leroy Carr's "In The Evening When The Sun Goes Down" (recently heard on FX's "Feud"), and Chet Bakers's timeless "Let's Get Lost," Color Me Jazz is a pure delight. Jazz FM's Chris Phillips describes the show as, "An unforgettable story, told by jazz royalty, sung by one of the very best in the business". Being hailed by Sony Classics president Chuck Mitchell as "the greatest male jazz vocalist to come along in 20 years" the young singer feels it's his responsibility to exceed expectations on a nightly basis. James explains, "Being a Tormé isn't enough. I know I need to actually be great". And he is. This one is not to be missed!
$35-$45 cover charge. $80 premium seating. $25 food and beverage minimum.
SONDHEIM UNPLUGGED, NOVEMBER 26 AT 7:00PM:
BACK FOR SEASON EIGHT! A celebrated New York event since 2010, the BroadwayWorld and Bistro Award-winning series Sondheim Unplugged features some of Broadway and cabaret's most dynamic voices, accompanied by piano only, delving into the musical world of Broadway's master composer. Expect tunes from A Little Night Music, Company, Into the Woods, Follies, Passion, "Dick Tracy," and more. Past special guests have included original Sondheim cast members such as Len Cariou, Jim Walton, Donna McKechnie, Chip Zien & more - so you never know who might drop in. Sondheim Unplugged is hosted by series creator Phil Geoffrey Bond, who will fill the audience in on Sondheimien facts, history & assorted tidbits of theatrical lore! Come join the party!
Featuring: Eric Michael Gillett, Blaine Krauss, Linda Mugleston, Aaron Ramey, Courter Simmons, and Lucia Spina. Special Guests: Joy Franz (Into the Woods' original Stepmother), Pamela Winslow Kashani (Into the Woods' original Rapunzel), Liz McCartney (2017 Sunday in the Park with George Broadway revival), Teri Ralston (Company's original Jenny, Night Music's original Mrs. Nordstrom), and Sarah Rice (Sweeney Todd's original Johanna).
$30-$45 cover charge. $65-$75 premium seating. $25 food and beverage minimum.
J. Michael Zygo, NOVEMBER 26 AT 9:30PM:
J. Michael Zygo, currently appearing in School of Rock on Broadway, makes his Feinstein's/54 Below debut! Original cast member/musician of Once on Broadway. With a background in classical voice, a history of singing in Rock and Country bands, 2 studio albums of original music and a passion for guitar, Zygo brings songs and stories rooted in 15 years of productions and songwriting. Come hear an incredibly diverse mixtape of music from Once, Rock of Ages, The Wedding Singer, Big River, The Bridges of Madison County and others, as well as some originals, chronicling a life of making music and making it to Broadway! J. Michael Zygo will be joined by special guests Shannon O'Boyle, Justin Matthew Sargent, and Josh Tower.
$30-$45 cover charge. $65-$75 premium seating. $25 food and beverage minimum.
---
Feinstein's/54 Below, Broadway's Supper Club & Private Event Destination, is a performance venue in the grand tradition of New York City nightlife. A few blocks from the heart of Times Square and just below the legendary Studio 54, Feinstein's/54 Below is a classically designed state-of-the art nightclub in the theatre district that hosts audiences with warmth and style. Feinstein's/54 Below presents iconic and rising stars from the worlds of Broadway and popular music and has set a new standard for culinary excellence worthy of the world-class entertainment on the stage. Located at 254 West 54th Street, Feinstein's/54 Below features up to three shows nightly with cover charges ranging from $5-$105.