Review: CHARLES DICKENS A CHRISTMAS CAROL A PLAY WITH MUSIC Delights at the Al Hirschfeld Mansion/Museum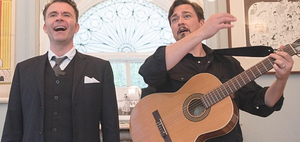 Over the weekend (and just in time for Christmas), the two-man production featuring actor Jeffries Thaiss and musician Eric Scott Anthony conducted an engaging and unique Dickens experience to get the crowd in the holiday spirit. The show was called Charles Dickens A CHRISTMAS CAROL A PLAY WITH MUSIC, and it was an absolute delight.
It was held at the Greenwich Village Mansion/Museum and the Al Hirschfeld Gallery, a grand space that dates back to 1845. It's ballroom (where the play took place) was added a few years later in 1899 by Stanford White and featured high ceilings and a striking staircase. If you came early, you were lucky enough to explore the mansion's downstairs area with pub seating, and the dining room where mince pie and tea were served.
The 75-minute show began at 8pm as everyone took their seats on plush couches and chairs for a relaxed and informal feel. Thaiss took on all the characters from the famous story, portraying Tiny Tim, Bob Crarchit, the three spirits of Christmas past, present, and future, along with Ebenezer Scrooge. He morphed into each role swimmingly, altering his voice and facial expressions to coincide with each character. And he did so without ever missing a beat, reciting his lines as though he owned them -- and in this case, he did.
But lets not forget Anthony and his musical interactions. He provided the live sounds throughout the production with not only strumming the chords but scratching at them when fear needed to be projected in the scene or plucking them to insinuate excitement. But then Anthony sang, almost randomly as Thaiss (portraying the narrator) was telling the story, and it was magnificent, with a voice as strong and controlled as the entire play itself.
The pair were perfectly in sync throughout the show, as though they have worked together for years, when it's only been two. Their quirky humor and incredible sense of play, paired with their individual talents, allowed this production to come to life and provide us with a new family holiday tradition.
(Photo courtesy of Vivian Wang, www.lithophytephoto.com)