Click Here for More Articles on JESUS CHRIST SUPERSTAR LIVE
BWW Interview: Everything's Alright in Rehearsals for JESUS CHRIST SUPERSTAR LIVE! Checking in with Norm Lewis, Jason Tam & More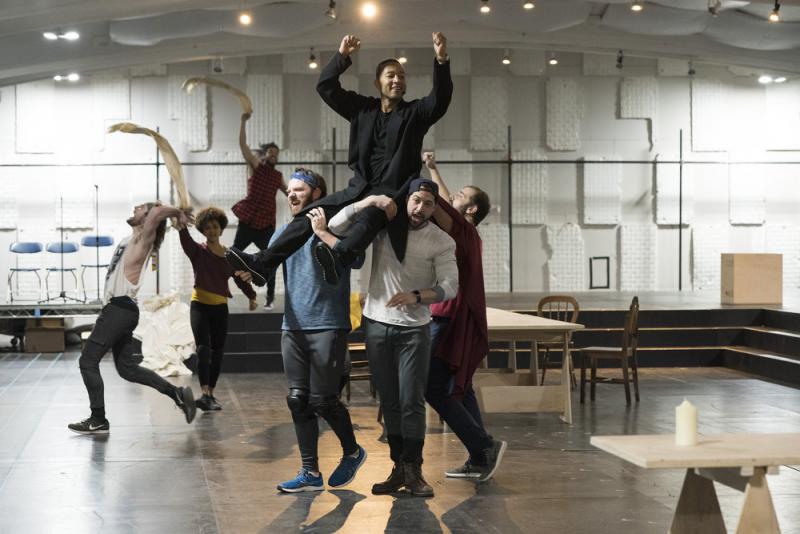 March is halfway over, which means we're just two weeks away from watching Jesus Christ Superstar Live in Concert on April 1st! The cast and creative team have been hard at work in rehearsals, with the supporting cast having just joined the process. Though they've only been in rehearsals for a few days, they've got a lot to say!
"Rehearsal is my favorite part of any project because we get to be in that room where we are all figuring things out together," said Jin Ha, who plays Annas. "We all have this common mission of putting this especially spectacular and impossible show together... it's an enormous task."
Enormous? Definitely. Norm Lewis, who plays Caiaphas, commented, "This isn't just for 1,200 people, it's hopefully for 12 million. Actually, hopefully more than that!"
For Ben Daniels, who plays Pontius Pilate, it's an even bigger task, as this marks his first professional musical, ever. "I just want to get it all right... I've approached it like learning an accent. It's interesting actually because your thought process has to happen within a specific rhythm and meter," he explained. "It's a great and odd thing for an actor; it's tricky but it's good fun."
Swedish rock star Erik Gronwall, who plays Simon Zealotes, has faced his own challenges in rehearsals. "I come from Sweden, I've never been at this level before. I'm just trying to emulate as much as possible because [Director David Levaux] is very inspirational and he knows how to tell a good story," Gronwall explained. "He knows how to make you understand what you're supposed to feel and how you're supposed to act. I have two ears and one mouth and I try to listen more than I talk, so I just shut up and listen when he's talking."
Broadway vet Norm Lewis can confirm: "[Leveaux] seems like a genius. He's brilliant."
The show is coming together in the rehearsal room thanks to the guidance of Leveaux, but the costumes, designed by Tony winner Paul Tazewell, will soon take the show to the next level.
"Oh, wait till you see them," Lewis teased. "I actually did a fitting the other day with the stuff that was already prepared, and I want to take it home! I actually want to buy it. It's beautiful! The costumes are made of recycled plastic bags."
"The costume is going to do 75% of my job," jokes Jin Ha. "They're amazing, stunning, badass."
Erik Gronwall adds, "[They're] very punk. Imagine the Sex Pistols... and Jesus."
Which songs is the cast looking most forward to bringing to life on April 1st? Jason Tam, who plays Peter, says, "I love 'Superstar'. I can't not move my body while listening to it. Jesus is crawling across the earth, bleeding, and these characters are dancing... I think the juxtaposition of it is fascinating and makes you wanna lean in and lean out at the same time."
"Being immersed in [the show] has done so much more for me than being a spectator," confessed Lewis. "'Heaven On Their Minds' used to be it for me, but now I can't even pick!"
"I haven't been in the room with Brandon yet," Jin Ha said, regarding Brandon Victor Dixon as Judas. "I saw him in Hamilton and I can't wait to hear and witness his Judas..."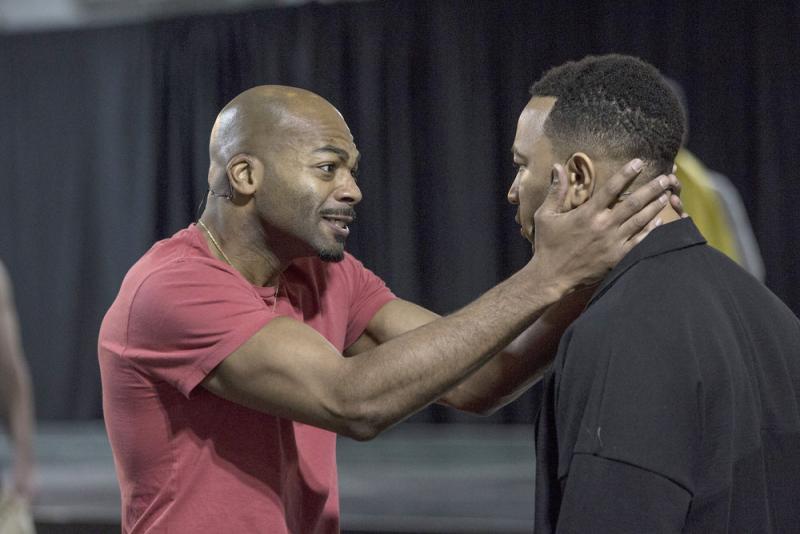 Now as the countdown to Easter Sunday continues, the actors just need to rehearse, rehearse, rehearse! "I never imagined myself being in this show, but I love playing the part of Peter," Jason Tam remarked. "All these people are confronting him and he just panics. He goes into survival mode. And then realizes the horror of betraying the person you love most in the world. It's a very challenging arc that I like."
"I listened to how Andrew Lloyd Weber wrote this music and the emotion in the music ... You don't even have to act; it acts for you," Norm Lewis added.
---
Don't forget to tune in to Jesus Christ Superstar Live in Concert on April 1 (8/7c) on NBC, starring Oscar, Golden Globe, Tony and 10-time Grammy winner John Legend as Jesus Christ, with Broadway star and acclaimed recording artist Sara Bareillesas Mary Magdalene, rock icon Alice Cooper as King Herod, and "Hamilton" alum and "Power" co-star Brandon Victor Dixon as Judas.
Rounding out the cast are Tony nominee Ben Daniels as Pontius Pilate, Tony nominee Norm Lewis as Caiaphas, Broadway veteran Jason Tam as Peter, "M. Butterfly" star Jin Ha as Annas and Swedish rock star Erik Gronwall as Simon Zealotes.. The production will be helmed by esteemed British theatre director David Leveaux.
As previously announced, "Jesus Christ Superstar Live in Concert," a staged version of the original rock musical, will be executive produced by Andrew Lloyd Webber, Tim Rice, Marc Platt, Craig Zadan, Neil Meron, John Legend, Mike Jackson, Ty Stiklorius and Alex Rudzinski.
Photo Credit: Virginia Sherwood/NBC