Click Here for More Articles on KING LEAR
BWW Flashback: The History of KING LEAR
The title role has been played by the likes of Ian McKellen, James Earl Jones, and many more!
King Lear is making its triumphant return to Broadway, starring Glenda Jackson in a gender-swapped version of the title role.
The production, directed by Sam Gold, began previews on February 28, 2019 and will open tonight, April 4, 2019 at the Cort Theatre, playing a strictly limited engagement through Sunday, July 7, 2019.
King Lear is no stranger to the New York theatre scene. In fact, this is the 20th Broadway production since 1754. In various productions, the play has been led by many big names including James Earl Jones, Ian McKellen, Kevin Kline, John Lithgow, Christopher Plummer, and many more.
As we gear up for this revival, let's take a look back on some notable Lears past...
---
One of the first notable King Lears was in 1956 at City Center. This production was directed by Orson Welles, who also starred as the title role. The play ran from January 12, 1956-January 29, 1956.
One company that has taken quite a liking to Lear is The Public Theater. The Public has presented King Lear six times over the past five decades.
In 1973, James Earl Jones took on the role of King Lear at the Public's Delacorte Theater.
This production had a focus on colorblind casting, and also included African-American actresses Rosalind Cash, Ellen Holly and Lee Chamberlin as Lear's daughters.
The production played July 26, 1973-August 26, 1973, and was directed by Edwin Sherin.
The Public's 1973 production of King Lear was filmed for PBS' "Great Performances" series and is now available to stream via BroadwayHD.
In 2004, Christopher Plummer starred in one of the many Broadway revivals of King Lear at Lincoln Center's Vivian Beaumont Theatre. This production was directed by Jonathan Miller. Beginning previews Feb 11, 2004, the show opened on March 4, 2004, and closed on April 18, 2004, after a total of 33 performances.
Plummer spoke about his experiences with Lear on an episode of PBS' Shakespeare Uncovered. Watch a clip below!
---
In 2007, the Public took another crack at Lear, this time with a production featuring all new music from Stephen Sondheim. This production, directed by James Lapine, starred Kevin Kline in the title role. It also featured Michael Cerveris in the role of Kent.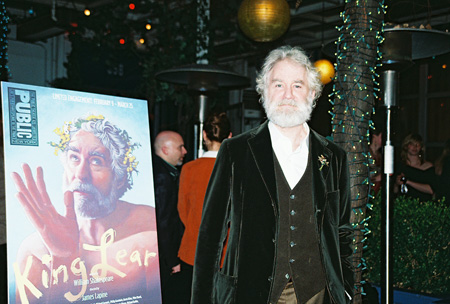 Also in 2007 was the acclaimed Royal Shakespeare Company production of King Lear, starring Ian McKellen. This production was directed by Trevor Nunn, and made into a television movie in 2008.
Watch the trailer for the film below:
---
In 2011, The Public presented King Lear at the Newman Theater. This production was directed by James Macdonald and starred Sam Waterston. Kelli O'Hara played the role of Regan, one of Lear's daughters. This production began previews on October 18, 2011 and opened November 8 for a limited run through November 20.
The cast and creatives discuss the show in the video below:
---
John Lithgow took on the role of the famous King in 2014's Public Theater production at the Delacorte Theater, as part of the company's Shakespeare in the Park series.. This production also starred Academy Award nominee Annette Bening as Lear's daughter, Goneril. Directed by Daniel Sullivan, the production began previews on July 22, 2014, ahead of an August 5 opening. The show played a limited run through August 17.
Watch clips from the production below:
---
In 2017, Ian McKellen returned to the role at Chichester Festival Theatre in England. After its run from September 22-October 28, directed by Jonathan Munby, it was announced that the production would transfer to the West End. With McKellen remaining as the lead, the production played the Duke of York's Theatre from July 11, 2018-November 3, 2018.
This production was filmed as well, and brought to select cinemas in the UK, thanks to NT Live. Check out the trailer below!
---
One of the most recent notable film adaptations of King Lear came in 2018. The film was made for television for the BBC. Written and directed by Richard Eyre, the film starred Anthony Hopkins in the title role, and featured Emma Thompson as Goneril.
Watch the trailer below:
---
Glenda Jackson is returning to the traditionally male role of King Lear after her hit run at the Old Vic in London in 2016. Directed by Deborah Warner, the production opened on October 25, 2016 and play a limited run through December 3, 2016. This role won Jackson an Evening Standard Theatre Award for Best Actress.
Check out a clip of her accepting her award below:
---
The current Broadway revival of King Lear, in which Jackson stars, will be completely different from the Old Vic production, with new staging.
Related Articles