BWW Exclusive: The Tradition Continues- Checking In with the Recipients of Last Season's Gypsy Robes!
The great tradition of the Gypsy Robe began in 1950, when Bill Bradley, in the chorus of GENTLEMEN PREFER BLONDES, borrowed a dressing gown from Chorus member Florence Baum and sent it to a friend in CALL ME MADAM on opening night Oct 12, 1950 saying it was worn by all the Ziegfeld beauties and would "bless" the show. A cabbage rose from Ethel Merman's gown was added and the robe was passed along to next Broadway musical on opening night.
The tradition evolved so that the robe is now presented to the "gypsy" who has performed the most Broadway musicals on a chorus contract. Along the way, the robe is decorated, painted, patched, stitched, and signed by everyone in the show, becoming a fanciful patchwork for an entire Broadway season.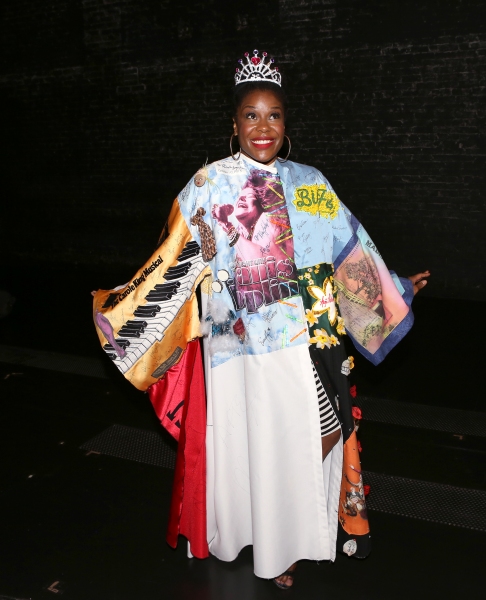 Today, we celebrate all the performers that earned the right to wear the robe this past season, including Tracee Beazer, Jess LeProtto, Jeremy Davis, Barrett Martin, Katie Webber, Cameron Adams, Jennie Ford, Ron Todorowski, Lainie Sakakura, Joseph Medeiros, and Matt Wall. Read below, as they reflect on what the honor meant to them!
---
Tracee Beazer Receieved the Robe: On June 19, 2014 for Holler If Ya Hear Me
First Broadway Credit: Hairspray
What She Was Thinking When She Put It On: Wow, though Vasthy Mompoint has verbally abused me for years, she really does admire me. She came to my ceremony AND crowned me with a tiara. Sometimes we hurt the ones we love the most.
Favorite Holler If Ya Hear Me Memory: The curtain call of our final performance. The energy in that building was indescribable.
---
Jess LeProtto Receieved the Robe: On October 16, 2014 for On the Town
First Broadway Credit: The Boy From Oz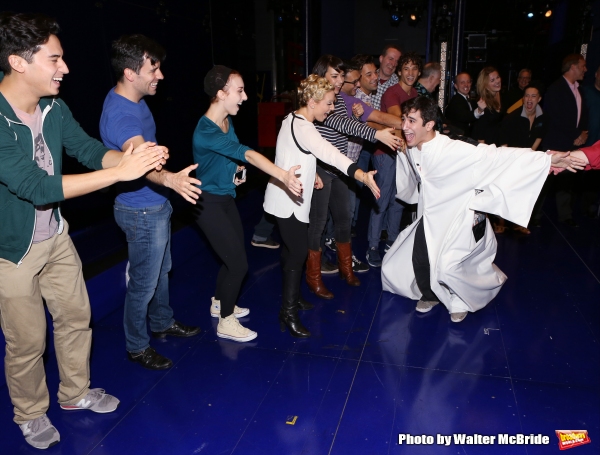 What He Was Thinking When He Put It On: When I heard my name being called, my mind went completely blank. I couldn't believe it and was so surprised. At one point in the ceremony, the newest recipient has to circle the stage three times counter clockwise. I was still shocked at the whole thing that I accidentally went the wrong way. It was hysterical and an opening night that I will never forget.
Favorite On the Town Memory (so far): The Macy's Thanksgiving Parade was one that I will always remember. It was my first time performing in the parade. What a great show and a great group of people to share that with. We opened the entire telecast and danced for millions of viewers. I truly loved being able to celebrate this American holiday tradition with a group that I've come to admire and respect as people and performers.
What Being a Broadway Gypsy Means to Him: To me, the Gypsy Robe means being part of a legacy of performers, past and present, who have graced the stage numerous times with their dedication and love for the theater. Joining a list that is as elite and significant as this one is a honor in itself. I am so thankful to be a part of this great Broadway tradition.
---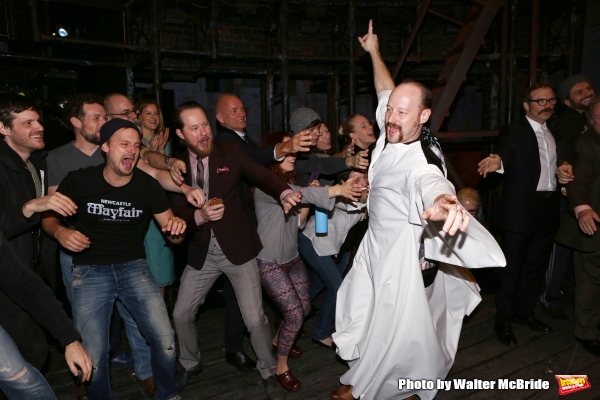 Jeremy Davis Receieved the Robe: On October 26, 2014 for The Last Ship
First Broadway Credit: Dirty Rotten Scoundrels
What He Was Thinking When He Put It On: I was thinking of what great company I was now in. In every show I've done, I remember how seasoned each Robe recipient was, and how much respect I had for each of them. I'm not sure if I merit being grouped with all of those true artists, but I sure hope I do.
Favorite Last Ship Memory: The Saturday night Scream that we would do with the JERSEY BOYS cast. Like the Gypsy Robe, it's a tradition that grew out of a few actors from different shows that wanted to connect with each other and be a little silly together as they celebrated how awesome our job is.
What Being a Broadway Gypsy Means to Him: I guess it means that I have a good deal of experience in this business. In my first broadway show, I remember looking to the veterans as examples of how to behave in rehearsal, or how to relate to everyone whether on stage or backstage, or how to maintain my performance over the course of the run, or any number of other things you have to learn on the job. Now I'm one of the veterans, and part of my job is to set an example for the new wave.
---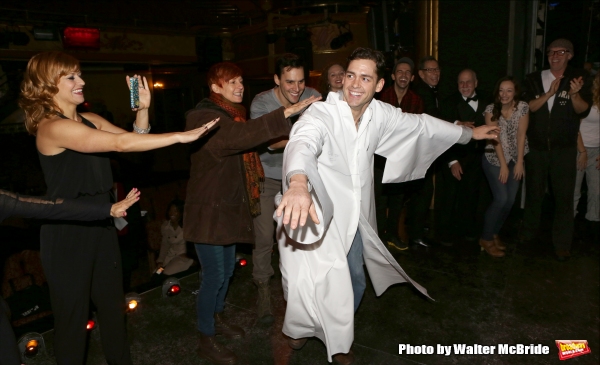 Barrett Martin Receieved the Robe: On November 17, 2014 for Side Show
First Broadway Credit: Urban Cowboy- some of the most fun I've ever had in a show.
What He Was Thinking When He Put It On: When I put on the robe, I was overcome with a sense of pride and honor. I was also glad that I received the robe during Side Show, because it was a very special experience and the robe was truly the cherry on top.
Favorite Side Show Memory: Basically every minute I worked on that show from La Jolla to Kennedy Center to Broadway. But if I had to pick, it would be the final curtain call of our Broadway run. It was bittersweet and a beautiful moment.
What Being a Broadway Gypsy Means to Him: Being a broadway gypsy is all about community and relationships. I love the people I get to work with, and the more I do, the more the Broadway community feels like an extended family. I like the idea that being a gypsy hopefully means I am reliable, versatile, and a pleasure to work with.
---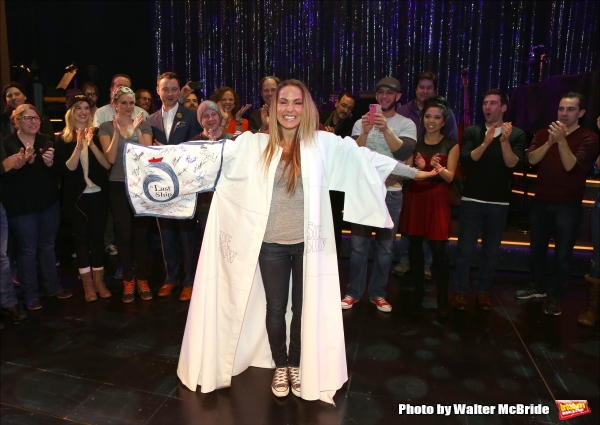 Katie Webber Receieved the Robe: On January 15, 2015 for Honeymoon in Vegas
First Broadway Credit: Wicked
What She Was Thinking When She Put It On: I was completely overwhelmed with gratitude! To be included in a legacy with so many people I admire and respect is such an incredible honor. In that moment I felt like all of the hard work and sacrifice was worth it. I just wish my family had been there to see it!
Favorite Honeymoon In Vegas Memory:
Wow, so many great memories! Honestly, just going to work every day with some of my best friends and getting to play onstage and off with the best cast ever! So much laughter and joy in that building. Shout out to the ladies ensemble!!
What Being a Broadway Gypsy Means to Her: It means everything to me! It represents my love of performing, my love of NYC, and my love for my very best friends who I have met in the business. I wear the robe for everyone who has a dream of being on Broadway and for everyone who is kicking their face, singing high C's, and making people laugh and cry 8 shows a week!
---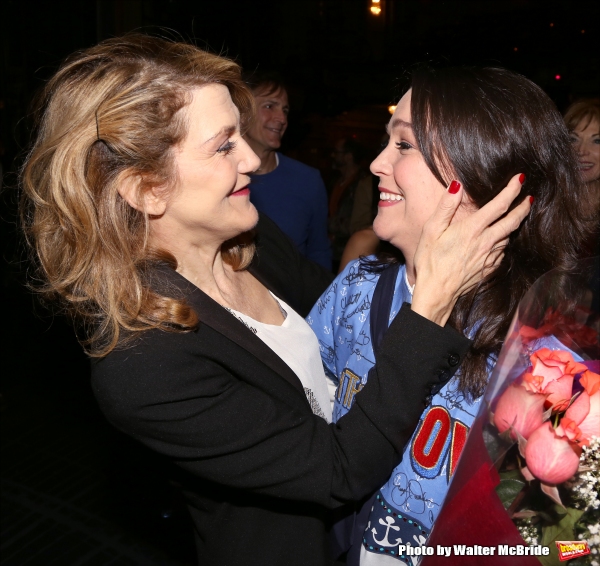 Cameron Adams Receieved the Robe: On April 8, 2015 for Gigi
First Broadway Credit: The Music Man
What She Was Thinking When She Put It On: I was overwhelmed with pride and excitement. Also, I was trying not to cry and I was very unsuccessful.
Favorite Gigi Memory: When one of our amazing ensemble ladies, Ashley Yeater, was proposed to onstage after the curtain call. Her boyfriend had planned the whole thing and we were all in on it. It was amazing watching her face because she had no idea it was coming.
What Being a Broadway Gypsy Means to Her: The word that continues to pop into my head is family. I'm a part of the Broadway community which is a wonderful family. I feel so lucky to be doing what I love and have worked so hard on, and continue to work on, for all of these years. To be recognized for your accomplishments and all you've put into your career is very special. It's a group effort, creating a Broadway show. I'm happy that I can help make the shows I've been a part of happen. Whether it be a long run or a short one. We still did it!
---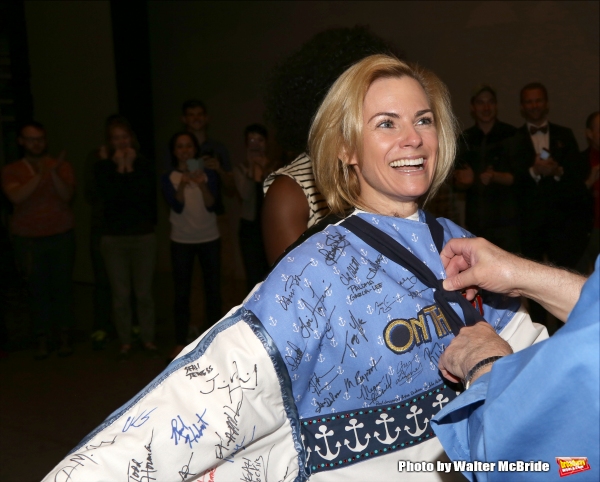 Jennie Ford Receieved the Robe: On April 12, 2015 for An American in Paris
First Broadway Credit: The Music Man
What She Was Thinking When She Put It On: It was such an honor because it was my first time. I have always been proud to be a hard-working Chorus member. It was such a nice acknowledgment to by honored as a gypsy while being surrounded by my peers, who I respect and admire so much.
Favorite An American in Paris Memory (so far): Taking my 3 year old daughter to our company's ballet class in Paris during our out-of-town tryout. It was a dream come true to be working in France and living there with my family at the same time.
What Being a Broadway Gypsy Means to Her: A group of hard working, "show must go on", professional people who love what they do.
---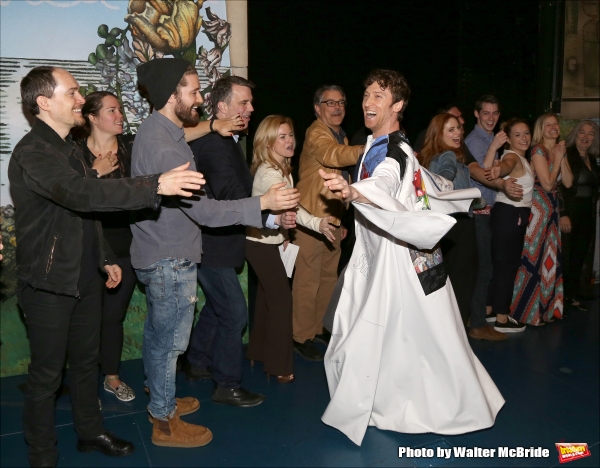 Ron Todorowski Receieved the Robe: On April 15, 2015 for Finding Neverland
First Broadway Credit: Footloose
What He Was Thinking When He Put It On: I was telling myself to stay present for this moment. I remember feeling so much love and support from our creatives, cast and crew. It was overwhelming.
Favorite Finding Neverland Memory (so far): There are so many, but if I had to pick one I'd have to say when our Director, Diane Paulus, read us a letter from a woman who runs an organization that helps children who have lost parents. The letter expressed how impactful our show was to these children and how it will help so many people in the future. None of us had a dry eye after she read it. It reminded us all that our show and message was so much bigger than ourselves.
What Being a Broadway Gypsy Means to Him: It means a great deal receiving such an honor from a community that I respect and love so much. I feel incredibly lucky and grateful.
---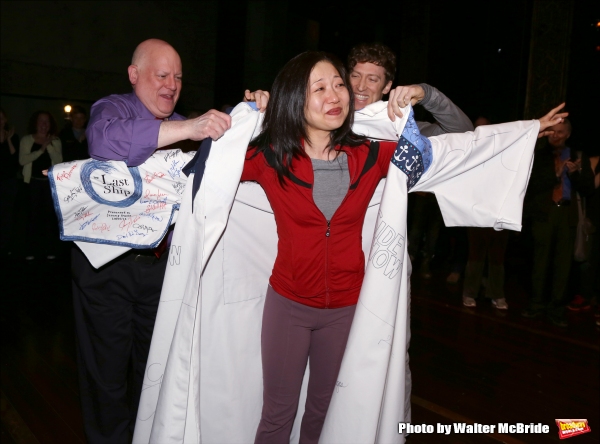 Lainie Sakakura Receieved the Robe: On April 16, 2015 for The King and I
First Broadway Credit: The Best Little Whorehouse Goes Public
What She Was Thinking When She Put It On: I can't believe this is actually happening!
Favorite King and I Memory (so far): Bart Sher brought the company to the stage of the Vivian Beaumont for the first time. I stood in awe at the beauty of this theater... couldn't believe I was going to finally get to dance on this stage after all these years. Ira put his arm around me and I couldn't hold back the tears.
What Being a Broadway Gypsy Means to Her: It means you work your ass off everyday. You're a team player and you dance in the chorus with pride. To be a gypsy is sweat, longevity, heartache, joy, humility and pride. 21 years after my Broadway debut, I am proud to be raising 2 children while still kicking my legs... and always 100% on my little piece of real estate on that Broadway stage.
---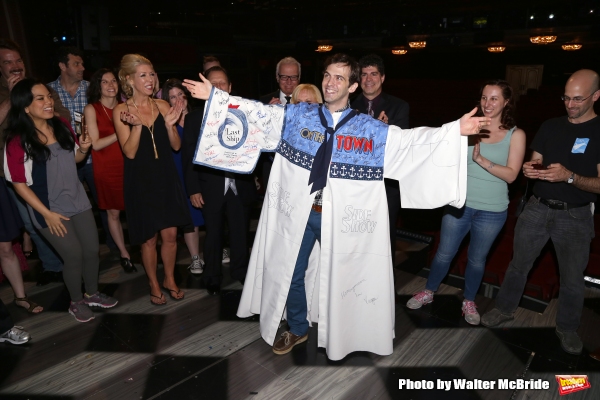 Joseph Medeiros Receieved the Robe: On April 21, 2015 for Doctor Zhivago
First Broadway Credit: Big, the Musical
What He Was Thinking When He Put It On: I don't remember what I was thinking exactly, I just remember feeling so happy and smiling like crazy; and seeing all the smiling faces around me.
Favorite Doctor Zhivago Memory: Spending time with some amazing, generous, passionate, and wildly funny people.
What Being a Broadway Gypsy Means to Him: It has a place in my heart that nothing else could fill. It will stay with me always, wherever my path goes.
---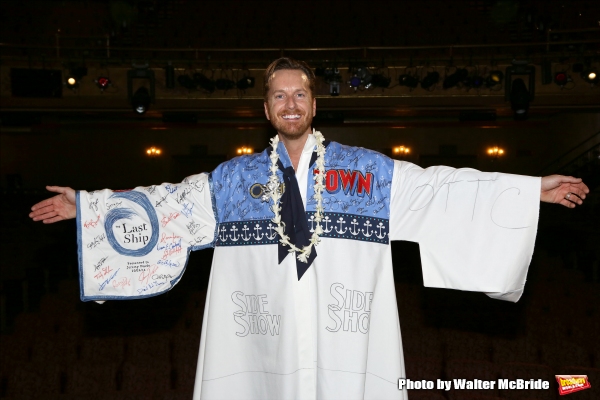 Matt Wall Receieved the Robe: On April 22, 2015 for Something Rotten!
First Broadway Credit: Saturday Night Fever
What He Was Thinking When He Put It On: I love the Gypsy Robe ceremony. It kicks off opening night in such a high energy way. Getting to wear the robe is the icing on the cake. I love the history of the gypsy robe and knowing that I'm part of that is really special.
Favorite Something Rotten! Memory (so far!): Our first preview was really incredible. Introducing the show to an audience for the first time and hearing their reaction was amazing.
What Being a Broadway Gypsy Means to Him: Something Rotten is my 13th Broadway show. I feel very fortunate to have a career on Broadway. I love the camaraderie you feel from being in an ensemble.
Related Articles
More Hot Stories For You