Click Here for More Articles on National Theater Institute
BWW Exclusive: Behind the Scenes at NTI - Playwrights and Librettists Week
For seven weeks, students of the National Theater Institute Semester and the National Music Theater Institute have been studying playwriting and book writing with Donna Di Novelli, paving the way for one of NTI's signature experiences: Playwrights & Librettists Week. This collaborative week supports and amplifies the voices of the next generation of American theater writers under the mentorship of professional playwrights, librettists, and composers. Scroll down for photos from this year's event!
As a company, NTI and NMTI Fall 2014 presented 24 new works over six days. 13 were new musicals, 11 were new plays. All of these were written, composed, directed, designed, performed, and produced by students. After each reading, a panel of responders including NTI Artistic Director Rachel Jett, librettist and lyricist Donna Di Novelli, Obie Award-winning playwright Adam Bock (NTI Fall '84), and Tony Award-nominated composer Heidi Rodewald gave feedback to the student playwright.
The excitement of week, often cited by alums as a highlight of their NTI experience, is hearing new voices, ideas, and ways of storytelling from their fellow ensemble members. The works are incredibly varied. Some addressed issues of racism, sexual orientation, and bullying, others introduced new protagonists and worlds where Mathletes, imaginary friends, and club-hopping babies stole our hearts.
However, Playwrights & Librettists Week is not intended as a culminating event, rather as creator Donna Di Novelli describes it, "a call to arms" saying "the American theater needs these voices." Now celebrating her 20th year teaching at NTI, Donna Di Novelli tells the students of others who had gone through the same process and on to become theatrical writers, Adam Bock and Rachel Jett among them. As well as alums like Hannah Bos and Paul Thureen of the Obie Award-winning company The Debate Society who have been working like Playwrights Week for the last 16 years. In a fun twist, tonight the students are presenting short plays they've created with the mentorship of Hannah and Paul.
Next week: RISK AGAIN! takes a look inside NTI's Company Debut. The Company Debut is a signature of the National Theater Institute's training. NTI and NMTI students are prompted with thematic material and must collaborate to write, compose, produce, cast, score, direct, design, and perform an original production in under two weeks. It is the capstone of 14 weeks of rigorous training.
To learn more and apply, visit www.NationalTheaterInstitute.org and on Facebook, Twitter, and Instagram (@NTIRiskFailRisk). The application deadline for summer and fall programs is March 20. Early applications are encouraged.


The first new work to be presented during Playwrights & Librettists Week was a musical comedy with a cast of ten.

Playwright Adam Bock talks with an NTI student about the next steps for her work.

Part of the National Theater Institute's casting process for 24 new works in 6 days.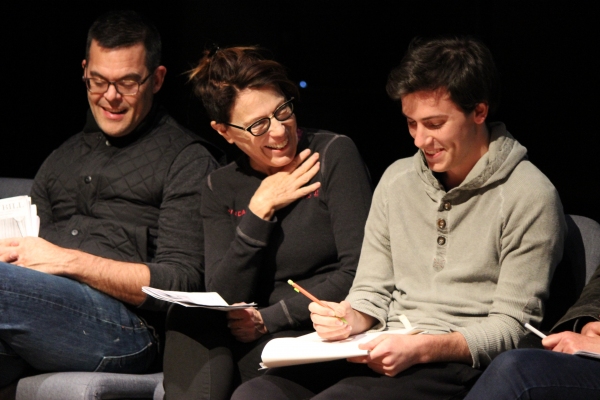 NTI playwriting instructor Donna DiNovelli responds to a student-written work.

NTI Fall '14 student (center) receives feedback on his play from artistic director Rachel Jett, Heidi Rodewald, Donna DiNovelli and Adam Bock.

NTI alum and award-winning playwright Adam Bock chats with a student playwright.

Audience response, captured in the mirror behind the scene.

A student-written play has a reading in the O'Neill's Dina Merrill Theater.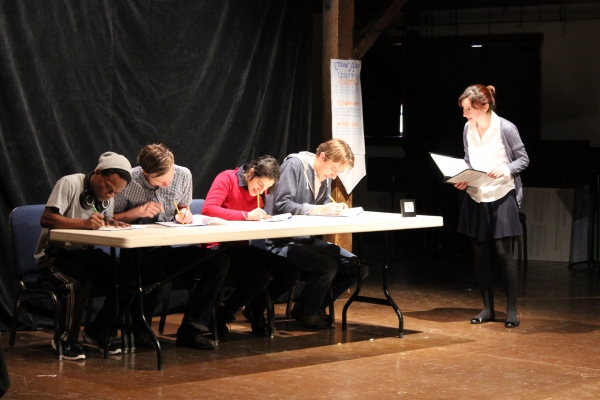 A musical about mathletes gets a reading in the O'Neill's famed Barn. Other musicals to be staged there include IN THE HEIGHTS and VIOLET.
Related Articles
With a singular schedule and an unmatched breadth of training, the National Theater Institute's six semester-long programs offer students a springboard to the professional world (read more...)