Alessandra Belloni & I Giullari Di Piazza Present DREAMS OF ILLUMINATION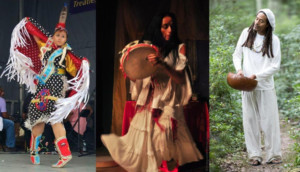 Alessandra Belloni, Artistic Director, has gathered a remarkable group of vocalists/dancers/percussionists for a new version of "Drums of Illumination," a joyous uniting of three great cultures: the powerful Native American, the fiery African, and the passionate Southern Italian, for a journey back in time into a world of ritual drumming, vocals, and trance dances.
Special guests are Murielle Borst, Josephine Tarrant and Kevin Tarrant of the SilverCloud Singers and Dancers (Native American) and Kevin Nathaniel (African percussion). Saturday December 22, 8 PM at Theater for the New City, 155 First Avenue (between 9th & 10th Streets)
Ms. Belloni remarks that this special concert "...is inspired by the need by bringing LIGHT during the SOLSTICE, into this time of DARKNESS and to enlighten the audience that we are all ONE and must be united to win over racism, violence, and separation."
THE CAST
Alessandra Belloni - artistic director, voice, percussion, ritual dance.
Vinnie Scialla percussion, drum set
Giuseppe De Falco - Neapolitan singer
Joe Deninzon - violin,mandolin, vocals
SilverCloud Singers, Kevin Tarrant, director - lead vocals, pow wow drum
Murielle Borst - vocals, drums
Josephine Tarrant - vocals and dance -
Travis Richardson - Vocals, drum
Kevin Nathaniel - African ritual drumming, imbira, vocals
Jorge Quevedo- Flutes, percussion
Karma Cloud African ritual dance
Francesca Silvano, Peter de Geronimo - southern Italian & Afro Brazilian Ritual dance
Artistic Director Alessandra Belloni has gathered a remarkable group of percussionist/vocalists/dancers for a new version of "Drums of Illumination," noting that its purpose is "to invoke World Peace, thus showing that we are all one following the beat: the pow wow drum, the Italian tambourine, the Brazilian pandeiro or timbale, and African drums. All will send good vibrations in to the air as a collective ritual of purification."
Outfitted with an extensive complement of exotic percussion instruments, tambourine virtuoso Alessandra Belloni and the Silvercloud Singers have enjoyed a long collaboration celebrating and exploring the rhythmic similarities between Southern Italian and other cultures by blending various percussion instruments. With music both ancient and new, they create a bridge between ancient rituals and modern rhythms into a vibrant musical tapestry.
The repertory will include:
Tarantellas from Southern Italy, including the authentic Pizzica Tarantata This healing trance dance from Puglia was used as music and dance therapy to cure the mythical bite of the tarantula. Tarantellas have been used as healing trance therapy and musical exorcism, dating back to the ancient Greek rites of Dionysus;
Healing chants and drumming in honor of the Black Madonna;
Work chants, and original songs to honor the Goddess of Love and the Sea, written by Belloni;
African healing music, ritual drumming, chants and trance rhythms and original compostions by Kevin Nathaniel, a virtuoso of the African Imbira and Checkere from the Yoruba tradition;
Native American ritual singing and drumming from different Nations and tribes across North American as the round dance, the 49niners' and the spectacular hoop dance.
Tambourine virtuoso/singer/dancer/actress Alessandra Belloni, ?called "a force of nature" in the Los Angeles Times, is renowned in her field and travels worldwide to perform group and solo concerts in theaters, universities, and international percussion festivals. She is Artistic Director/Leading Performer of I Giullari di Piazza, an ensemble of musicians/vocalists/dancers that specializes in authentic Southern Italian music and theater events, dating back to the 13th century. She is the author of the new book 'Healing Journeys with the Black Madonna" to be released March 2019 by Inner Traditions, No. 1 on Amazon new releases under folk dancing. Belloni is a REMO artist and designer of her signature series of Italian tambourines; she is also author of the book & DVD "Rhythm is the Cure," published by Mel Bay. The only artist in the world who specializes in Southern Italian tambourines combined with singing and dance, Belloni was selected as one of the best percussionists in the world by DRUM! Magazine, and has been acclaimed in The New York Times, Los Angeles Times, featured in Modern Drummer and Percussive. She has been invited to appear in percussion festivals in London, Brazil, Poland, France, Italy, Australia, Rome, and throughout the U.S.
Alessandra Belloni new book:
Belloni announces her new book "Healing Journeys with the Black Madonna," published by Inner Traditions/Bear & Company, with a foreword by brilliant author and visionary Matthew Fox. The book will be released in March 2019 and has been rated No. 1 by Amazon best seller of new releases in the category of Folk Dancing. The book includes a CD with sacred music and healing drumming techniques in honor of the Black Madonna from Southern Italy, as well as original compositions by Belloni. The book launch will take place at the Cathedral of St. John the Divine March 19, 2019.
Murielle Borst, Artistic Director of The SilverCloud Singers and Dancers, also distinguished herself in her one-woman show "More Than Feathers and Beads," which was nominated for a Rockefeller grant and selected to participate in the Global Indigenous Theater Festival in Sydney Australia, as well as several venues in NYC. She has completed six books in her fantasy series, "The Star Song Carriers." Borst and Belloni, "soul sisters" who share the same energy and spiritual beliefs, first collaborated in 1992 on I Giullari di Piazza's "Earth, Sun and Moon," commissioned by Lincoln Center and performed for years in NYC and on tour.
The SilverCloud Singers and Dancers is an intertribal Native American troupe weaving the traditional with the contemporary Native American song and dance. Founded in 1991, the company is named in tribute to Josephine Mofsie Tarrant, mother of the founding directors. The singers come from many tribes, and many parts of the U.S. and Canada. They have appeared in numerous Pow-Wows across the continent as well as in tours to Europe.
Kevin Nathaniel has devoted himself to the healing music of Africa. A longtime devotee of mbira, kalimba, polyphonic circle singing, drum, dance meditation, and yoga, this world-traveled music healer shares the musical medicine of the ancient, the now, and the beyond. Kevin Nathaniel has worked with shamans, channels, doctors, healers, mystics, and medicine people from Africa, Asia, South and North America, and has performed at healing music festivals and ceremonies the world over.
Related Articles
More Hot Stories For You
VIDEO: James Corden, Patti LuPone, and More Celebrate 'One Day More' of the Trump Era with a LES MISERABLES Parody
James Corden is celebrating the imminent departure of the Trump administration with a Les Miserables parody! ...

VIDEO: Watch 30 Broadway Stars Make Music with Muppets!
Since Jim Henson first burst onto the scene over six decades ago, Muppets have taken center stage in pop culture, appearing on film, television, and b...

VIDEO: Broadway Celebrates Biden with A Moving Mashup of RENT and HAIR!
Tonight, many of Broadway's brightest stars united to celebrate the inauguration of President Joe Biden and Vice President Kamala Harris with a medley...

Javier Munoz, Leslie Uggams and More Stars Set to Perform 'Seasons of Love' as Part of Tonight's Inauguration Festivities
Javier Munoz and Leslie Uggams have shared via social media that they will be joining a group of Broadway talent to perform 'Seasons of Love' as part ...

VIDEO: Amanda Gorman References HAMILTON in Inaugural Poem 'The Hill We Climb'
Today at President Joe Biden's inauguration, 22 year old Amanda Gorman took to the stage to deliver the inaugural poem, entitled 'The Hill We Climb'. ...

Social Roundup: Theatre Fans Turn Bernie Sanders' Inauguration Look Into Hilarious Memes
Theater fans have turned Senator Bernie Sanders' appearance at President Joe Biden's inauguration into a meme today, juxtaposing him into iconic pictu...