Album Review: JUDY GARLAND: THE FINAL CONCERT IN COPENHAGEN Is A Sweet Reminder Of A Special Woman
HDTT has released a remastered high-def recording of the final concert and it is worth hearing.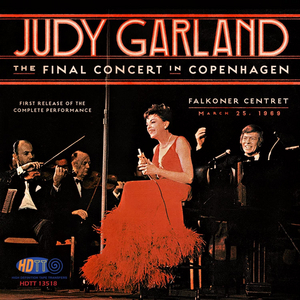 The month of June features both the birth and death dates of Judy Garland. This year the legendary actress and singer would have been one hundred and there have been many celebrations for the occasion, from many artists in varying mediums. Though the celebrations are destined to continue throughout the rest of the year, Broadway World Cabaret would like to end the month of June, the month of Judy, with a review of a new CD release from the Canadian-based record label HDTT (High Definition Tape Transfers) of the oft-spoken of final concert of Judy Garland.
On March 25th of 1969, Judy Garland performed at the Falkoner Centret in Copenhagen, Denmark, and although the concert has been the subject of much discussion over the years, with bits and pieces to be found in the bootleg community and on YouTube, what the fine folks at HDTT have done is a very special piece of Garland history that the fans will want to enjoy - and it is something that they should enjoy. The legend of Judy Garland's last days is not unknown to most; plays and movies have been made about this time in her life, books have been written detailing what has come to be known as the tragic last days of Judy Garland. So the final concerts of the star of many beloved films have come to be talked about as these melodramatic train wrecks showing how far Judy had fallen, even being showcased in some of those books, plays, and movies mentioned above.
Not here.
Not on this album.
Judy Garland THE FINAL CONCERT IN COPENHAGEN will be a blessing to many a Garland fan who wishes that people would back off the tragedy talk and remember Judy for being funny (which she was, notoriously) and fun and playful, as well as being a great musical storyteller - for some, the greatest of all time. In this fourteen-track album described on the cover as the "First release of the complete performance" the listener can hear live performances of Judy Garland singing some of her most famous songs, in the arrangements that helped make them the unforgettable performances that they are. From "Just in Time" to "Chicago" with de rigueur selections like "The Man That Got Away" and "Get Happy" thrown in to provide the full Garland experience, Judy sounds just like herself, just like the entertainer everyone loved and continues to love. No, the voice is not what it had been: it doesn't matter. Though changed, the voice is still Judy's, and even with those changes in the quality of the voice, the quality of the Garland storytelling cannot be diminished. Fans of Garland will enjoy this late-in-life performance, they will appreciate hearing Judy sound happy while chatting with the band and with the audience (her repeated use of endearments like "darling" with both the band and the audience is irresistible), and during the moments when the legend discusses her new husband before singing a tune that she directly dedicates to him, her happiness is a salve for all the dreadful drama that historians and gossips have applied to this time in her life. And, as an added bonus, the kind producers at HDTT have included in the recording two duets with crooner Johnnie Ray, who was traveling and performing with Garland at the time. This is the first time these cuts have been released commercially, as they were only recently discovered by John H. Haley, one of the two men who have worked so hard to get this album released.
Mr. Haley, a renowned audio engineer is the owner of one set of tapes of the concert, and respected Judy Garland expert Lawrence Schulman has a set of tapes in his own personal collection and, together, the gentlemen have pieced together the best quality sections of their mutual tapes to make this complete recording. Then Mr. Haley restored and remastered them while Mr. Schulman wrote the liner notes, as he has done with many other Garland albums over the last twenty-five years. Together, the two experts in their individual fields have created the first issue of a Judy Garland concert in high-def, and their work on the album is impressive. The experience of listening to The Final Concert In Copenhagen is an easy one, completely devoid of straining to hear the singer, with the on-stage instruments balanced so they don't overpower Judy but can still be heard in their full supportive position. It certainly is more enjoyable than listening to a gritty old bootleg, which is what many fans have had to resort to, lo, these many years, when interested in hearing one of Judy Garland's last shows. Misters Schulman and Haley have done Ms. Garland, her legacy, and her fans right with their album.
Particular delights lie in Judy's kind conversations with the audience and with co-star Johnnie Ray, and their duets together are quite a find - sweet, tender-hearted, tuneful, and touching, and Mr. Ray's adoration of Judy is patently clear in the timber of his voice when he talks to her, so lovingly. The "Am I Blue?" track is just gorgeous, filled with musicality and pure, honest emotional storytelling. Fans of both singers will find the back-to-back numbers a treat, sort of cherry on the top of a Judy Garland sundae, a lovely, heartwarming confection found in a recording that might help to mollify the public perception that Judy Garland's last performances on this earth were some tragic show-business landmarks. Going by what one hears here, this concert was one that the Copenhagen audience was able to enjoy from start to finish.
And so will the people who buy the album.
The song list on Judy Garland: The Final Concert In Copenhagen is as follows:
Overture
Get Happy (Ted Koehler-Harold Arlen)
Just in Time (Betty Comden-Adolph Green-Jule Styne)
The Man That Got Away (Ira Gershwin-Harold Arlen)
I'd Like to Hate Myself in the Morning (John Meyer)
For Once in My Life (Ronald Miller-Orlando Murden)
Rock-a-Bye Your Baby with a Dixie Melody (Sam M. Lewis-Joe Young-Jean Schwartz)
Over the Rainbow-orchestral interlude
Chicago (Fred Fisher)
Till the Clouds Roll By (P.G. Wodehouse-Jerome Kern) - duet with Johnnie Ray*
Am I Blue? (Grant Clarke-Harry Akst) - duet with Johnnie Ray*
San Francisco (Gus Kahn-Bronislaw Kaper-Walter Jurmann)
Over the Rainbow (E.Y. Harburg-Harold Arlen)
Over the Rainbow-orchestral interlude
*First commercial release
Judy Garland: THE FINAL CONCERT IN COPENHAGEN is available as hi-def downloads, as well as regular CD format:
For more information, contact High Definition Tape Transfers at info@highdeftapetransfers.ca
High-definition downloads of this release are now available on the HDTT website highdeftapetransfers.ca on THIS specific page.
The release will also be sold in regular CD format on Amazon HERE.