Click Here for More Articles on NEW YORK CITY
25th Anniversary of Astor Piazzolla's Death Inspires 'THAT'S NOT TANGO' at Joe's Pub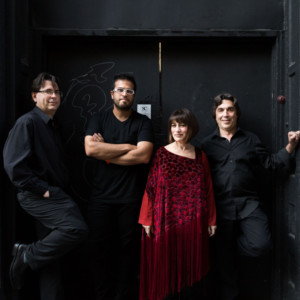 A more revealing, soul-searching look into the life of Astor Piazzolla, considered the father of the Nuevo Tango, is at the heart of "That's Not Tango - AstorPiazzolla, A Life In Music," the critically-acclaimed show which makes its return Aug. 5 and 6th at New York's Joe's Pub.
Conceived by Lesley Karsten and written by Karsten and Stephen Wadsworth, the team have refashioned their 2016 tribute to include more intimate details of the artist's life, including his doubts, struggles and regrets, and how they inspired and sometimes contradicted his celebrated musical career.
The staged production was singled out by the New York Times when it premiered in 2016 for its unique gender-bending premise - the part of Piazzolla is played by a woman. As Piazzolla, Lesley Karsten delivers a compelling dramatic narrative that offers a deeper understanding of Piazzolla's life, from his rough childhood in New York to the fame he achieved for revolutionizing the traditional tango. The show unfolds through an interplay between storytelling and virtuoso performances of Piazzolla's music by JP Jofre (bandoneon), Brandt Fredriksen (piano) and Nick Danielson (violin).
"We've moved from a more straightforward narrative of the facts of his life into an exploration of the inner workings of the man," says Karsten. "The premise is simple. He's dead, hates it and returns because he has unfinished business...with himself. He has regrets, struggles with isolation, memories of love lost. He gave what he had to give -- and the music is astonishing - but he needs to set the record straight. There's a price to be paid for immortality."
Karsten and Wadsworth take us on an intimate journey into Piazzolla's past, from his childhood in New York, years that shaped the man he would become, to his death at 71 in Buenos Aires. Growing up on the Lower East Side, he was strongly influenced by the music he was surrounded by. Along with exposure to Bach, Stravinsky and Bartok, he heard klezmer from Jewish weddings, jazz from nearby clubs and tango­-an idiom he initially rejected-from the scratchy records his father played.
A chance encounter with Artur Rubenstein when Piazzolla was 16 further inspired him to pursue music; he was soon taken under the wings of classical composer Alberto Ginastera and tango great Aníbal Troilo, and later went on to study with the legendary Nadia Boulanger. Through her, the composer found his true calling.
From this gumbo of life experiences emerged a music that's intensely personal, yet universal and as beloved in Tokyo, Berlin and New York as it is In Buenos Aires. Since his death in 1992, Piazzolla's reputation has only grown with jazz giants like Gary Burton and Al di Meola and classical superstars like Yo Yo Ma, Emmanuel Ax and Daniel Barenboim including his works in their repertoires. His influence continues to be felt in the works of other significant composers, such as Osvaldo Golijov. As tango reaches new heights in popularity, Astor Piazzolla is taking his rightful place as a towering figure in all 20th-century music.
Karsten's creative journey began when she was asked to read some Latin American poetry while a violinist performed Piazzolla in Fairfield, Connecticut. Rather willfully, Karsten admits, she rejected the poetry and adapted elements of Piazzolla's biography instead. The piece, which was part of a chamber music series, had lines out the door and around the corner.
"I hope people develop a personal relationship with the music and understand what it meant to him," Karsten says. "I want audiences to experience the man behind its urgency and power."
Named by American Theatre one of the most influential stage directors of the 21st century,
Wadsworth is a veteran of Broadway, the West End and opera companies throughout Europe and the US, including the Met. He has directed such wildly diverse playwrights such as: Terrence McNally, Anna Deavere Smith, Beth Henley, Ken Ludwig, and composers Peter Lieberson and Daron Hagen. Working with Leonard Bernstein, he wrote the Grammy-nominated opera A Quiet Place. He was a Playwriting Fellow for Sundance at the Ucross Foundation and the McCarter Theatre, and currently teaches directing at Juilliard.
Story and Musical Consultants include: Kip Hanrahan, Piazzolla's longtime associate and the producer of his seminal CDs Tango Zero Hour and La Camorra, and Fernando Gonzalez music critic, writer and translator of Natalio Gorin's "Astor Piazzolla: A Memoir."
Performances are August 5 and 6, 2017 at Joe's Pub, 425 Lafayette St, New York, NY 10003. Tickets are available for $30 online at Joe's Pub and in person at The Public Theater Box Office.