Juampi Gonzalaz Comes to CABA This Week
Performances are 16 and 17 June 2022.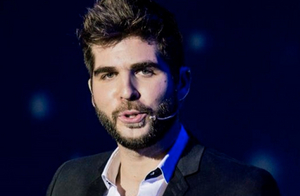 El 14 de marzo, el soltero más codiciado vuelve con su unipersonal con el que ya agotó grandes salas del circuito porteño donde el público no paró de reír gracias al carisma y rapidez de este comediante.
A partir de la interacción con el público y la improvisación como herramientas principales, Juampi Gonzalez, hace de cada función un show distinto, en donde todos se sienten parte.
La participación de su personaje más popular en redes (Alessandra Teapoya) le da licencia para hablar de sexo sin tabúes y el público participa a través del "consultorio en vivo".
En "Soltero", Juampi repasa a través del humor lo bueno y lo malo de la soltería pasando por diversos temas en donde el público siempre se identifica porque todos en algún momento fuimos o seremos... solteros!
Performances are 16 and 17 June 2022. Learn more at https://vivo.perfil.com/espectaculo/20335-juampi-gonzalez-presenta-soltero