BWW Review: ARIADNE AUF NAXOS at Santa Fe OPERA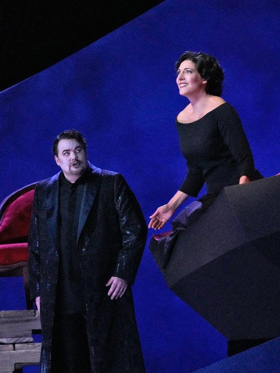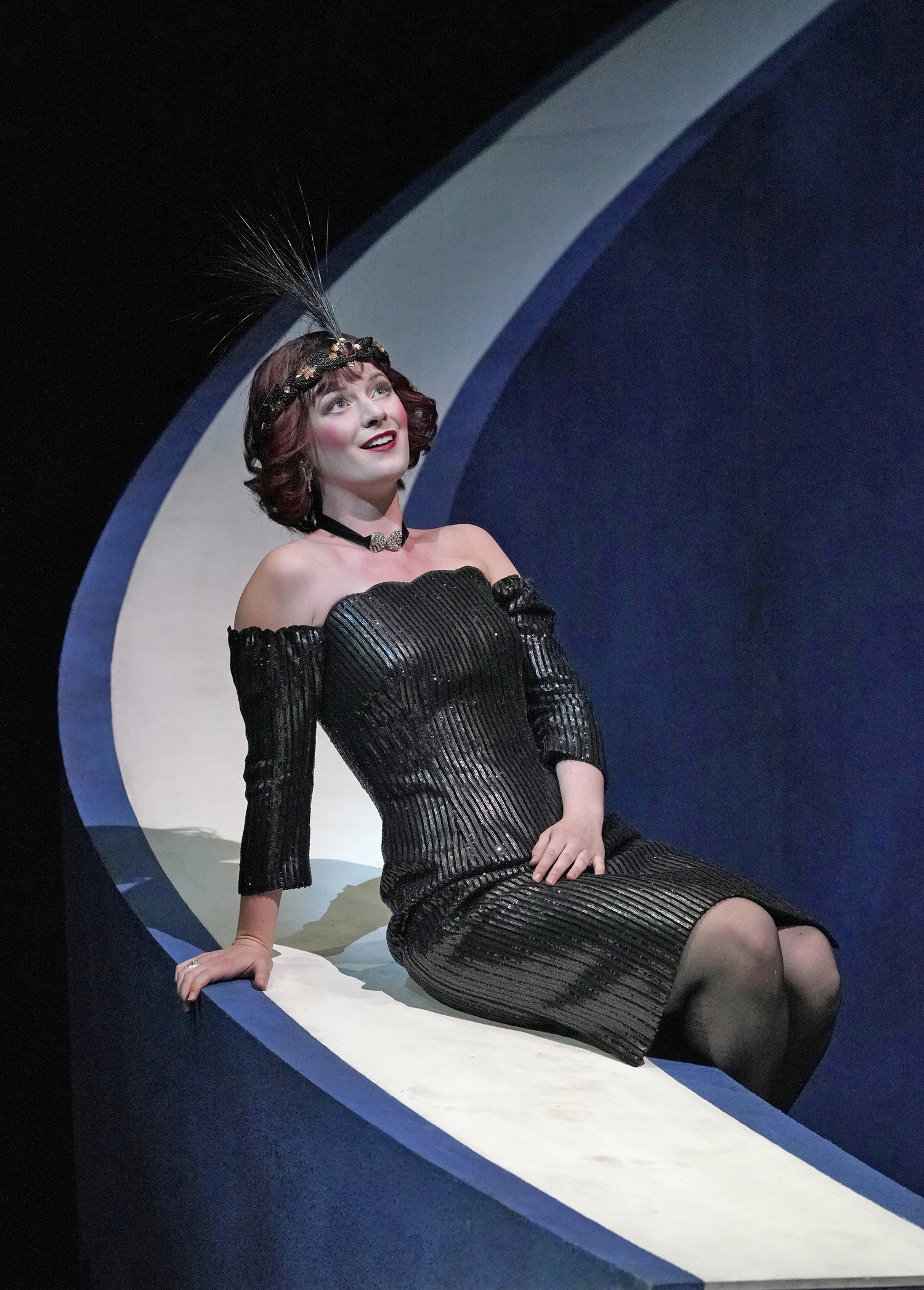 On July 28, 2018, Santa Fe Opera presented Richard Strauss's comedy ARIADNE AUF NAXOS in a production by Tim Albery who also translated it. The prologue was sung in English and while the opera's arias were in German, the recitative was in English. The excellent English translation of the arias could be read on the seat-back titles. Tobias Hoheisel's first act scenery consisted of a hallway with dressing room doors, a staircase and a discolored ceiling. The home's owner was supposed to be the richest man in Vienna, but that ceiling suggested delayed maintenance.
The opera, which was the second act, took place in a blue, curved set with a red and black protrusion on which Ariadne slept and mourned her fate. With the arrival of Bacchus, she begins to reopen her spirit to life and the curved walls of her island also open to the night sky at the back of the stage. Thomas C. Hase's lighting made the Act I location seedy. The setting for Act II opened as a desert locale but changed to a place where couples could fall in love.
Hoheisel costumed Ariadne in a turban and mismatched street clothes for the Prologue and a black gown with a shawl for the opera. Zerbinetta wore sexy flapper clothes in both acts and the composer wore a dark suit. Bacchus appeared in a long dark coat, while the other male characters wore outfits that fit the comedy of the moment.
ARIADNE is an opera that shows the beauty of great voices and this cast had plenty to offer. Amanda Echalaz, whose voice has significant heft to it, sang Ariadne with beautiful rose-velvet tones. She was a bit of a witch in the prologue, but in the opera, her voice rolled out over the audience like waves in the ocean. Offering pathos at the beginning, Echalaz's use of a tapestry of vocal color made her transition to Bacchus's lover credible.
The role of Bacchus demands not only comedic talent in Act I, but sustained power at the upper end of the tenor's range in Act II. As Bacchus, Bruce Sledge showed his flair for the absurd in Act I when he disputed a hairpiece with Jarrett Logan Porter as The Wigmaker. His second act entry was from high above the curved set and his bronzed tones flowed down like precious jewels.
As Zerbinetta, Liv Redpath was the peacemaker in Act I. She cavorted with all the male characters and they fell for her charms. Most importantly, in Act II, she sang this seemingly impossible coloratura role with authority and almost total accuracy. Her tones were sweet and well focused, so her relatively small voice carried well in the open sided theater.
Director Tim Albery had the Composer, sung by Amanda Majeski, fall so heavily for Zerbinetta that he waited for her at the end of Act II. Majeski's voice has taken her from Mozart parts to dramatic soprano roles. She made the audience feel the composer's pain as her large voice encompassed the house with elegant tones.
Rod Gilfry as the Music Master, Kevin Burdette as the Major-Domo, and Brenton Ryan as the Dancing Master all contributed greatly to the hilarity of the first act. Meryl Dominguez, Samantha Gossard, and Sarah Tucker as Najade, Dryade and Echo sang with tonal richness and pristine clarity. I'm sure we'll soon hear them in solo roles.
Jarrett Ott as Harlequin, Anthony Robin Schneider as Truffaldino, Matthew DiBattista as Scaramuccio, and Terrence Chin-Loy as Brighella, were the hysterically funny members of Zerbinetta's troupe. Ott's baritone, in particular, outlined his actions with stentorian tone. A great deal of this group's ensemble work was based on their accurate timing and the amusing choreography of Kyle Lang who replaced another artist shortly before the premiere.
Conductor James Gaffigan brought out the melodic gold in Strauss's early twentieth century work. His dynamics held listeners' emotions in thrall without ever covering the singers. Sledge and Echalaz have large voices and can sing over a huge decibel level. Not so, Redpath. Gaffigan held the orchestra's sound level down so that the audience never missed a grace note or a trill from this fine young high-wire coloratura.
ARIADNE AUF NAXOS is the last of Santa Fe Opera's premieres for 2018. Further performances can be seen on August 1, 10,15, and 23.
Photo: Liv Redpath as Zerbinetta; Bruce Sledge and Amanda Echalaz as Bacchus and Ariadne by Ken Howard for Santa Fe Opera