Now Playing Onstage in South Carolina - Week of 1/26/2014
View All Show Listings for South Carolina
Click Here to View BroadwayWorld.com South Carolina Calendar
ELVIS HAS LEFT THE BUILDING
Town Theatre
1/17-2/1/2014
Written by Duke Ernsberger and Virginia Cate Directed by Allison McNeeley Sponsored by NBSC Starring: Andy Nyland, Resi Talbot, Charlie Goodrich, Chip Collins, & Mary Miles. Jan 17 - Feb 1, 2014 Wed-Sat at 8 pm; Sun at 3pm It's 1970 and
Elvis Presley
is missing. His manager, Colonel
Tom Parker
, needs his star for an extremely important live performance. (You see, he owes a certain mobster a bit of money). Oh, and the show is in 24 hours. When the search for the real Elvis proves fruitless, he looks for the next best thing -- an Elvis impersonator, but where can he find one that he can pass off as the real Elvis? What has the real Elvis been up to anyway? The answers to these questions, and much more, will be revealed as Town's version of this hilarious comedy unfolds. Andy Nyland (9 to 5) recreates the manipulative Colonel Parker with Therese "Resi" Talbot (Les Miserables) as Trudy, his long-suffering secretary. Charlie Goodrich (The Foreigner) and Chip Collins (Annie) take the parts of Roscoe and Candy. We simply cannot tell you what they do - you'll just have to see it to believe it! Last but not least is Mary Miles (Miss Saigon), the saucy and fearless news reporter who simply will not take "no" for an answer. The play by mother and son team, Duke Ernsberger and Virginia Cate, is actually based on a true event in the life of
Elvis Presley
. aside from that fact, the story you are about to see is totally fictitious (at least as far as we know!). You'll want to check out our playbill for the background. You will be amazed! So come, laugh and have a good time with this bit of "folklore" surrounding the life of The King of Rock and Roll. This riotously funny story will have you wanting more and keep you guessing until the end.
Click Here for More Information
9 TO 5, THE MUSICAL
LEXINGTON COUNTY ARTS ASSOCIATION
1/24-2/2/2014
9 TO 5: THE MUSICAL, with music and lyrics by
Dolly Parton
and book by
Patricia Resnick
, is based on the 1980 hit movie Nine to Five.Pushed to the boiling point by their boss, three female co-workers concoct a plan to get even with the sexist, egotistical, lying, hypocritical bigot they call their boss. They conspire to take control of their company and learn there's nothing they can't do -- even in a man's world. Set in the late 1970s, 9 TO 5: THE MUSICAL is a hilarious story of friendship and revenge in the Rolodex era. Outrageous, thought-provoking, and even a little romantic, 9 TO 5: THE MUSICAL is about teaming up and taking care of business.This high-energy show is ideal for a large, mostly female cast. With its jubilant score and easily relatable characters, 9 TO 5: THE MUSICAL is the perfect show for community theaters or high schools.
Click Here for More Information
RENT
FLOWERTOWN PLAYERS INC
1/17-2/2/2014
Set in the East Village of New York City, RENT is about falling in love, finding your voice and living for today. Winner of the Tony Award for Best Musical and the Pulitzer Prize for Drama, RENT has become a pop cultural phenomenon with songs that rock and a story that resonates with audiences of all ages.Based loosely on Puccini's La Boheme,
Jonathan Larson
's RENT follows a year in the life of a group of impoverished young artists and musicians struggling to survive and create in New York's Lower East Side, under the shadow of HIV/AIDS. The physical and emotional complications of the disease pervade the lives of Roger, Mimi, Tom, and Angel. Maureen deals with her chronic infidelity through performance art; her partner, Joanne, wonders if their relationship is worth the trouble. Benny has sold out his Bohemian ideals in exchange for a hefty income and is on the outs with his former friends. Mark, an aspiring filmmaker, feels like an outsider to life in general. How these young bohemians negotiate their dreams, loves, and conflicts provides the narrative thread to this groundbreaking musical.This is theatre at its best -- exuberant, passionate, and joyous. Regional theatres will love the freedom and flexibility that RENT offers; minimal costuming and sets are required. RENT RETURNSVisit the official "Site for Rent" for NYC ticketing and more information on this new production.
Click Here for More Information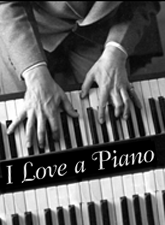 I LOVE A PIANO
North Augusta Cultural
Arts Council
1/31-2/8/2014
I Love a PianoI LOVE A PIANO is the celebration of the music and lyrics of
Irving Berlin
. It follows the journey of a piano as it moves in and out of American lives from the turn of the century to the present. Along the way, the story comes to vibrant life with over sixty of
Irving Berlin
's most beloved songs, including classics such as 'Blue Skies,' 'There's No Business Like Show Business,' 'Puttin' on the Ritz,' 'Cheek to Cheek,' 'Always,' 'How Deep is the Ocean,' 'Anything You Can Do,' 'God Bless America,' and, of course, 'I Love a Piano.' Alternately heartbreaking and hilarious, rousing and reflective, I LOVE A PIANO is a fitting tribute to the man
Jerome Kern
famously said had 'no place in American music - he is American music.'
Click Here for More Information
CLYBOURNE PARK
Trustus
1/24-2/8/2014
Thigpen Main Stage:
Bruce Norris
; dir: Jim O'Connor.
Click Here for More Information
ARCADIA
The Village Repertory Co
1/17-2/8/2014
Woolfe Street Playhouse:
Tom Stoppard
; dir: Keely Enright.
Click Here for More Information
SHIPWRECKED
South Carolina Repertory Company
1/22-2/9/2014
Donald Margulies
; dir:
Tom Evans
.
Click Here for More Information
ROCK 'N ROLL THROUGH THE AGES
Centre Stage- South Carolina
1/23-2/15/2014
Centre Stage SC:dir: Kimberlee Ferreira.
Click Here for More Information
DON'T DRESS FOR DINNER
Arts Center of Coastal Carolina
2/4-2/23/2014
Elizabeth Wallace
Theatre:adapt:
Robin Hawdon
from
Marc Camoletti
; dir:
Russell Treyz
.
Click Here for More Information
View All Show Listings for South Carolina
Click Here to View BroadwayWorld.com South Carolina Calendar