Now Playing Onstage in Orlando - Week of 8/25/2013
View All Show Listings for Orlando
Click Here to View BroadwayWorld.com Orlando Calendar
THE FANTASTICKS
Theatre UCF
6/27-9/1/2013
Remember the days of sweet young love in this romantic charmer of a musical! The Fantasticks is the longest running production in American theatre for good reason: the intimate and funny poetry of the script, the catchy songs, the nostalgic story…your whole family will be enchanted.
Click Here for More Information
LIZZIE BORDEN THE MUSICAL
Theatre Downtown
8/23-9/8/2013
Click Here for More Information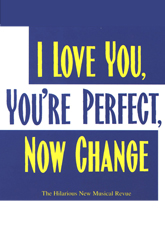 I LOVE YOU, YOU'RE PERFECT, NOW CHANGE
Show Palace Dinner Theatre
8/15-9/15/2013
This celebration of the mating game takes on the truths and myths behind that contemporary conundrum know as 'the relationship.' Act I explores the journey from dating and waiting to love and marriage, while Act II reveals the agonies and triumphs of in-laws and newborns, trips in the family car and pick-up techniques of the geriatric set. This hilarious revue pays tribute to those who have loved and lost, to those who have fallen on their face at the portal of romance, to those who have dared to ask, 'Say, what are you doing Saturday night?'Book and Lyrics by
Joe DiPietro
; Music by
Jimmy Roberts
Click Here for More Information
THE CORTEZ METHOD
Orlando Shakespeare Theater
8/29-9/22/2013
What happens when you make a bad decision for all the right reasons? Sara and Bill will do whatever it takes to prepare for their new arrival, but an unexpected visit from Bill's older brother unravels their plans and makes it clear their shiny future has been built on the troubled foundation of their past. Fertility, home improvement, and family collide in this darkly comic roller coaster ride.
Click Here for More Information
HANSEL & GRETEL
Pinocchio's Marionette Theater
8/28-11/3/2013
40 minute string puppet musical based on Humperdinck's operetta about two lost children and a tempting gingerbread house!
Click Here for More Information
View All Show Listings for Orlando
Click Here to View BroadwayWorld.com Orlando Calendar