The Third Annual Tonic Awards Celebrate Women in Theatre
Playwrights, directors and producers gathered at the May Fair Hotel on Monday for the third annual Tonic Awards, celebrating the achievements of women in theatre. In attendance, in addition to the aforementioned artists, were some of the theatre world's top movers and shakers, eager to show their support to a worthy cause.
The event opened with a speech from Tonic's director, Lucy Kerbel, who presented the mission of the awards: while the press - rightly - cover the injustices and power imbalances that women in the arts face every day, a young girl reading the news might be discouraged from pursuing her passion.
"We need to counter the bad news with the good news that is going on for women in theatre," Kerbel said. While "the challenges can feel relentless... we need to find ways to help you keep the faith."
And so we were off. The evening's host, actor and writer Tracy-Ann Oberman, came out the gate with a Dorothy Parker quote: "Scratch an actor and you will find yourself an actress."
"But I am reclaiming 'actress'," Oberman declared, "Tonight, we're all actresses!"
The first award went to Open Clasp Theatre Company, whose work with imprisoned women and men has produced radical, challenging works. Then playwright Morgan Lloyd Malcolm received honours for her new play Emilia, which tells the story of one England's first female poets, and which recently transferred from Shakespeare's Globe to the West End.
"The Globe trusted me enough to programme a show before it had been written," Malcolm beamed. Trust was a recurring theme throughout the ceremony - several of the awardees noted that they wouldn't have got where they were without the trust of a mentor or institution willing to take a risk.
Dance Umbrella were honoured for their work in producing "untamed" shows throughout London, including, in their over 40 years of operation, over 100 works by or featuring women.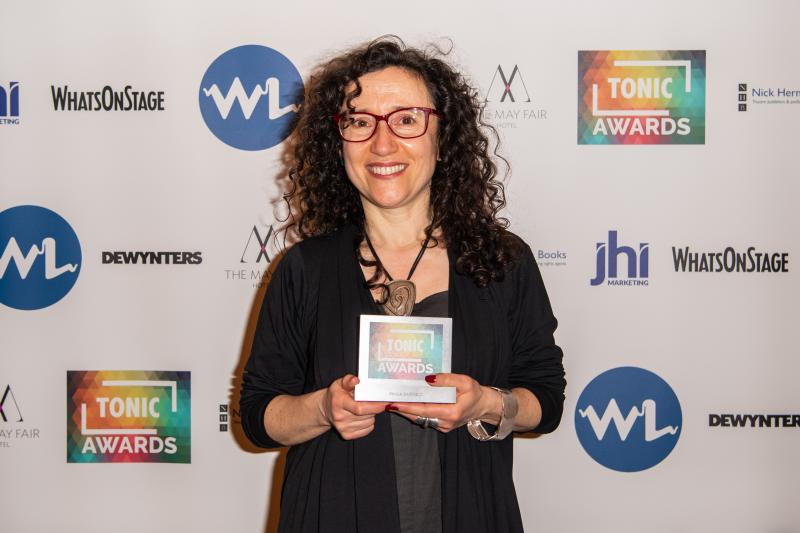 Paula Garfield, the founder of Deafinitely Theatre, recounted the first time, in her youth, she'd seen a play entirely in sign language. "I wanted to be on that stage."
Theatre had given her a method of expression, which she has since passed on to the artists and audience members of Deafinitely shows. "Theatre has saved my life," she said, and everyone believed her.
Director-producer Marianne Elliott accepted an award for the musical Company, which she'd reworked, to much acclaim, to feature a female lead - Bobbie instead of Bobby. Activist Alison Tickell was honoured for her work with Julie's Bicycle, which finds creative solutions to environmental issues.
The Susan Smith Blackburn Prize, recognising new works by women playwrights, was itself recognised for gathering "the creme de la creme of playwriting", and amplifying the voices of women artists.
Director Jude Kelly accepted the final award with a triumphant speech. She spoke of the need to trust new artists, to nourish women's stories, and to transform the conversation. She also reflected on her own limitations as a white, cis-gendered, solvent artist in telling others' stories. "What does intersectional mean?" she asked.
Philosophically, there's no clear answer to that question, but practically, it would probably include championing a more diverse range of artists. Whilst the recipients of this year's Tonic Awards represented an inspiring range of physical abilities and socio-economic origins, there was a glaring absence of women of colour among the list of honourees.
After the last award was presented, the guests, organisers and honourees gathered at the bar for a drink. The room was crowded with excited voices, shouts of congratulations, and a sense of energetic hopefulness. Anything, it seemed, was possible, so long as you had the trust of your community, and the grit and creativity to make it happen.
Photos by Stephen Wright Photography
Related Articles View More UK / West End

Stories

Shows