Louis Train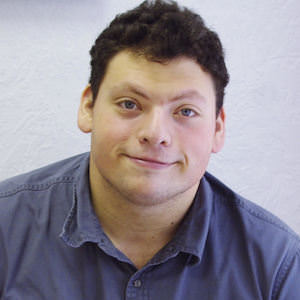 Louis Train is a writer, editor, and researcher from Toronto, Canada. He has written for Broadwayworld in three countries: Russia, the United Kingdom, and his home country, Canada.
When he isn't reviewing theatre, Louis also does research on diplomacy and international relations, with a regional focus on Eastern Europe, especially Russia, and a theoretical focus on the role of culture in international relations.
In addition to Broadwayworld, Louis has contributed theatre criticism to The Spy in the Stalls (UK), The Play's the Thing (UK), and OnStage (CA). 
Louis holds an MA International Relations from the Moscow State Institute of International Relations (MGIMO), an MA International Security Studies from the University of Reading, and an honours BA Philosophy from the University of Toronto.
MOST POPULAR ARTICLES
LAST 30 DAYS
LAST 365 DAYS
BWW Review: BLINDNESS at Princess Of Wales Theatre

August 6, 2021

In BLINDNESS, people resort immediately to cruelty and selfishness. Not only have they lost their decency, Stephens' script has deprived them of everything else that makes us human: culture, religion, art, and love have been stripped away from the story, leaving nothing but animalistic urges.
---
BWW Review: SUMMER: THE DONNA SUMMER MUSICAL at the Princess Of Wales Theatre

March 13, 2020

I was born too late to enjoy disco, too early to quite understand what Billie Eilish is. Fortunately, good music knows no generation, and when a?oeEnough is Enougha?? comes on the playlist, I expect everyone from ages 8-80 to jump up and dance with me. And, indeed, we did dance at SUMMER: The Donna Summer musical, visiting Toronto now under the auspices of Mirvish at the Princess of Wales Theatre.
---
BWW Review: SUNDAY IN THE PARK WITH GEORGE at Jam Factory T.O.

March 6, 2020

SUNDAY IN THE PARK WITH GEORGE, Stephen Sondheim and James Lapine's musical inspired by the pointillist painting 'A Sunday Afternoon on the Island of La Grande Jatte', has always felt to me like a you-had-to-be-there musical.
---
BWW Review: OIL at Geary Lane

March 4, 2020

OIL, which premiered last night at Geary Lane, is an epic story, an eat-before-you-arrive play that will take up your evening and take over your mind. It consists of five vignettes across five periods of history, beginning in the late 19th century and continuing into a bleak, imagined future. The scenes are united by theme - oil, modernity, ambition, isolation - and character: each scene follows a woman called May, a mother or mother-to-be, who only wants the best for her child.
---
BWW Review: OH, WHAT A LOVELY WAR! at Hart House Theatre

February 29, 2020

When the musical OH, WHAT A LOVELY WAR! premiered in London, in the 1960s, World War One was relatively fresh in the minds of the audience, most having either lived through it or being the child of someone who had. Today, the show, which strings together British songs from the Great War through a series of comical and melodramatic vignettes, feels neither contemporary nor historical. In its new treatment at Hart House Theatre, Autumn Smith has tried to breathe twenty-first century life into the show through the contemporary metaphor of war as a video game, and through unusual and edgy audio-video. The result is a show that is conceptually confused, but aesthetically rather charming.
---
BWW Review: SECRET LIFE OF A MOTHER at Streetcar Crowsnest

February 11, 2020

SECRET LIFE OF A MOTHER is a simple, sweet, agonising, and intimate work of autobiographical theatre by some of Toronto's best theatre talent. With a script (mostly) by Hannah Moscovitch and (mostly) starring Maev Beaty, SECRET LIFE offers an inward look at the pains and paradoxes of pregnancy, birth, and motherhood.
---
BWW Review: THIS WAS THE WORLD at Tarragon Theatre

February 7, 2020

In the opening scene of THIS WAS THE WORLD, on now at Tarragon Theatre, a law professor (R.H. Thomson) meets with his supervisor (Kim Nelson) to discuss a problematic statement he made in class. a?oeI apologised immediatelya??, he insists, but the fact that he's reclining with his feet up on his briefcase suggests he is anything but apologetic. His supervisor (we later learn she is the associate dean) also informs him that the department has gone ahead with the hiring of a new law professor, an Indigenous woman, despite his complaints that she is unintelligent and unimaginative. It's important, the dean argues, Canada's legal system include more Indigenous perspectives.
---
BWW Review: CAROLINE, OR CHANGE at the Winter Garden Theatre

February 5, 2020

The theatre shook with applause for Jully Black last night as she opened the musical CAROLINE, OR CHANGE at the Winter Garden Theatre. She was one of many in the cast to give powerhouse performances in a dramatically and musically challenging show.
---
BWW Review: JESUS HOPPED THE 'A' TRAIN at The Young Centre for the Performing Arts

February 1, 2020

Lucius is an exuberant, charismatic serial killer who claims to have found God while incarcerated. His exact religious philosophy is unclear - he preaches justice but cannot account for his own atrocities.  Angel was arrested for shooting the leader of a dangerous religious cult. He doesn't think he's done anything wrong, but he lacks Lucius'  energy and confidence; whereas Lucius can convince himself - and others - that God loves all sinners, Angel is plagued by doubts, first in the competence of his attorney, and, eventually, in himself.
---
BWW Review: MARJORIE PRIME at The Coal Mine Theatre

January 30, 2020

MARJORIE PRIME is set some 30 years in the future, after scientists have invented Primes, charmingly lifelike holographic representations of dead people you can buy to keep you company after a loss. Say your husband's passed away - I'm so sorry, but look! here he is, or something that looks and talks just like him. (It is the exact premise of the Black Mirror episode a?oeBe Right Backa??, which first aired some two years before MARJORIE PRIME premiered off-Broadway, in 2015.)
---
BWW Review: SUITCASE / ADRENALINE at Theatre Passe Muraille

January 23, 2020

Theatre Passe Muraille kicks off 2020 with an Arabic-language double-bill. Is it novelty or innovation? A bit of both, I think.
---
BWW Review: Canadian Stage and Studio 180 Present SWEAT at the Berkeley Street Theatre

January 18, 2020

SWEAT is a work of social realism, that controversial genre of fiction, film, and drama that tries to be romance and documentary all in one. It casts light on an often ignored part of American society, that is, those disenchanted workers - and ex-workers - whose dreams have been disrupted by some thirty-odd years of decline in the country's once robust manufacturing industry. For those of us with a New York Times subscription, SWEAT will feel like a continuation of a familiar trope, a vivid illustration of an idea that's been described to us again and again, especially more frequently since 2016. SWEAT seems to be answering the question: Who are these angry, bitter people who have set the country on its current course, and how did they get that way?
---
BWW Review: EVERY SILVER LINING at Factory Theatre

January 12, 2020

EVERY SILVER LINING is about being a teenager, and cancer. Clara (Allison Wither, who also composed the music and wrote the lyrics) is a teenager. She reads books, goes swimming, and ignores her friends. Her brother, Andrew (Daniel Karp) is dying of leukemia.
---
BWW Review: Sex, Power, and Wit in SEXUAL MISCONDUCT OF THE MIDDLE CLASSES at Tarragon Theatre

January 10, 2020

As in the best novels by Philip Roth, playwright Hannah Moscovitch delights in convincing us that her character's predatory behaviour is a minor flaw, not that bad in context, and that he's not that much worse, really than anyone else. Annie is intelligent, independent, has some sexual experience; it's not as though Jon's screwing a child. And come on, he's only human. 
---
BWW Review: BEND IT LIKE BECKHAM at St Lawrence Centre

December 19, 2019

Jess is torn between her obligations to her family and her dream of being a soccer star. Everyone tells her she has what it takes to make it big - except her parents, who remind her that her commitment, first and foremost, should be to her family. I won't tell you how BEND ITa?? ends, suffice to say that this is an uplifting musical, more Hairspray than Les Mis, and everyone, on stage and in the audience, ends up getting what they want.
---
BWW Review: CASH ME IF YOU CAN at Berkeley Street Theatre

December 14, 2019

Patrick Combs was knee-deep in credit card debt when he got a piece of junk mail that caught his eye - a phony cheque for nearly $100,000. He knew the bank would never cash it, but he had nothing better to do, so he popped it into an ATM and - lo and behold, it cleared. Now Patrick Combs, slacker was Patrick Combs, celebrity, and public enemy number one to his bank, which did everything in its power to threaten and entice him into giving the money back.
---
BWW Review: TORONTO, I LOVE YOU at Bad Dog Comedy Theatre

December 13, 2019

TORONTO, I LOVE YOU has been playing on and off for a while now but, like the 6ix itself, the story is always changing. At the start of each show, the cast takes a few suggestions (Koreatown! The Alexandria Park pool!) so every night the action ends up somewhere different.
---
BWW Review: I BE LIKE... at Bad Dog Comedy Theatre

December 6, 2019

Thorne and Mullen have a natural stage chemistry, an easy back-and-forth that lets them bounce dialogue and jokes off each other like a game of table tennis. They are joined in I BE LIKE.... by Gavin Pounds, who opens the show with a stellar bit of inspirational comedy, and is a welcome addition to each scene he is in.
---
BWW Review: STAND! Movie Musical

December 6, 2019

Although STAND! is full of romance, it is boldly honest in its historical depictions. Xenophobia and racism take centre stage in the story. Canada gets at best an ambivalent treatment, as a place where the lucky are lucky but the unlucky struggle just to avoid harm. One of the central questions of the film is the conflict between individual and institution - a defining issue in North America going into 2020 as well.
---
BWW Review: SOLDIER ON at Berkeley Street Theatre

November 29, 2019

SOLDIER ON comes to us from the UK, where a variety of audiences, military and non-military alike, have had the chance to enjoy its easy humour and satisfying plot. It tells the story of a group of servicepeople and their families who have come together to talk through their issues and put on a show. If the play within a play sounds pretentious, it's not - SOLDIER ON is effortlessly accessible and universally charming, even to those of us with no connection to the subject matter.
---