STRICTLY BALLROOM Stops First West End Preview Due to Burst Pipe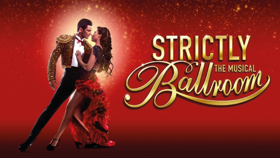 According to WhatsOnStage, a pipe burst during the first preview of Strictly Ballroom at Piccadilly Theatre, causing the performance to end early.
The show took an interval before the theatre manager announced that the pipe caused the electrics to flood and therefore the performance would be cancelled.
Later, the show released a statement saying, "Unfortunately at the first preview of Strictly Ballroom tonight, there was a burst water main pipe backstage at the Piccadilly Theatre, which meant it was unsafe for the show to continue."
One of the performers, Will Young tweeted a video of director and choreographer Drew McOnie helping clean up with buckets backstage:
Read more here.
Enter the intoxicating world of Strictly Ballroom THE MUSICAL, a spirited place of hot-blooded passion, hard-won dreams and vibrant self-expression. Based on Baz Luhrmann's legendary movie Strictly Ballroom, the soul-stirring musical stars the popular newcomer Jonny Labey (Winner ITV's Dance Dance Dance) and Zizi Strallen (Mary Poppins) as the star-crossed, dance-crazed lovers Scott and Fran. Also starring the acclaimed international artist Will Young (Cabaret) as the show's charismatic band-leader and a 30-strong cast to create a wondrous world of brilliant songs and astonishing moves to truly affirm that Love is in the Air.
When maverick championship ballroom dancer Scott defies all the rules of competition to follow his heart, he teams up with left-footed partner Fran to win the Pan Pacifics his way. The musical features the film's classic break-into-song numbers such as Love is in the Air, Perhaps Perhaps Perhaps and Time After Time alongside electrifying new songs.
Drew McOnie (whose dazzling choreography for In The Heights earned him the 2016 Olivier Award) will direct and choreograph. Strictly Ballroom is based on the original Australian musical created by Baz Luhrmann and Catherine Martin, with a book by Baz Luhrmann and Craig Pearce.
Related Articles