Photo Flash: The New West End Cast of HARRY POTTER AND THE CURSED CHILD Begins Rehearsals
Rehearsals began this week for the fourth West End cast of Harry Potter and the Cursed Child who will start performances at the Palace Theatre in London on 22 May 2019 following the final performance from the current cast on 19 May 2019.
Check out photos from the first day of rehearsals below!
Joining the company are MIchelle Gayle as Hermione Granger, Rayxia Ojo as her daughter Rose Granger-Weasley and Dominic Short as Albus Potter. Continuing company members include Jamie Ballard as Harry Potter, Susie Trayling as Ginny Potter, Thomas Aldridge as Ron Weasley,James Howard as Draco Malfoy and Jonathan Case as his son Scorpius Malfoy.
They are joined by cast members Lola Adaja, David Annen, Valerie Antwi, Emma Bown, Adrian Christopher, Craig Connolly, Robert Curtis, Tim Dewberry, Rachelle Diedericks, Blythe Duff, AnTony Eden, Jim Fish, Thomas Gilbey, Elliot Grihault, Rosie Hilal, Joseph Horsford, Mia Hudson, William Lawlor, Susan Lawson-Reynolds, Ronnie Lee, Ryan J Mackay, Lucy Mangan, David Mara, Barry McCarthy, Marcus McKinlay, Kathryn Meisle, Gordon Millar, Duncan Shelton, Molly Shenker, Luke Sumner, Mark Theodore, Emma-May Uden, Madeleine Walker and Maddy Yates who complete the 42-strong company playing a variety of characters, including seven children who will alternate two roles.
New tickets for the West End production of Harry Potter and the Cursed Child will next be released on 2 April 2019 for performances at the Palace Theatre until 19 January 2020. Tickets are priced from £15 per part, and for every performance there are over 300 tickets at £20 or less per part.
The most awarded new play in theatre history, Harry Potter and the Cursed Child has won 24 major theatre awards in the UK and is the most awarded play in the history of the Olivier Awards, winning a record-breaking nine awards including Best New Play. The production has also won 25 major US awards with six Tony Awards including Best Play.
Harry Potter and the Cursed Child, one play presented in two parts, is the eighth story in the Harry Potter series and the first official Harry Potter story to be presented on stage. The critically acclaimed production received its world premiere in July 2016 at the Palace Theatre in London. It is also now playing at the Lyric Theatre on Broadway and at Melbourne's Princess Theatre in Australia. A further North American production will open at San Francisco's Curran in autumn 2019 and, in spring 2020, a German language version of the play - marking its first non-English language production - will open at the Mehr! Theater am Großmarkt in Hamburg, Germany.
Details of all productions of Harry Potter and the Cursed Child can be found at HarryPotterthePlay.com
Based on an original new story by J.K. Rowling, Jack Thorne and John Tiffany, Harry Potter and the Cursed Child is a new play by Jack Thorne, directed by John Tiffany with movement by Steven Hoggett, set by Christine Jones, costumes by Katrina Lindsay, music & arrangements by Imogen Heap, lighting by Neil Austin, sound by Gareth Fry, illusions & magic by Jamie Harrison, music supervision & arrangements by Martin Lowe, and casting by Julia Horan CDG.
The Music of Harry Potter and the Cursed Child, an album of music from the internationally acclaimed stage production, is now available in stores as well as digitally, released by Sony Music Masterworks. The Music of Harry Potter and the Cursed Child is written, composed, performed and recorded by Grammy and Ivor Novello Award-winner Imogen Heap. It is presented as four contemporary musical suites, each showcasing one of the play's theatrical acts. This unique new album format from Imogen Heap chronologically features the music heard in the stage production, further reworked to transport listeners on a sonic journey through the world of Harry Potter and the Cursed Child. For more information, visit HarryPotterthePlay.com/uk/music/.
Harry Potter and the Cursed Child is produced by Sonia Friedman Productions, Colin Callender and Harry Potter Theatrical Productions.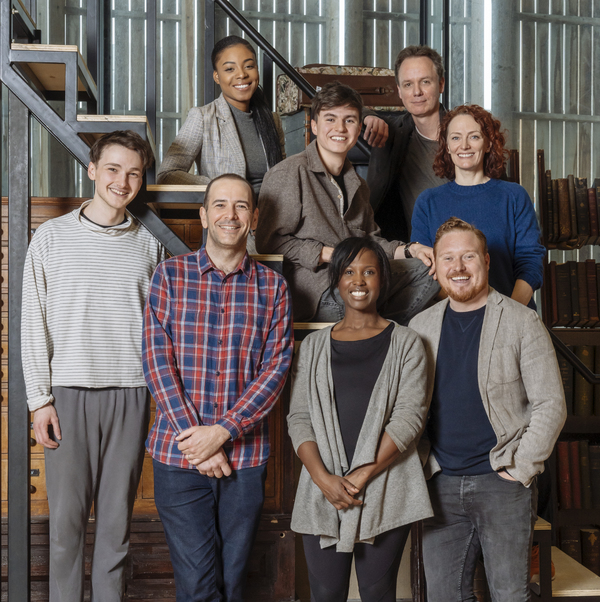 Back Row (left to right) Rayxia Ojo (Rose Granger-Weasley), Dominic Short (Albus Potter), Jamie Ballard (Harry Potter) and Susie Trayling (Ginny Potter) Front Row (left to right) Jonathan Case (Scorpius Malfoy), James Howard (Draco Malfoy), MIchelle Gayle (Hermione Granger) and Thomas Aldridge (Ron Weasley)

Row 4 Back Row (left to right) Gordon Millar, Rachelle Diedericks, Craig Connolly, Emma-May Uden, Mark Theodore, Ronnie Lee, Luke Sumner, Kathryn Meisle, Duncan Shelton Row 3 (left to right) Lola Adaja, Robert Curtis, Emma Bown, Adrian Christopher, Rosie Hilal, Jim Fish, Ryan J Mackay, David Mara, Valerie Antwi, AnTony Eden, Susan Lawson-Reynolds, Thomas Gilbey, Tim Dewberry Row 2 (left to right) David Annen, Madeleine Walker, James Howard, MIchelle Gayle, Jamie Ballard, Thomas Aldridge, Susie Trayling, Barry McCarthy, Blythe Duff Row 1 (left to right) Lucy Mangan, Jonathan Case, Elliot Grihault, Mia Hudson, Joseph Horsford, Molly Shenker, William Lawlor, Maddy Yates, Marcus McKinlay, Dominic Short, Rayxia Ojo