PINTER SEVEN, Harold Pinter Theatre

Jamie Lloyd's outstanding season of Pinter shorts - chock-full of mini revelations, innovative stagings, and a thrilling range of work from both actors and creatives - finishes on a high note with this thoroughly entertaining pair.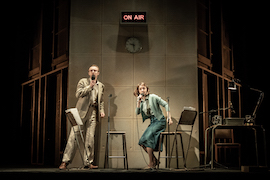 Both from the late Fifties, radio play A Slight Ache and the oft-performed The Dumb Waiter prove a seamless double act. There are repeated tropes and ideas, from striking matches and listing refreshments to the subjective passage of time and the disruption of a pair by a mysterious third party.
In Lloyd's hands, they're also an interesting contrast of theatrical approaches. Rather than hiding the former's radio origins, he leans into them, with Soutra Gilmour's set styled like a recording booth: a glowing red 'On air' light, music stands with scripts, and the actors speaking into microphones.
John Heffernan and Gemma Whelan play an upper-middle-class English couple, Flora and Edward, trading inanities over breakfast, bickering gently over which flowers are in their immaculate garden (part of a prize-winning "best-kept village"), and briefly distracted by the drama of trapping a wasp in the marmalade pot.
But a bigger invasion is soon to come: an elderly match-seller - unseen by the audience - originally labelled "harmless", but whose presence is significant. There's dark comedy in the build-up of his outlandish appearance (balaclava, glass eye), but more intriguing is his effect on the couple.
Both actors use exaggerated RP accents (Whelan's, deliciously, landing somewhere near to Claire Foy's Queen in The Crown) - matching the period BBC radio set-up, but also adding to the woozy unreality of the situation. There's a superb use of sound effects, including Whelan stomping in a box of gravel to simulate walking.
Initially, there's a warm drowsiness to this summer's day - the "longest day of the year" - but, heralded by George Dennis's music cues, menace soon creeps in. The silent match-seller draws sinister tales out of both Flora and Edward, including a memory of sexual violence, as well as transgressive passions and beliefs.
Lloyd's beautifully controlled production shows how this scenario causes subtle shifts in power between the couple, ripples on this still pond, as well as revealing the truth buried beneath the prim and proper: longing, desire, rage, nastiness, the subversion of domestic gender roles and of set class and status.
Whelan and Heffernan are both pitch-perfect - brightly humorous and fascinatingly textured - as the former finds new reserves of feeling and power, while the latter sinks into a panicked hysteria. It's another gem of a rediscovery in Lloyd's season.
It's trickier for find a fresh take on the endlessly revived The Dumb Waiter, featuring two hitmen surprised by nonsensical food orders sent via the titular conveyance while waiting for the details of their next job.
Thus Lloyd's production plays it fairly straight, but the fun here is in the casting: Martin Freeman and Danny Dyer, the latter the unlikely good mate of Pinter himself.
Dyer plays the senior partner, grumbling over distressing stories in the news (much as he did over Cameron and Brexit on Good Evening Britain) even as he prepares to kill again. He brings a mannered fastidiousness to the role, his assassin growing visibly uncomfortable as he's challenged by the dumb waiter - jerks and twitches bursting out of his tough-guy stance.
Fans will take enormous pleasure in his withering Dyer-inflected putdowns ("You berk!"), and there are some effective additions: at one point, his hitman lunges towards the dumb waiter, gun drawn, as if hoping that instinct - born of long experience - will counter the present strangeness.
However, it's also a very busy interpretation, which, combined with Freeman's trademark reaction faces, means this becomes more of a broad, physical farce rather than one built by the rhythm of the language - mundane chat and music-hall patter growing into something deeper and darker. It's undeniably entertaining, but Pinter purists may bristle.
Freeman does land the emotional core of the piece: his questioning character being haunted by their last job, a girl. His voice catches poignantly as he describes how she "spread" after being shot - a grimly potent image. But neither he nor Dyer entirely convince as men whose business is death, which contributes to a lack of tension overall.
Gilmour's design is again brilliantly evocative, this time placing the pair in a spartan grey cell with cot beds, twisting pipes and splotches of fungus. When the dumb waiter descends, it opens with a glowing light, adding to the sense of orders from a higher power.
If the production as a whole doesn't quite catch that extra level of meaning, it's still great fun to watch. And, balanced by A Slight Ache, it creates another evening that proves the worth of Lloyd's project: honouring theatrical history, and the back catalogue of a titan, while also bringing bold, exciting ideas to a West End audience. Bravo!
Pinter Seven at the Harold Pinter Theatre until 23 February
Photo credit: Marc Brenner