Owen Teale talks RUTHERFORD AND SON at the Crucible Theatre
Owen Teale is known to many as Ser Alliser Thorne from HBO's Game of Thrones, but he has also enjoyed a varied stage career, from Shakespeare's Globe to Broadway.
He spoke to BroadwayWorld about his latest role in Rutherford and Son, at Sheffield's Crucible Theatre from 8 February.
What made you want to be a performer?
It's that feeling that you've been invited to something, like getting an invitation to the best party there is. It's a real feeling of belonging.
It happened quite late for me; I hadn't grown up thinking I wanted to or feeling like I was one. It's very much a need to tell people stories.
What is Rutherford and Son about?
Rutherford and Son is a play by Githa Sowerby set in 1910. It's an extraordinary piece of socio-economic writing.
It's beautifully told with wonderfully alive characters that are often finding themselves clashing because they all have very opposing viewpoints.
This leads to fantastic drama that really tears the guts out of these people, and you can't help but be moved by them and care about them. Even my character, who's the 'bully' of the piece.
Tell us about your character Rutherford
Rutherford is a man who's lived a long, hard life. He's gotten somewhere in life and doesn't want to see it all thrown away - he needs his family to understand that individual joys, and wants, and needs are secondary to the survival of the family and the community.
He's the representative of the major employer in the town so to him, these are the important things... He has great long-sighted vision, but it is blinkered.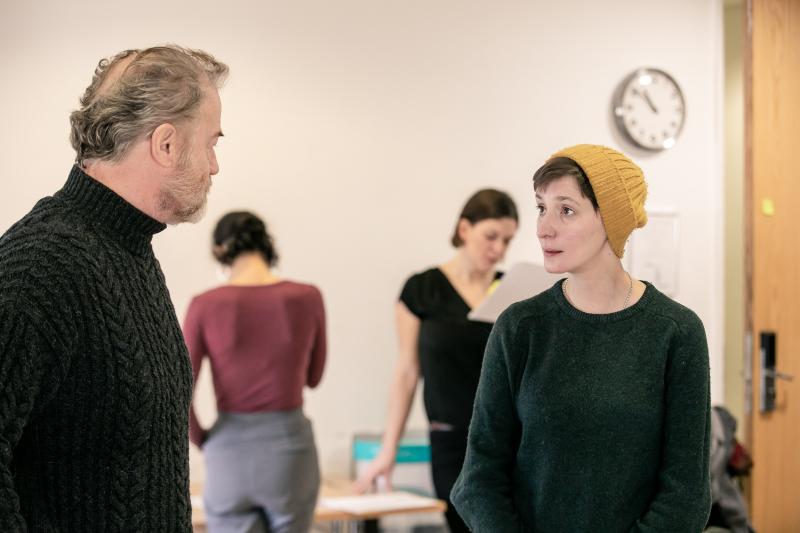 Do you approach projects differently when they're on stage vs. screen?
Oh yes! The ability to know all your lines at any one moment to the point that they're second nature is a very alien thing when you're in television, but vital when you're in a theatre piece.
You have to have the whole journey of the character available to you, which can sometimes be a huge weight to carry. Whereas in television, it feels lighter because you break it down bit by bit, and let the person in the editing suite put the jigsaw together.
Which of the characters you've played has surprised you the most?
I can't think of a character that hasn't surprised me and given me a real kick! The thing is, you're lazy and make prejudiced thinking towards these characters so quickly, but you aren't really listening to them, and when you start to research a character, play or script, you have to really start to listen.
The character becomes more and more human, and where you start thinking: 'I'm nothing like that!', you end up filming similarities that hit close to home. It's a very revealing thing to do.
Quite a few of the characters you've played act to the detriment of others. Do you see them as villains?
Never. It's not my job to judge them - it's my job to judge their point of view, and maybe understand what's made them like that.
It's a common thing to look at our own behaviour and, if we do something that's probably less than good, put it down to circumstance in that moment. Whereas if you do something to somebody else and that is their only experience of you, then that is who you are to them forever - that's why people are labelled.
There's a big thing in understanding those things, and finding that the truth is often somewhere in the middle.
Are you able to escape Game of Thrones fever when playing other roles?
I'm fine when I'm in the role, but as soon as I walk out of stage door and onto the street, it's there!
I'm very happy; it's a lovely thing to have and I feel so grateful that it came together, and that as a result I've been invited to do more work.
Why is it important Rutherford and Son is told on stage today?
It has as important things to say about men and women as the work of Ibsen or Strindberg. It sits in a place that, until we evolve out of it, is universal between men and women and really highlights the differences between them with these beautifully drawn characters.
Throughout, the characters clash, and it's so relatable and really makes us think about our own lives. That's what I want the audience to do coming away from this.
Any advice for aspiring actors?
To be as specific as possible; when you practise, don't allow a mood or emotional state to take over.
Just describe yourself, be as specific to the ways the thoughts change, and in any result of sadness or happiness, there's been a journey to it and that's usually by the listening. How well you do that will be the springboard for your performance.
Do you have any other projects coming up that you can tell us about?
When I leave here, I go back into my contract with A Discovery of Witches (Sky One), and hopefully my dates will allow me to have a break and do a play - I love getting to work in theatre and I'm very lucky that I have the option to do both.
Why should people come to Rutherford and Son?
Because they'll learn a lot about themselves that was there all along, they'll get so involved in the drama while it's happening - they'll laugh and cry, and be shocked and entertained.
When they leave, they'll be bound to reflect on their own lives. Theatre has to provoke and get those debates going, and this is a beautiful play for that. It's so much bigger than the sum of its parts.