EDINBURGH 2022: Pick of the Programme- Musicals
EDINBURGH 2022: Pick of the Programme- Musicals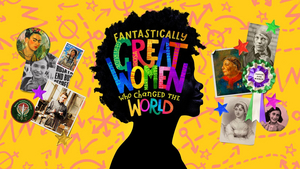 With over 3000 shows now onsale for the 2022 Edinburgh Festival Fringe, trying to narrow down what to see can be a bit of a task. BWW reviewer Natalie O'Donoghue has selected her top ten picks across the festival programme to highlight the shows you really don't want to miss this year!
I Wish My Life Were Like A Musical
Boasting a West End Wilma Award, three further award nominations and over 20 five-star reviews following its last sell-out Edinburgh run, this comedic musical revue reveals everything you could want to know about being a musical theatre performer... if only there were any who'd dare admit it. Covering the journey from wide-eyed drama student to brattish diva, or past-it chorus member, or bitter has-been (or never-was), this show lifts the lid on awful auditions, debilitating dance routines, mid-performance mishaps, and backstage backstabbing - plus those magical moments that make it all worthwhile.
Fantastically Great Women Who Changed The World
The Fringe premiere of new kickass-pirational pop musical from one of the producers of hit SIX, that celebrates the lives of Frida Kahlo, Rosa Parks, Emmeline Pankhurst and many more. Join our inquisitive heroine Jade as she breaks away from her class to take a peek at the not yet open Gallery of Greatness in the local museum where she meets some of history's incredible wonder women. Celebrated dramatist Chris Bush and No 1 hit songwriter Miranda Cooper (Girls Aloud, Kylie Minogue) adapt suffragette descendent Kate Pankhurst's award-winning picture book.
This new folk musical seeks to explore our heritage and legacy, weaving two parallel stories; one of a crofter and a wandering soldier in the 18th Century, and one of an old pensioner and his carer in the 21st. Land fuses traditional Scottish trad/folk styles with a modern electronic sound to create its compelling soundtrack, performed live by the actor-musician cast of three. Land celebrates compassion and community that transcends shifting cultures, asking that we take a second to re-evaluate our relationships with the earth and our neighbours.
Disney villain. Octo-woman. Plus-size icon. But who is the woman behind the tentacles? From the multi award-winning Fat Rascal Theatre and fresh from complete sell-out runs around the UK, comes the untold story of Ursula the Sea Witch. It's time to take the plunge as we reveal what really happened under the sea, in a tell-all tale of sex, sorcery and suckers. A musical parody.
Kathy and Stella Solve A Murder
FFs Kathy and Stella host Hull's least successful true-crime podcast. When their favourite author is killed, they are thrust into a thrilling whodunnit of their own! Can they crack the case (and become global podcast superstars) before the killer strikes again...? A hilarious murder-mystery musical from the Olivier Award-winning team behind Fleabag, Baby Reindeer and A Super Happy Story (About Feeling Super Sad).
Young, trendy Spencer leaves home and hits Soho like a whirlwind in a journey of love, laughter, heartbreak and happiness. Working in a clothes store, partying at the weekend and busking on the streets. But all that glitter fades when Spencer finds love and stumbles into the darker side of the neon lights and tight white t-shirts. This modern tale of the gay scene which can be harsh and lonely surrounded by glamour, sex and songs.
During a bizarre childhood accident, Trevor was drenched head to toe in dragon's blood. Growing green and scaly skin, he withdrew from the world. Tonight - 20 years later - Trevor meets a cute guy on a first date and ends up on an adventure of mythic proportions. Equal parts comic book lore and coming-of-age love story, Lizard Boy is the thrilling original rock musical that's been called 'ingenious' (San Francisco Chronicle), 'phenomenal' (MercuryNews.com) and 'ferocious and funny' (Seattle Times). Featuring the award-winning, original American cast and starring author/actor Justin Huertas.
Come backstage for the world premiere of soon-to-be smash-hit Double Bubble: The Musical. That's right. It's Macbeth from the perspective of the three witches. Unfortunately, things aren't going to plan. The composers have stolen the songs, the performers have forgotten their lines and the technical team are technically incompetent. In under one hour, can this company ruin music and Macbeth for a generation? Join us as we crash through the canon of musical theatre and find out what happens when the hurlyburly's done. Under rehearsed, under slept and under extreme duress, GOYA presents a musical catastrophe.
Brilliantly warm, moving and funny look at the life of Scotland's greatest bard, Robert Burns. With poems and songs aplenty, we see what made this genius what he was; his story laid out, warts and all. This look at the great bard will delve into the lesser-known aspects of his life using his famous and not-so-famous songs and poetry, also looking at his many love affairs and the many broken hearts he left behind. Including a free bowl of haggis, neeps and tatties and a drink, we toast this great man's life.
Making A Murderer: The Musical
Since the release of the Making A Murderer Netflix series, Steven Avery has become an unlikely global phenomenon. His conviction, exoneration and subsequent re-arrest for murder in his home-town of Manitowoc has gripped fans around the world, spawned countless internet discussions and conspiracy theories, and made Making A Murderer one of the most successful documentary series of all time. Our musical takes his story and not just examines it, but uses it as a springboard to look at how the justice system in America and around the world, really works.
The full programme for the 2022 Edinburgh Festival Fringe is available at www.edfringe.com
Check out our other picks of the programme for comedy ; theatre ; cabaret ; musicals ; free fringe ; circus ; debut shows and children's shows.