Review: MACBETH, Bussey Building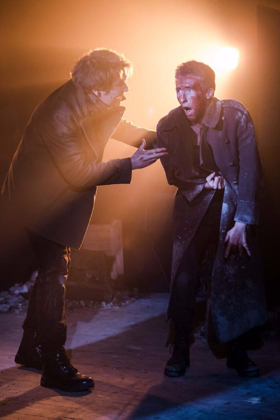 In a post post-industrial world reminiscent of Mad Max, mad Mac, his ambition ignited by witches, his masculinity challenged by his wife, his lust for murder growing with his lust for power, descends into bloody psychosis and a final reckoning with a man who (as in the first Mad Max movie) has a family's blood to avenge.
Devil You Know's production gets a lot right - to the extent that I feel that I'm finally appreciating the er... Scottish play after years of writing it off as a bit of an upmarket gothic horror schlockfest with too many characters with similar names and motives and too much killing. That's due to the clarity of the storytelling (led by director Paul Tomlinson) and acting that avoids histrionics to concentrate on the words, spoken with great sympathy for the rhythm of blank verse. These men and women may act like brutal savages but they sound like kings - an important lesson about how power can make itself manifest in many forms and why we should always be wary of its excess.
Henry Proffit's Macbeth has a constant gleam in his eye from the moment his unlikely path to the throne is prophesied by the Weird Sisters: a man of action, a man blinded by hubris, a man easily biddable for all his alpha male posturing. Sadie Pepperell looks young to play Lady Macbeth, but her youth and physical slightness (in a production reeking of testosterone, as large men wield machetes and knives with a visible heft to them) plays well, as she goads her husband in her famous (or infamous) unsexed ruthlessness. Amidst all this physical violence, the capacity of language to provoke extremes of behaviour is undiminished and, crucially, very credible.
There's strong work from the support cast too, with Jared Fortune emotional and single-minded as Macbeth's nemesis, Macduff and Cameron Crighton a splendidly accusatory Banquo, winning the hotly contested prize for most bloodstained face in the show. There's a fine turn from JK Glynn as the coarse Porter, channeling a bit of Sid James from his Carry-On days, providing us with a little comic relief and himself with er.. relief of a different kind.
Though some may prefer their Shakey more epic in scale and showy in performance, this production is done exactly as I like to see The Bard's work done. Stripped back in set (though Ben Jacobs' lighting creates exactly the right atmosphere) and shorn of any obvious allusions to current concerns, we get the text and the acting, the violence and the comedy, the supernatural hocus-pocus and the oh so human vulnerability to temptation. It succeeds.
Macbeth continues at The Bussey Building until 18 November.
Photo Scott Rylander