BWW Review: GUYS AND DOLLS, Royal Albert Hall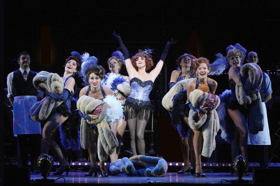 For three performances only, renowned director/choreographer Stephen Mear has brought his own semi-staged version of the classic musical Guys and Dolls to the Royal Albert Hall.
The Royal Philharmonic Concert orchestra bring Frank Loesser's much-loved score to life, along with a cast that includes Adrian Lester (Sky Masterson), Lara Pulver (Sarah Brown), Meow Meow (Miss Adelaide), Jason Manford (Nathan Detroit), Clive Rowe (Nicely Nicely Johnson), Joe Stilgoe (Benny Southstreet), and Sharon D Clarke (General Cartwright).
Whilst they're not presenting the entire show, all of the musical numbers are intact and any gaps in the story are covered by narrator Stephen Mangan.
Nathan Detroit is on the search for somewhere to host "the oldest established permanent floating crap game in New York", though having to keep it all secret in case the police or - worse - his long-suffering fiancée Miss Adelaide finds out.
When infamous gambler Sky Masterson arrives in town, he spies a chance to win the money to pay off his chosen venue by placing an impossible bet with Sky: if he can't convince Sarah Brown (sergeant of the local Christian mission) to go to dinner with him, he has to pay up.
This tale of love and dice in old New York is expertly performed by a brilliant ensemble, the whole thing running like a well-oiled machine; it slickly moves from scene to scene with breaks for applause and sections of well characterised narration smoothing out any change of props on the small performance space.
Morgan Large's designs are evocative of Fifties New York, with sharp-suited guys and glamorous dolls; it definitely adds that extra little something to have everyone in costume, especially when the crapshooters seat themselves around the orchestra between some numbers.
Obviously, with Mear in charge, there was bound to be some great snippets of choreography included - the absolute highlight of which has to be his glorious interpretation of the "Crapshooters' Ballet' as the crap game continues through the night in its latest venue. It combines great skill and athleticism from the dancers with deft little touches that remind you that they're all there to play dice - a showstopping moment in any production of this musical, and this one is no different.
Adrian Lester is suave and masterful as Sky, and well matched by Lara Pulver as Sarah - her drunken antics in Havana are particularly charming. It's a pleasure to see Clive Rowe reprising the role which won him an Olivier Award in 1997, with "Sit Down, You're Rocking The Boat" clearly marked out as one of the audience's favourite moments of the night.
Jason Manford combines his comedy skills with excellent vocals, he and Meow Meow making an endearing (if slightly oddball) pair as Nathan and Miss Adelaide. Meow Meow is larger than life and so well suited to the role that it makes you wonder why she's not been snapped up to play it before; she steals the show every time she steps onto the stage, and makes "Adelaide's Lament" a memorable moment indeed.
It's been a couple of years since Guys and Dolls was last in the West End, but this semi-staged production has given a tantalising glimpse of what Stephen Mear could do if another revival were in the offing. This has to be one of the standout theatrical events of the year.
Guys and Dolls is at the Royal Albert Hall until 20 October
Picture credit: Roy Tan
Related Articles View More UK / West End

Stories

Shows